How to use your checkout operator skills after automation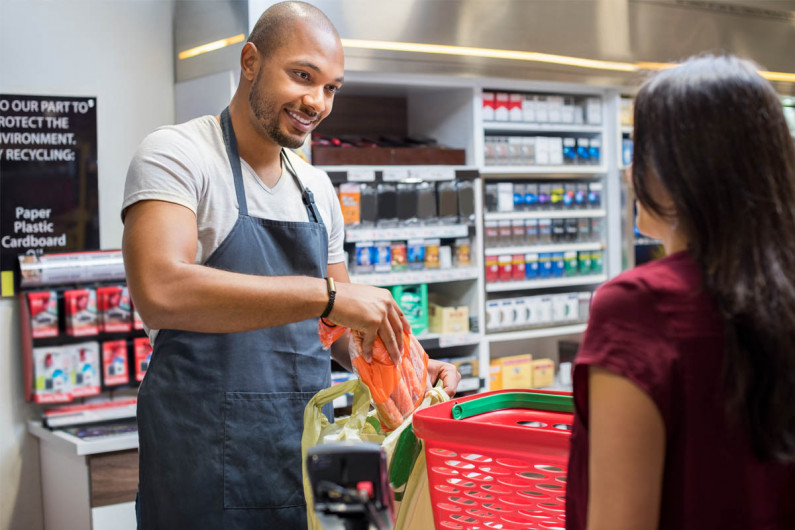 Find out how you can use your checkout operator skills if your job becomes automated.
What's on this page?
If you're a checkout operator, you may be wondering what the future holds, as more jobs become automated. A 2018 report estimated that automation could change or remove 31% of jobs in New Zealand by 2036.
For example, imagine a supermarket with no checkout operators, where customers automatically pay with their phone as they pick up products. Companies like Amazon have opened supermarkets like this in the United States, marking a turn in the way that technology can replace human workers. In New Zealand, self-checkout machines have already started to replace checkout operators.
The good news is that you can plan ahead, and think about putting your checkout operator skills to use in other jobs.
Understand your skills, and what jobs you could transfer them to
To work out where you can go next, you need to know what skills you have. Checkout operators have:
customer service skills
social and communication skills
payment-processing skills
numeracy skills
You can transfer these skills to jobs in a range of areas.
Customer service
You can apply your skills in other customer service jobs where technology has not posed such a threat. Jobs in this area include:
Management
With some upskilling or retraining, you could move into jobs such as:
Care or support
If you're a good communicator and love the social side of being a checkout operator, roles where you care for, or help, people or animals could be a good match for you. With retraining you could move into jobs such as:
The future of automation is uncertain
Jobs are starting to change, but how much and how quickly they will change is still unknown. The sooner you begin planning for automation, the better off you'll be by the time it has a major impact.
Your first step is to start thinking about which skills you have. Then think about which jobs you could apply these skills in, and consider whether you'll need to train or study. Remember that developing adaptable skills you can transfer across jobs will give you a big advantage after automation.
Find out more
Sources
Amazon, 'Introducing Amazon Go and the World's Most Advanced Shopping Technology', 5 December 2016, (www.youtube.com).
Coren Mitchell, V, 'The Checkout-free Shop Is a Wonderful Idea… A Machine Will Never Judge You', 4 February 2018, (www.theguardian.com).
Griffin, P, 'With Artificial Intelligence and Automation, How Many Kiwi Jobs Are on the Line?', 5 July 2018, (www.noted.co.nz).
Innovation Nation, 'Innovation Nation: Automation is Changing How We Work – for the Better', 6 March 2019, (www.nzherald.co.nz).
Manyika, J, and Sneader, K, 'AI, Automation, and the Future of Work: Ten Things to Solve for', June 2018, (www.mckinsey.com).
Mitchell, P, 'Kiwi Workers Not Worried About the Robots Coming for Their Jobs', 14 June 2017, (www.stuff.co.nz).
O'Neill, R, 'PwC: 24% of NZ Jobs Will Fall to Automation', 9 February 2018, (www.reseller.co.nz).
Tertiary Education Commission, 'Hidden Links, New Opportunities: How Big Data and Job Clusters Can Improve the 1.2 Million Job Matches in NZ Each Year', 20 August 2018, (www.tec.govt.nz).