Travel Agent/​Adviser
Māngai Whakarite Haerenga/​Kaitohutohu Whakarite Haerenga
Alternative titles for this job
Travel agents/advisers provide information about tourism attractions, sell travel, accommodation, tours and attractions, do ticketing, and process payments.
Pay
Travel agents/advisers usually earn
Senior travel agents/advisers with experience and extra responsibilities usually earn
Source: Trade Me Jobs, 2017.
Job opportunities
Chances of getting a job as a travel agent/adviser are poor due to lack of demand.
Pay
Pay for travel agents/advisers varies depending on experience and employer.
Travel agents/advisers usually start on the minimum wage or a little more.
After five years travel agents/advisers can earn up to $55,000 a year.
Senior travel agents/advisers and travel wholesalers with more than five years' experience can earn up to $100,000 or more (including bonuses or commissions).
Travel agents tend to earn a low base salary, and receive commission and bonuses based on their sales.
Source: Trade Me Jobs, 'Salary Guide', 2017.
(This information is a guide only. Find out more about the sources of our pay information)
What you will do
Travel agents/advisers may do some or all of the following:
give advice on travel or holiday plans, accommodation, transport, and places of interest
book accommodation, transport, tours and cruises
advise clients about visas, passports and insurance
prepare itineraries, issue tickets and collect payments
organise and book conferences.
Skills and knowledge
Travel agents/advisers need to have knowledge of:
New Zealand's and other countries transport systems, accommodation and tourist attractions
computer reservation systems
airline routes, alliances, and safety and security regulations
passport and visa requirements, travel insurance and foreign currencies
current affairs, including areas where travel may be dangerous.
Working conditions
Travel agents/advisers:
usually work regular business hours, but may have to work long hours and weekends, or be on call
work in travel agencies and offices, from their home, or in tourist information centres
may take familiarisation trips within New Zealand or overseas.
What's the job really like?
Jessica Strawbridge
Travel Agent
Travel agent work has its rewards and challenges
Travel agent Jessica Strawbridge got to book her own honeymoon. "We went to Fiji and it was brilliant! We did get some really good agent's rates. That makes a huge difference."
However, most of Jessica's trips are for work – and they are hard work. When she's sent to check out accommodation, Jessica may be away for five days, visiting up to six hotels each day.
"All the hotels start meshing into one. You're trying to think, 'Was it that one? That one?' "
Attention to detail essential
"The smallest mistake can absolutely ruin somebody's perfect holiday, so we really need to make sure we have the correct time for their flights, the right dates for the accommodation. Missing one little thing can mean a lot of money that we have to pay, because we've made a mistake. That attention to detail means we have to be here longer in the evenings sometimes."
Entry requirements
There are no specific entry requirements to become a travel agent/adviser as skills are learned on the job.
Travel wholesalers generally require a travel qualification, such as a degree or New Zealand Certificate in Travel, and relevant experience at a retail or wholesale travel company.
Secondary education
No specific secondary education is required for this job, but English, maths, geography and languages to at least NCEA Level 2 are useful.
For Year 11 to 13 learners, trades academies and the STAR and Gateway programmes are good ways to gain relevant experience and skills.
Personal requirements
Travel agents/advisers need to be:
skilled in sales and customer service
good at listening, and understanding of their clients' needs
able to relate to people from a wide range of cultures
enthusiastic, friendly, patient and helpful
professional, responsible and resourceful
excellent at time management and planning
very accurate.
Useful experience
Useful experience for travel agents/advisers includes:
work in travel or tourism
sales or retail work
overseas travel.
Find out more about training
ServiceIQ

0800 863 693 - intel@ServiceIQ.org.nz - www.serviceiq.org.nz
Check out related courses
What are the chances of getting a job?
COVID-19 pandemic decreases demand for travel agents/advisers
Job opportunities for travel agents/advisers are poor because the COVID-19 pandemic has reduced demand for workers.
Demand may improve as restrictions to control the spread of the pandemic ease.
According to the Census, 4,833 travel agents/advisers worked in New Zealand in 2018.
Employers range from small firms to large chains
Most travel agents/advisers work for travel agencies. These may be small family firms employing three or four people, or part of nationwide chains.
Travel brokers, who are usually experienced travel agents, usually own their own business and work from home.
Travel advisers also work for the 64 visitor information centres (i-SITEs) around New Zealand.
Sources
MBIE, 'Tourism and the Economy - Latest Tourism Satellite Account – Dec 2021', accessed 18 January 2022 (www.mbie.govt.nz).
Stats NZ, '2018 Census Data', 2019.
Tourism New Zealand, 'i-SITE New Zealand Annual Report 2020 - 2021', accessed 18 January 2022, (www.tourismnewzealand.com).
Tourism New Zealand, 'Annual Report 2019 – 2020', accessed 18 January 2022, (www.tourismnewzealand.com).
(This information is a guide only. Find out more about the sources of our job opportunities information)
Progression and specialisations
Travel agents/advisers may progress to set up their own business as a travel broker, or move into management.
Travel agents/advisers may specialise in travel wholesaling (selling airline tickets, accommodation and tours to retail travel agents).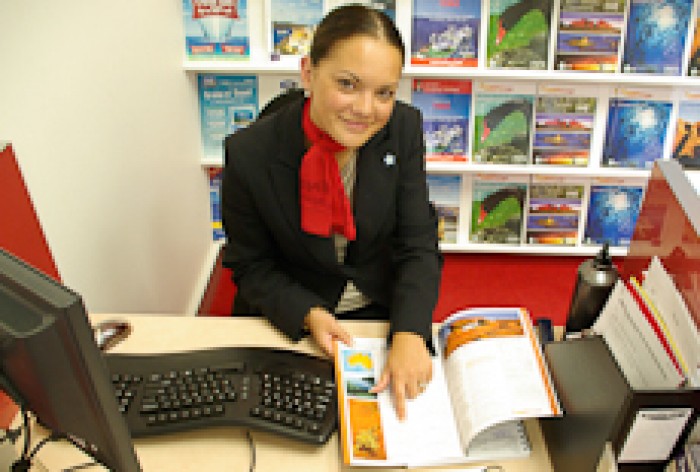 Last updated 3 April 2023