Holiday Park Manager
Kaiwhakahaere Papa Rēhia
Alternative titles for this job
Holiday park managers run holiday parks, camping grounds, motor camps, caravan parks or seaside resorts as owners or on behalf of owners.
Pay
Holiday park managers usually earn
Source: Holiday Parks Association, 2018.
Job opportunities
Chances of getting a job as a holiday park manager are good due to a shortage of workers.
Pay
Pay for holiday park managers varies depending on experience, and the location and size of the holiday park they manage.
Holiday park managers can earn between $47,000 and $60,000.
Relief holiday park managers can earn between $150 and $200 a day.
Source: Holiday Parks Association, 2018.
(This information is a guide only. Find out more about the sources of our pay information)
What you will do
Holiday park managers may do some or all of the following:
greet guests and check them into cabins, caravans or campsites
maintain the buildings and grounds
hire, train and organise staff
handle guest requests and complaints
plan budgets, keep accounts, carry out administrative tasks, and organise marketing activities
take accommodation bookings and manage online reservation systems
take bookings for local tourist attractions
clean and prepare public places for use
run a restaurant and/or camp shop
run activities such as tramping, horse-trekking or fishing trips.
Skills and knowledge
Holiday park managers need to have:
customer service skills
knowledge of health and safety, including food safety
knowledge of the local area and tourist attractions
business administration, management and marketing skills.
Practical maintenance and repair skills, such as plumbing, and skill in operating machinery are helpful. It is also useful if holiday park managers know first aid.
Working conditions
Holiday park managers:
usually work regular business hours, but will work extra hours to meet seasonal demand
work in camping grounds, caravan and holiday parks, or seaside resorts
often work outdoors in all weather conditions in a rural environment
may travel locally to get supplies and transport guests to tourist sights and activities.
What's the job really like?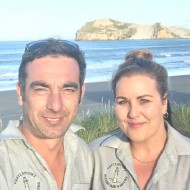 Richard and Megan Hewitt
Holiday Park Managers
Megan and Richard Hewitt loved Castlepoint on the Wairarapa coast so much that they decided running its holiday park was their dream job.
What hours do you work as holiday park managers?
"The days are long, generally starting at 7am during busy times and not finishing until 11pm sometimes. However, we quieten down during winter, so this is just during summer or long weekends."
How do you strike a balance between work and recreation?
"Our relief manager covers us two days a week. We try to get away from the holiday park on these days so that we are not tempted to work, as our house is joined to the office. Our hobbies are mainly beach-related. We love to go fishing, walking, swimming and diving. This job means we have all that on our doorstep."
What's difficult about being a holiday park manager?
"Being on call 24 hours a day and living and working on-site. The most difficult part is definitely not being able to finish work at night and head home and leave work at work – we can't go out without having organised cover.  Apart from our two days off a week or when we have a planned holiday, one of us has to be on-site at all times."
What gives you a sense of achievement?
"Every time a guest compliments us on our customer service or tells us how clean and tidy the accommodation, bathroom block and grounds are looking, we're proud."
Entry requirements
There are no specific requirements to become a holiday park manager.
Holiday park managers may attend courses and seminars run by hospitality and tourism organisations.
Secondary education
There are no specific secondary education requirements to become a holiday park manager. However, English and maths are useful.
Personal requirements
Holiday park managers need to be:
well organised and efficient
adaptable and practical
good at communicating
friendly, polite and helpful
able to relate to people from a wide range of backgrounds and cultures
good at solving problems.
If you're a jack-of-all-trades, you're practical and a general handyman or woman, then this is the job for you.

---

Megan Hewitt

Holiday Park Manager
Useful experience
Useful experience for holiday park managers includes:
running a business
experience in the hospitality industry, preferably at management level
practical work such as building, farming, carpentry, engineering or plumbing
customer service work.
Physical requirements
Holiday park managers need to be reasonably fit, healthy and strong as they may need to move caravans around the park, and do gardening and cleaning.
Find out more about training
Hospitality New Zealand

(04) 385 1369 - www.hospitality.org.nz

ServiceIQ

0800 863 693 - intel@serviceiq.org.nz - www.serviceiq.org.nz
Check out related courses
What are the chances of getting a job?
Good demand for holiday park managers
Job opportunities for holiday park managers are good because low unemployment and an increase in job vacancies means there is a shortage of people available to do this role.
According to the Census, 771 holiday park managers worked in New Zealand in 2018.
Types of employers varied
Holiday park managers and assistants may work for:
holiday parks
camping grounds
regional and local councils
the Department of Conservation.
Many holiday parks are owner-operated businesses or small businesses employing two to five people.
Sources
Brown, F, chief executive, Holiday Accommodation Parks Association of New Zealand, Careers Directorate – Tertiary Education Commission interview, February 2018.
Holiday Parks NZ, 'Holiday Parks Sector Worth Over $1 Billion to NZ Economy' (media release), March 2017, (www.holidayparks.co.nz).
Stats NZ, '2018 Census Data', 2019.
(This information is a guide only. Find out more about the sources of our job opportunities information)
Progression and specialisations
Holiday park managers may progress to:
manage larger holiday parks
own and operate their own holiday parks or camping grounds
work in a different part of the hospitality or tourism industry.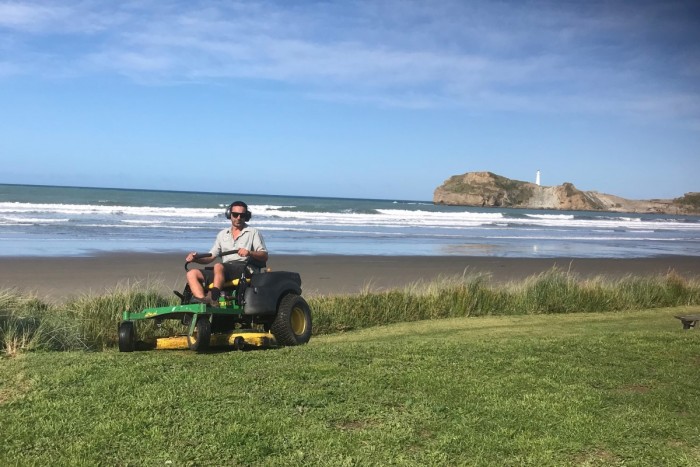 Last updated 4 April 2023