Emma Utanga's hospitality goes a long way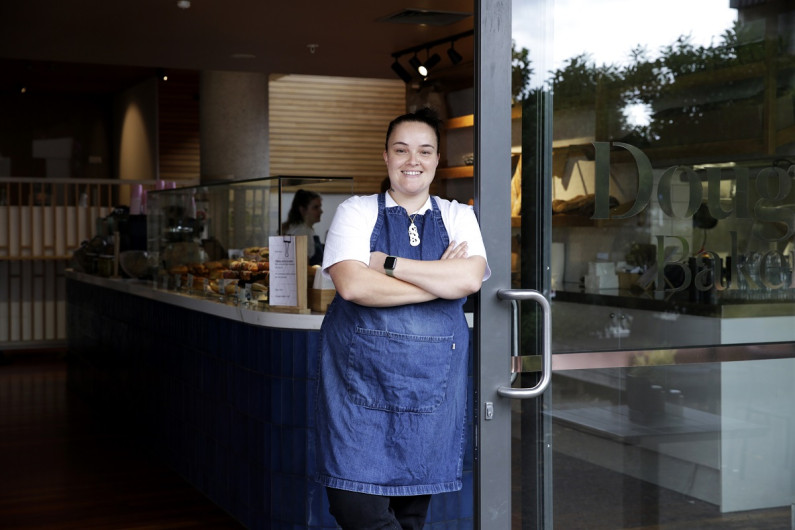 For someone who was extremely shy growing up, hospitality has opened up a whole new world for Emma Utanga. From starting out in logistics, to leading a team of people, Emma followed her passion and heart. It's an inspiring story of how self-belief, and a little nudge from your peers, can take you further than you ever dreamed of going.
Like so many of my friends, I didn't have a plan for what I wanted to do after school. I've always had the mahi mindset, but I didn't really know which career path to take or who I could go to. All I knew was that I wanted a future where I could support my family and be successful – in any way I could. I also knew I wanted a future where I didn't feel bored, where I could have fun and where there was potential to grow. Those things were at the forefront for me.
Travel was tempting, but my future was calling
So many people are big on travelling after school, and even though that idea was nice, I was keen to set myself up financially, and in every other aspect. I remember thinking, do I go on a trip, or do I set myself up and go from there? For me, it was about doing something I was passionate about and getting stuck in. I knew travel and those experiences would always be there.
Hospitality helped me discover my potential
After working in a few different jobs in Auckland, I left my home town and family behind for Wellington, which was a big step for me. It was there that I decided to give hospitality a go, and took up a job in logistics. That progressed to me running the coffee cart and then working at the bakery that I now manage. At every step, I felt I was learning and growing more and more. I was realising what I was capable of and where my passion was.
Part of the reason I'm in the role I'm in now is because my boss encouraged me to apply for it. I remember seeing an opening for the Duty Manager position, but I hadn't even considered that I might be the right person for the job. It wasn't until my boss said I'd be perfect for the role that I thought I might be up for the challenge. I knew I'd have to do some study first, but I wanted it. And with the support of my work whānau alongside me, it really felt like I was capable of anything.
Vocational education and training elevated my career
Getting my Duty Manager's licence and LCQ (Licence Controller Qualification) certificate was a huge boost for my career. It gave me the confidence I needed to level up in so many ways. It gave me a deeper understanding of what I do, how I do it and how it affects everyone around me. It not only helped me with mahi, but how I contribute to my workplace, and my responsibilities as a whole. I feel super proud of myself.
I think there's this idea that studying is a bit daunting, but I found it fun. There was lots of banter and lots of laughs. We learnt as a group and got to meet other people in hospitality and share stories. Even just doing the interview for my course was really reassuring that I was in the right place. It was comforting to know these people support you and they want to see you succeed. There was no pressure to not get things wrong. It was such a good feeling to have that backing.
Without study I don't think I would've broadened my horizons as much as I have. That investment has opened up so many doors for me, so I think it's really something worth doing.
Helping others is a big part of my drive
Looking back, I never thought I'd be in a position where I'm leading a team, let alone mentoring people. So it's amazing to think how much hospitality and study has brought me out of my shell. I was super shy growing up, but I'll now strike up a conversation with anyone. I have strong connections and relationships with my customers ¬– and I've even watched their babies grow up.
My crew at work are like whānau to me. I love cheering them on and seeing them succeed.
Having had that experience with studying and seeing where it's taken me, I'm encouraging all my staff to get qualifications where they can – and to take the opportunities in front of them.
There should be more hype around hospitality
I love hospitality and where it has taken me in my life. And I reckon there should be more hype around the different career pathways and where it can take you. The connections you have with people and the confidence you build is so rewarding. If you're a giving person, I think it's totally for you. I feel fulfilled and satisfied at the end of every day.
My team and I are always learning something new and striving to be better – whether it's visiting our local farms that supply us produce, meeting other people from different parts of the business, or taking on a new challenge. We've all gotten to know each other and which roles we play. It's such a positive and uplifting environment where everyone gets along.
Find your passion and you find your purpose
For school leavers thinking about what's next, my advice would be to find what you're passionate about and build on that. Talk to your whānau, talk to your friends, talk to your teachers. Put all your time and energy into finding your purpose and how you can contribute to the world. Find a career where every day counts.
I don't just want to see myself succeed. I also want to help others do the best they can. So I'd say find something that you need and stick to it. For me, it's being of service. It feels so good to say I've built a future for me and my whānau – all while making my mum proud. That's the goal.