Nicole Sos on designing her own future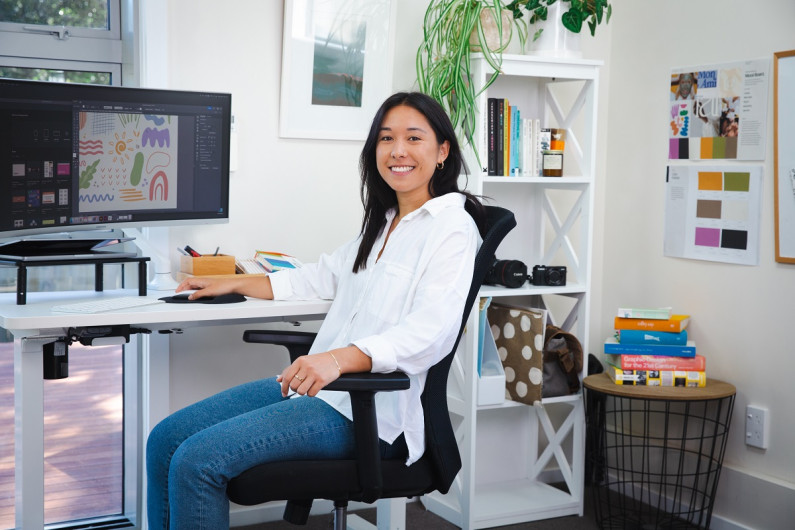 Going against the grain from an early age, Nicole has set the standard for a new way of working. Using her natural flair for creativity, and qualifications through vocational education and training, she's rewritten the rules for success as a graphic designer.
I've always had an interest in creativity and art, even from a young age. My mum would often say I was always drawing and scribbling on things, so I think my curiosity started there.
In high school, my photography class was my creative outlet. I was really drawn to the creative expression it gave me, so I knew I had a passion in that space.
When I was thinking about what to do after high school, I remember an OE being on the cards. But ultimately, I decided I wanted to sort my career path out first, so I could have the means to enjoy travel later. I knew I wanted to do something I was passionate about.
I took the path less travelled.
I was lucky to have great teachers who strongly recommended I explore vocational education and training. But it took some time to come to terms with the concept, as I did feel judged for wanting to do something "different". Like many others, my parents didn't train vocationally, so they weren't aware of the opportunities it creates. It's great to be able to look back and know it was the best decision for me.
The fact that my qualifications ran for only one year meant I could experience the creative field without having to commit to something long-term. Turns out it was the best decision I could have made. I loved it so much that I followed up my first diploma with another. I had developed a passion and drive to continue learning and growing.
My study set me up for the future.
My qualifications taught me a lot of technical skills that I use in the industry today. I believe it has been the best investment for my career long-term. For example, we were given an industry standard toolkit, like how to work with clients, and how to best set up a portfolio. The value you get for what you're paying is unreal and well worth it. My training even gave me the skills to start freelancing while I was still studying, which really gave me a head start in the industry. How great is that? I was able to earn money as a designer while I was still studying.
I also loved learning these things in a small classroom environment, as opposed to a big lecture theatre where people would often fall into the background. I was fortunate enough to build close relationships with my tutors and I still keep in touch with them to this day. I felt like I progressed quicker because of that.
It's not all about the skills either, it's also the confidence it gives you. I'm not the most "out there" person, but doing vocational education and training empowered me to take control of my future.
Self-employed people are empowered people.
Having experienced a bit of freelancing while I was still studying meant I was already building connections. I then had some in-house experience working for a company, which expanded my network even more – and by that time, my entrepreneurial side really started to grow. I'd built enough confidence and connections that made me realise I could do this full time.
One of the things that struck me most about being self-employed is that I could earn more than your traditional in-house designer. This surprised me. I was always under the impression that I needed to work for someone else to get ahead. But when I was tossing up whether to be self-employed or work for a company, I realised I could achieve more on my own. I didn't have to pursue a career in the stock-standard way.
The freedom to be selective about the work I do is another huge plus. It feels great to do work that I genuinely enjoy. And it's important for me that whatever I'm working on aligns with my values. I want to make work that is authentic and purpose-driven. I want to feel good about the things I'm producing.
I also love the freedom self-employment gives me. I like to mix things up and surround myself with new environments, which helps with creative inspiration. Sometimes it's as simple as stepping away from the computer and taking my dogs for a walk or meeting up with clients in person. I love being able to do things on my own terms. And that will be a huge benefit when I want to start a family of my own.
Don't be afraid to go against the grain.
Freelancing and entrepreneurship are becoming more common, but I still think there needs to be more information about the possibilities of working for yourself.
I remember someone telling me that it was going to be hard to pay my taxes, but it's actually super easy – so I'm glad that person didn't put me off. There needs to be more positive messaging around the benefits of self-employment and how realistic it is, especially for young people.
My advice for school leavers is to not feel pressured by what everyone else is doing. And just because you think something is going to make you money doesn't necessarily mean it's the right thing – or that you'll enjoy it. Oh, and think about the value that studying could bring you in the long term.
My vocation is my purpose.
My vocation is my every day. I'm always thinking, what can I do next? My brain is constantly buzzing. I feel energised and motivated to reach for more. And there's still lots I want to achieve. I'd like to work with international brands. I also want to grow my business enough so that I can hire other people – I'd love to have some staff on board.
Travel is definitely on the cards for me. But I'm now at the point where I feel I've built a solid foundation to come back to. The journey of creating this pathway for myself is what makes it feel that much more special.