Building Contractor
Kaihanga Whare
Alternative titles for this job
Building contractors run their own businesses and plan, supervise and work on the construction and alteration of buildings.
Pay
Pay rates for building contractors vary according to the success of their business.
Job opportunities
Opportunities for building contractors are good due to a shortage of workers.
Pay
There are no set pay rates for building contractors as what you earn depends on your ability, as well as how often you work and the success of your building company.
There may be times when your services are in high demand and times with little or no work.
(This information is a guide only. Find out more about the sources of our pay information)
What you will do
Building contractors may do some or all of the following:
discuss building plans or changes with architects, clients and other tradespeople
calculate the amount of materials required and estimate the cost of jobs
hire and supervise tradespeople such as electricians and plumbers
organise details of contracts
arrange building consents and notify building and plumbing inspectors
construct, alter and repair buildings
ensure building standards and correct health and safety practices are met
keep accounts and collect payments.
Skills and knowledge
Building contractors need to have:
building and carpentry skills
knowledge of building methods and materials
understanding of building standards and safety regulations
skill interpreting drawings and architectural plans
knowledge of health and safety procedures on building sites
maths skills
small business skills.
Working conditions
Building contractors:
may work irregular or long hours, and often work weekends
work on building sites or existing buildings, in all weathers and in conditions that may be muddy, noisy and dusty
may travel within their region for work.
What's the job really like?
Thirty years ago when home computers were in their infancy, and before Facebook founder Mark Zuckerberg was even born, Brent Hansen gave up his job as a computer programmer and became a carpenter.
Despite the way that the world has unfolded, Brent says entering the building industry is a move he has never regretted. "I wasn't into just sitting there staring at a screen all day, getting bored. The building industry at the moment is pretty frustrating and you start to wonder. But no, I made the right decision."
A great job for practical, physical people
Brent says being a builder is a great job for a practical person who loves working outdoors.
"The physical labour is great but also the physical achievement – you can sit back at the end of the day and see what you've done."
Builder video
Why choose building and construction? Apprentices explain what they enjoy about their work – 1.32 mins. (Video courtesy of Building and Construction Industry Training Organisation)
Troy: I chose building and carpentry because I just love being outside and seeing something coming from nothing, from the ground up.

Cody: You can work closely with other people, you can have a laugh at the same time as doing your job, doing your work.

Cale: When I left school I wanted to be a builder, I went away from it, I worked as a snowboard instructor. The opportunity came up for the apprenticeship and I took it. I haven't looked back.

Scott: I just love the atmosphere that you come to, you come to work you're with a bunch of dudes who are here to do the same thing as you, there is no rivalry in it, it's just cameraderie more so.

Desiree: I get to see a house from start to finish, I make a house look beautiful.

William: It's just a great industry to be in. There's plenty of opportunities out there for you to further yourself.

There's so many different aspects to building that you don't realise until you start doing it.

Anna: Yeah it's all go, you're learning something, you're being taught something, you're practising something.

Cody: I get to earn money while I learn, that's the cool thing, I don't have to be in any student debt.

A whole lot of good people you get to meet, the big sites you get to work on.

Anna: The benefit of being an apprentice is that you are learning so much every day.

Cale: When you complete you're a qualified tradesman. You don't go to university, study for four years and then go into an internship, you come out qualified ready to go.

Bill: I get a real kick at the end of the day when I stand back and I can see what I've done in my day's work, it's cool to be able to know that "Hey look, I built that."
Entry requirements
There are no specific requirements to become a building contractor, but most are experienced carpenters who have worked in the building and construction industry.
A New Zealand Certificate in Carpentry or other building qualification may be useful. The Building and Construction Industry Training Organisation (BCITO) oversees carpentry apprenticeships.
Secondary education
No specific secondary education is required for this job, but English, maths, construction and mechanical technologies, and accounting to at least NCEA Level 2 are useful. 
Year 11 and 12 students can learn more about the construction industry, and gain relevant skills, by doing a National Certificate in Building, Construction and Allied Trades (Levels 1 and 2) through the BConstructive programme.
For Year 11 to 13 learners, trades academies and the STAR and Gateway programmes are good ways to gain relevant experience and skills.
These programmes may help you gain an apprenticeship, but do not reduce the amount of time it takes to complete it.
Personal requirements
Building contractors need to be:
accurate, with an eye for detail
safety-conscious
able to make good judgements
able to work with a range of people
motivated, as they often work independently and must find their own work
good at planning and organising.
A good carpenter or builder has to be physical and enjoy the outdoors. You need a reasonable amount of maths for all your angles and so on. You need to be a physical kind of person with a head for basic logic.

Brent Hansen

Building Contractor
Useful experience
Useful experience for building contractors includes:
carpentry work
other building trade work
running a small business.
Physical requirements
Building contractors need to be fit, healthy and strong as they have to lift heavy materials and equipment. They must also be comfortable working at heights.
Registration
Some building work has to be carried out or overseen by a Licensed Building Practitioner. To get a licence, you have to prove your experience and/or have appropriate qualifications.
Find out more about training
Building and Construction Industry Training Organisation (BCITO)

0800 422 486 - info@bcito.org.nz - www.bcito.org.nz

Certified Builders Association of New Zealand (CBANZ)

0800 237 843 - info@nzcb.co.nz - www.certified.co.nz

Registered Master Builders Federation

0800 762 328 - rmb@masterbuilder.org.nz - www.masterbuilder.org.nz
Check out related courses
What are the chances of getting a job?
Chances of getting a job as a building contractor are good due to:
a construction boom that is predicted to last until 2021, meaning more building work
the extra 22,000 houses that are needed over the next 10 years in Auckland
building work needed to upgrade leaky homes and earthquake-prone buildings
building, roading and rail work to repair earthquake damage in Wellington and Kaikoura
the Christchurch rebuild.
Building contractor on two skill shortage lists
Project builder, building project manager and site foreman (building contractor) appear on Immigration New Zealand's long-term skill shortage list and Immigration New Zealand's construction and infrastructure skill shortage list. This means the Government is actively encouraging skilled building contractors from overseas to work in New Zealand.
However, like many building jobs, this role can be affected by economic conditions. A downturn in the economy can lower demand for building contractors.
Building contractors run their own business
Building contractors are self-employed. They work directly for clients, or as subcontractors to larger building firms.
Sources
BRANZ and Pacifecon, 'National Construction Pipeline Report 4', July 2016, (www.branz.co.nz).
Hays, '2017 Hays Salary Survey', 2017.
Immigration New Zealand, 'Construction and Infrastructure Skill Shortage List', 17 December 2018, (www.immigration.govt.nz).
Immigration New Zealand, 'Long Term Skill Shortage List', 19 February 2018, (www.immigration.govt.nz).
McClintock, J, operations manager, Certified Builders Association, Careers New Zealand interview, June 2016.
(This information is a guide only. Find out more about the sources of our job opportunities information)
Progression and specialisations
Independent building contractors may move into management positions in large building companies, or work as construction site managers or project managers.
Building contractors may specialise in commercial or residential building work.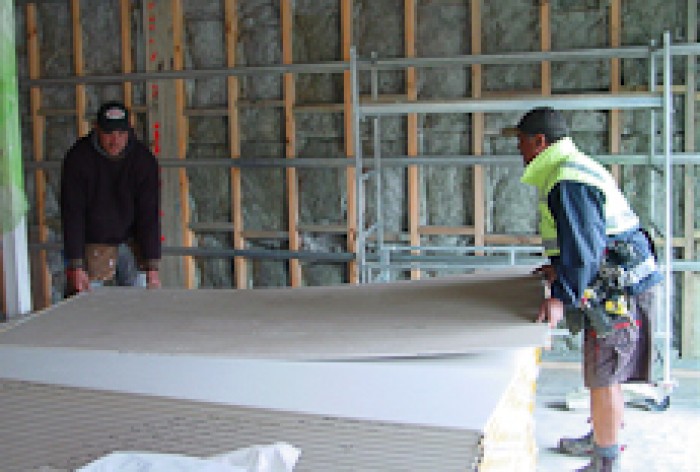 Last updated 18 August 2019