Concrete Worker
Kaimahi Raima
Alternative titles for this job
Concrete workers make, pour, spread, finish, reinforce and cut concrete for construction projects such as buildings and footpaths.
Pay
Unqualified concrete workers usually earn
Qualified concrete workers usually earn
Source: Seek and Trade Me Jobs, 2018.
Job opportunities
Chances of getting a job as a concrete worker are good due to a shortage of workers.
Pay
Pay for concrete workers varies depending on skills and experience.
Concrete worker apprentices may start on the apprentice training rate.
Unqualified concrete workers usually earn between $18 and $20 an hour, depending on their experience.
Qualified concrete workers usually earn $20 to $30 an hour.
Experienced qualified concrete workers and those in team leader roles may earn more than this.
Source: Seek and Trade Me Jobs, 2018.
(This information is a guide only. Find out more about the sources of our pay information)
What you will do
Concrete workers may do some or all of the following:
read and interpret plans or drawings
weigh and mix concrete materials (gravel, sand, cement and water)
sample and test the mix
prepare boxing (formwork) and/or lay reinforcing
pour, spread, compact, smooth and polish concrete, by hand or machine
drive heavy vehicles such as concrete trucks.
Specialised concrete workers may also:
install items such as anchor bolts into concrete
spray concrete on areas such as retaining walls and swimming pools
cut concrete using power cutters.
Skills and knowledge
Concrete workers need to have:
knowledge of concrete types and different ways of using them
knowledge of concrete-setting times
knowledge of how to lay and finish concrete and operate the machines that are involved
basic carpentry skills.
Working conditions
Concrete workers:
usually work regular business hours, but may also work early mornings, evenings and weekends
work on buildings and construction sites, roads, bridges, and other structures
work in most weather, in conditions that can be dangerous, dusty, dirty and noisy
travel locally to construction sites.
What's the job really like?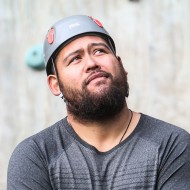 Will Wara
Concrete Worker
What do you enjoy most about being a concrete worker?
"It's challenging, and there's a broad range of work you can do in the concrete industry. I'm just realising that I only know a small part of it. I've been in the industry for just over four years and I've still got plenty to learn, which is good, but I've picked up a lot of skills as well."
What do you find most challenging about your work?
"I'm a foreman at Formstress Precast now so I'm managing around 40 people. The most challenging thing is just managing them all and making sure our targets are met. You do a lot of counselling as a foreman as well. It's more than just the physical work side of things."
How was it winning the Concrete Industry Apprentice of the Year award?
"It was amazing! I was surprised that I took it out and it was a cool event too. It is definitely something to keep on the CV and something I'll be proud of for the rest of my life."
What advice would you give to someone interested in the concrete industry?
"Learn as quickly as possible. I say that to everyone that comes through. There's so much to learn about concrete so you need to learn as much as possible as quickly as possible. Being willing to learn will push you forward quite quickly in this industry."
Concrete worker video
Kyle finds out what it's like being a concrete worker – 7.28 mins. (Video courtesy of Just the Job)
Kyle: Hi, I'm Kyle, I'm from Cashmere High School and I'm interested in a career in concrete construction.

Clinton: Kyle is going to spend a couple of days looking at the work of a concrete construction specialist in Christchurch. With the city centre rebuild finally kicking in, the industry is entering a huge boom period, so it's a time of immense opportunity.

At the Leighs Construction office site he's meeting the director of new business, Mike Knowles. Inside the Christchurch red zone, Leighs are building a big new retail and office block. There's an all-important safety induction, and then Mike and Kyle head off to the red zone to see the new building site.

Mike: Leighs is a local company and we're very keen and passionate about the rebuild and we've been very actively involved to date.

Kyle: Concrete is quite important with the rebuild?

Mike: Oh it's huge. We're seeing more and more concrete in the jobs than ever before, largely due to the unstable ground conditions in the inner city here – it's requiring a lot more concrete foundations. The job that we're actually going to see today has got a thousand, nearly a thousand cubic metres of concrete in the foundations, which is phenomenal for a building this size. That pour, we did 650 – nearly 700 cubes – in one day, which is the largest pour in the rebuild to date actually, so something that we're quite proud of.

Clinton: It's a short drive through the red zone to the construction site where site manager Neal Rippey takes charge.

Neil has very successfully worked his way up in the industry, and early in his career won an Apprentice of the Year award.

Neil: A lot of firsts for a building – the entire facade across the front will all be glass. It's quite an advanced building and it's going to a bit of an icon on this corner, its surrounded by some of the old build with a new, sort of modern facade.

Clinton: The main floors will hang from a huge central core. At one end two concrete sheer walls will enclose stairs and other facilities.

So time to learn some basics about building with concrete. Kyle's going to help build a concrete block.

Neil: The construction is the same as we'd do with a sheer wall – you're going to box up a form – we're going to run some dywidag rods through the middle to support the form.

Clinton: Kyle's got to build a strong box to contain the concrete. First job, coat the box walls with an oil so the concrete doesn't stick.

Neil: Squeegee that in mate…

The challenges are day to day – even just dealing with staff, getting them to do the job that you want in the timeline that is required, making sure that you've got the planning and robust programme there, that the contractors are going to achieve the targets.

Clinton: The wire cage is reinforcement which will bind the concrete together.

Neil: You're dealing with conflict, contractors, also architects, engineers, local city council – it's um, you're sort of like a little bit of a hub – you're drawing everyone in to complete the project, on time and on budget.

Clinton: With the box finished the concrete truck arrives. Apprentice Jack Burmeister has been giving Kyle a hand.

Jack: Alright Kyle, what we're doing here is liquefying the concrete, trying to get all the air bubbles out of it.

Clinton: Once the concrete's been poured in and the air bubbles removed, the block needs to be smoothed and finished.

Jack: Alright Kyle, what we're doing now is we're trying to screed out the concrete – you want to get it flush with this yellow line right here, in smooth lines…

Clinton: Jack's recently been taken on by Leighs and really loves the job.

Kyle: So what got you in to the building industry?

Jack: Two years ago after the Christchurch earthquake, I decided that construction would be a good path to go down with all the work that's going to be coming up, for years and years.

Clinton: Jack did a quantity surveying course at Christchurch Polytech and now is doing an apprenticeship with BCITO.

Kyle: So what do you like about being an apprentice?

Jack: Firstly I like working outside because I could never see myself in a desk job, secondly you've sort of got about 400 teachers – everyone that comes on site seems to be all the older fellas, certainly a lot more knowledgeable than myself.

BCITO adviser: So can you tell me what the minimum height for tow boards is?

Jack: It's 225mm.

BCITO adviser: Excellent, excellent.

Neil: If you come in at that apprenticeship level, you could start off doing framing – I've definitely done my fair share of framing – digging holes, post simple decks, things like that. Concrete construction, your basic formwork, working in with a crew, they usually buddy you up.

Clinton: The principle of building a concrete wall is much the same as Kyle's block. Concrete is poured into a reinforced chamber formed by wooden walls known as shutters.

Neil: You've got your reinforcing in the middle, again, we line up our dywidags, through the steel as we pull the shutters together…

…so again, we've got these big props that are connected to our platform, basically these will wind in...

…and now we'll push that entire shutter into the reinforcing face.

Clinton: It takes at least 24 hours for concrete to set, so next day before Kyle gets to examine his concrete block efforts, Mike Knowles takes him on a red zone tour.

Kyle: The scale of the rebuild really is immense, isn't it?

Mike: Oh it's huge, you know. I've heard lots of people talk about it as being possibly the biggest sandpit in the world at the moment if you're into construction, which means, you know, if you're into construction, it's all happening here – certainly in New Zealand, anyway. Going forward, Christchurch is going to be the place to be for construction, there are just so many damaged or destroyed buildings that we've got to replace and fix, so yeah.

Clinton: So time for Kyle to take off the shutters and reveal the concrete block.

Jack: Nice.

Neil: I love my job – I get up in the morning and I'm like "Yeah! I'm going to work!" sort of thing, and again, I'm quite passionate about interiors as well, good design, good robust planning and having those opportunities to work on.

Jack: So what do you reckon about your concrete block?

Kyle: Oh it's pretty neat!

Clinton: So all good – has Kyle got the right build for the job?

Neil: Hey Kyle's done a fantastic job today, real keen and enthusiastic which we like to see in the trade.

Kyle: I found the building site really interesting, and how it all works around and runs. I never knew how to build a concrete block before and interesting the way it works and how it all turns out.

Clinton: There are a number of National Certificates available from entry level up. There are no entry requirements but it helps to have NCEA Level 2 maths and English. You earn while you learn. There's a new government subsidy available to enrolling apprentices in priority construction trades.
Entry requirements
There are no specific requirements to become a concrete worker. However, once you are employed it is useful to complete an apprenticeship and gain a National Certificate in precast concrete, concrete product manufacture, or concrete construction.
The Building and Construction Industry Training Organisation (BCITO) oversees concrete apprenticeships.
Secondary education
There are no specific secondary education requirements to become a concrete worker, but maths, physical education, English and construction and mechanical technologies to at least NCEA Level 1 are useful. 
Year 11 and 12 students can learn more about the construction industry, and gain relevant skills, by doing a National Certificate in Building, Construction and Allied Trades (Levels 1 and 2) through the BConstructive programme.
For Year 11 to 13 students, the Gateway programme is a good way to gain industry experience.
These programmes may help you gain an apprenticeship, but do not reduce the amount of time it takes to complete it.
Personal requirements
Concrete workers need to be:
careful and accurate
responsible and reliable
hard-working and practical
able to follow instructions
able to work well in a team.
You definitely need a good, strong work ethic because it isn't easy work.

Will Waru

Concrete Worker
Useful experience
Useful experience for concrete workers includes:
paving
bricklaying
work in the construction industry.
Physical requirements
Concrete workers need to have a good level of fitness, strong arms and a strong back as they have to do heavy lifting and climbing. They also need to be comfortable working at heights.
Find out more about training
Building and Construction Industry Training Organisation (BCITO)

0800 4 22480 - info@bcito.org.nz - www.bcito.org.nz
Check out related courses
What are the chances of getting a job?
Strong demand for concrete workers
Chances of getting a job as a concrete worker are good due to:
steady growth in construction, which is predicted to continue until at least 2023
the $850 million Transmission Gully project north of Wellington, which is expected to be under construction until 2020
national and local government plans to spend over $5 billion on transport each year until 2028, with a focus on building and maintaining safer roads, walkways and cycleways
the tendency for concrete workers to move to less physically demanding roles as they age, which creates vacancies
a shortage of workers.
However, like many building jobs, this role can be affected by economic conditions. A downturn in the economy can lower demand for concrete workers.
Types of employers varied 
Concrete workers in the construction sector may be employed by:
contractors that specialise in working with concrete
builders and building firms that employ a range of tradespeople and labourers.
Some concrete workers are self-employed or work in small teams that contract to builders.
Cement and concrete plant workers are employed by cement and concrete manufacturers.
Sources
Building and Construction Industry Training Organisation, 'Concrete', accessed October 2018, (www.bcito.org.nz).
Leach, A, information and communications manager, Concrete NZ, careers.govt.nz interview, September 2018.
Lewes, A, industry advocate, Building and Construction Industry Training Organisation, careers.govt.nz interview, October 2018.
Ministry of Business, Innovation and Employment, 'National Construction Pipeline Report 2018', July 2018, (www.mbie.govt.nz).
Ministry of Transport, 'Government Policy Statement on Land Transport 2018/19-2027/28', June 2018, (www.transport.govt.nz).
New Zealand Transport Agency, 'Transmission Gully', accessed October 2018, (www.nzta.govt.nz).
Ranchhod, S, 'Construction Bulletin – July 2018', July 2018, (www.westpac.co.nz).
(This information is a guide only. Find out more about the sources of our job opportunities information)
Progression and specialisations
Concrete workers can progress to become team leaders or may start a business and manage their own team of concrete workers. They may also move into construction project management. 
They may specialise in:
manufacturing concrete products
producing cement and concrete as a raw material
constructing buildings out of concrete.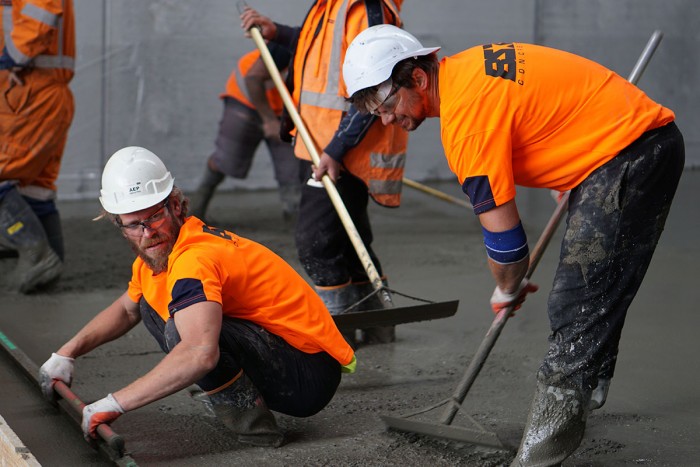 Last updated 8 August 2019