Apprenticeships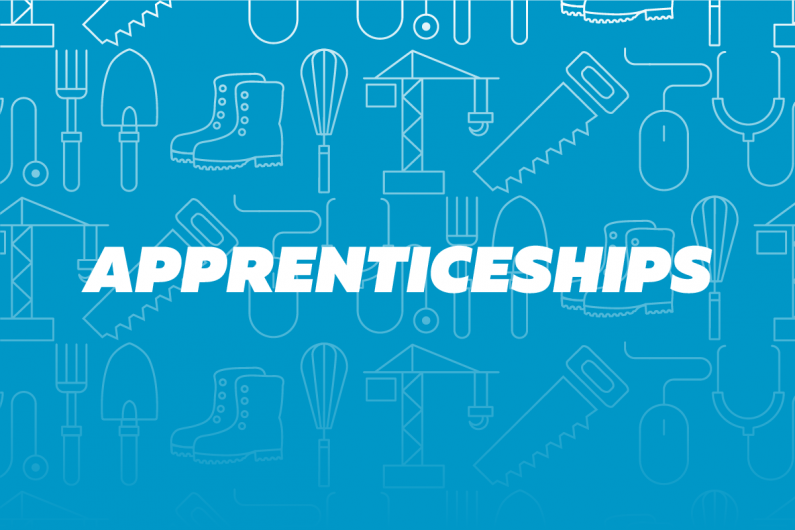 Find out what New Zealand Apprenticeships involve, and who offers them.
What do New Zealand Apprenticeships involve?
New Zealand Apprenticeships teach you a trade such as:
building
engineering
hairdressing, barbering or beauty
agriculture or horticulture
tourism
sports or fitness.
As an apprentice, you:
work for, and learn from, an employer who supports you through your apprenticeship
complete practical, on-the-job assessments such as showing you can lay carpet
attend courses that are part of the apprenticeship such as block courses, evening courses and day-release classes
complete written assessments.
What do New Zealand Apprenticeships cost?
From 1 July 2020 all New Zealand Apprenticeships will be free until December 2022.
Benefits of New Zealand Apprenticeships include:
earning at least the training minimum wage (employers often pay more as you become more skilled)
gaining technical, practical skills
gaining a Level 4 New Zealand Certificate when you complete the apprenticeship, which means you are likely to be paid more and have better work opportunities.
How to become an apprentice - video
Find out what it takes to become a building apprentice - 1.54 mins
Scott Findlay: When it comes to getting into the industry, all you've got to have really is just, you know, a good work ethic and a good attitude to want to know get out there and get some skills, you know, and enjoy what you do.
Cody Webby: To get an apprenticeship there's quite a few essential things. One being, first of all, your licence. You may need to go down the road to get a couple of building supplies. You may even need to go down the road to get milk for smoko.
Desiree Turner: It's good to find a job that has a boss that's willing to take you on as an apprentice and put you through your apprenticeship.
Anna Clearwater: It's a good idea to stay in school until you're year 12 and take subjects like English and math and maybe design because those are all things that are going to help you towards your apprenticeship.
William Ellis: Update your CV, have all your credentials up-to-date and just show willingness to learn, and working hard is definitely a big thing.
Bill Harkness: I'd recommend going knocking on a few doors, giving people a few phone calls, and building companies out there, just asking for work experience in your spare time, school holidays, and that just gets to show people that you're sort of a motivated sort of person and that's just going to help you get your foot in the door at the end of the day.
Troy Matheson: Look in the phone book and ring every builder and don't stop till you find someone willing to take you on.
Cody Webber: Five years ago I could just dig a hole. Now I can pretty much build a house. It's a lot of commitment, hard work, show up on time, make sure you always turn up and commit yourself.
Cale Marshall: When you're ready to take on the next step you'll need to find an employer who's willing to train you. After that contact, the BCITO and get the apprenticeship started.
Can you do a New Zealand Apprenticeship?
To become a New Zealand Apprentice you must be over 16, but there is no upper age limit.
Each industry has different entry requirements, so check with the relevant provider.
Apprenticeship providers
The role of supporting work-based training (including apprenticeship training) is shifting from Transitional Industry Training Organisations (TITOs) to other providers – Te Pūkenga, private training establishments (PTEs) and wānanga.
A number of TITOs have already transitioned, and the entire shift will be completed by the end of 2022. 
What qualification do you get on completing a New Zealand Apprenticeship?
When you complete your apprenticeship you receive a Level 4 New Zealand certificate in the area you studied. Examples include:
New Zealand Certificate in Seafood Processing (Level 4)
New Zealand Certificate in Automotive Electrical Engineering (Level 4).
What it's like to be a carpentry apprentice – video
Hamana Daymond and Dion Wirapa talk about what it's like to be a carpentry apprentice – 5.34 mins.
First presenter: Hey bro. You know what this is?
Second presenter: Do you want me to say yes or no?
First presenter: [whispers] Say no.
Second presenter: No.
First presenter: [whispers] It's Hammer Time.
Second presenter: What? But I can't dance!
Izzy: Hi, I'm Izzy and I'm entering that scary time of life where I have to start thinking about a job! I'm heading out to find the answers to my questions.
Qeyloux: I'm tagging along because, well, Izzy and I are friends, and I do anything she tells me to.
Kia ora, this is our friend Ihaia, he wants to be a carpenter and he wants to check out this work site and see what it's like.
Construction manager: Morning all, welcome to project kererū, here's the list of the hazards we all face today, please don't be afraid to ask questions, we'll open up the entire job for ya, and when we've finished don't forget to sign out, so I don't have to run around at 5 o'clock trying to figure out which hole you're in.
Ihaia: Kia ora, ko Ihaia toku ingoa.
Hamana: Kia ora. [They hongi]
Ihaia: What do you do for a job?
Hamana: I'm currently doing my apprenticeship, I'm still in my first year and it's going pretty good so far.
Izzy: What sort of skills do you need to get into this industry?
Hamana: Oh honestly I wasn't the sharpest knife in the box but pretty much all you need is a good attitude, an open mind to learn and well that's all I think that you need.
Ihaia: Are there any qualifications needed to get your job?
Hamana: You do have to do Level 2 theory papers, but I was lucky to have a Gateway through school. Every Friday we used to travel to Gisborne and took a year out in Invercargill to actually do one whole year of pre-trade and there I've managed to cover most of my theory papers, so now, even though I'm in my first year of my apprenticeship, I'm currently doing my third year papers, which is a big help.
[They meet Dion]
Izzy: Kia ora I'm Izzy.
Ihaia: Kia ora I'm Ihaia.
Qeyloux: I'm Qeyloux.
Izzy: Tell us about yourself.
Dion: Well, my name's Dion, I hail from the King Country. I come down here to work, and life took me on an unexpected journey and here I am.
Ihaia: Tell us about your background.
Dion: I had drug habits, as you do growing up, and you're still finding your way in life and stuff like that and ended up in jail. The image I had from moving from the country to town to seeing these gang members with patches, it was a bit of a, oh I wanna be like that guy there, he looks pretty cool. The emotions run high on drug-fuelled lives, you know what I mean?
Ihaia: Yeah.
Izzy: Yeah…and has being employed helped you find yourself and you know, helped you with this journey?
Dion: Yeah life is comfortable and it's where I wanted to be. Yeah this is the future for me, this is carpentry and I hope to start a carpentry business.
Ihaia: Thank you Dion. [They all hongi]
[They meet Hemi]
Ihaia: Kia ora Hemi. [They all hongi]
Ihaia: What do you do for a job?
Hemi: So I'm the manager of He Toki ki te Mahi. He Toki is a Māori-led initiative led by Ngāi Tahu and it's a collaborative partnership with Hawkins Construction, who are our industry partner, so we've come together and we've put together this awesome initiative, this awesome programme about getting all our Māori and Pasifika youth into training and eventually
into sustainable employment and good jobs like the trades.
Ihaia: What advice would you give rangatahi wanting to be in the building industry?
Hemi: The main thing is just having the right attitude, I think that's expected of all employees really, but if you've got the drive, you know, to be the best at what you do, whether it's being a fork-lift driver or whatever it is, or a builder or a doctor or a lawyer, you just gotta have that passion, that's the main thing and learning how to show up to work on time, and just working from start to end and that's all they ask for.
Ihaia: Kia ora, thank you for having this interview with us.
Hemi: Tēnei te mihi kia koutou. [They all hongi]
Second presenter: Here's a summary of what Izzy and Qeyloux learnt on the site today. You need a good attitude and an open mind to learn. Whether you are a fork-lift driver or a lawyer – have you got the drive to be the best at what you do?
Don't let the old you get in the way of the new you.
Get paid to learn on the job.
A career can be life-changing.
You can start your own business.
Make sure you check out our other awesome industry videos on the Māia website.
Apprenticeship Boost supports employers to take on apprentices
Apprenticeship Boost is a payment to help employers keep and take on new apprentices.
The payment is made directly to employers.
Apprenticeship Boost will run until the end of December 2023.
Updated 30 May 2022