Qualifications and their levels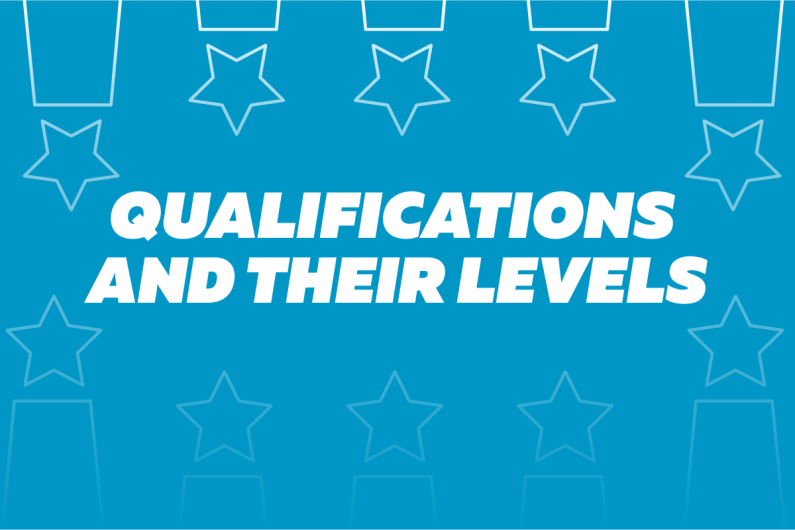 Find out about New Zealand tertiary qualifications and their levels.
What's on this page?
Levels of tertiary qualifications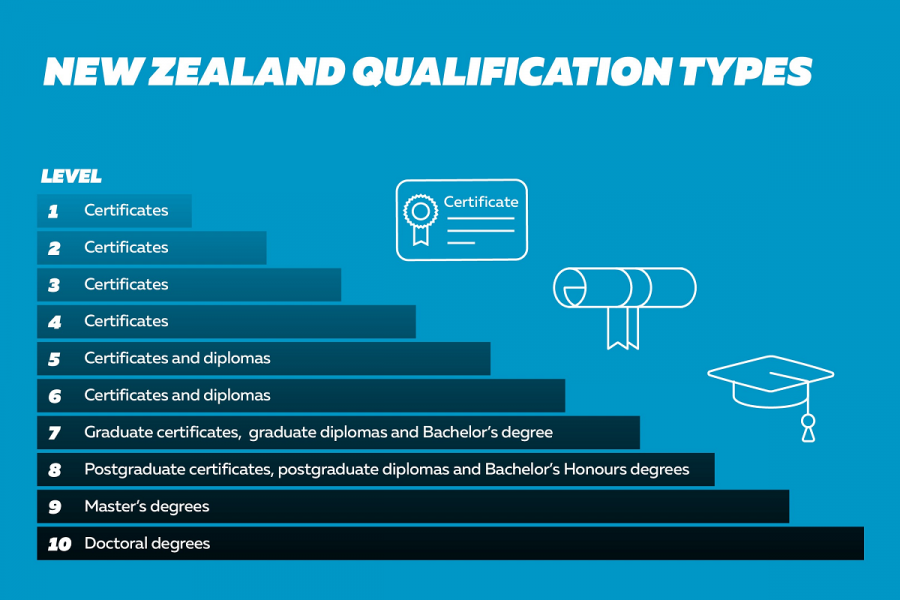 Ten tertiary qualification levels exist in New Zealand, from Level 1 certificates to Level 10 Doctorates. They are:
Level 1 certificates
Level 2 certificates
Level 3 certificates
Level 4 certificates
Level 5 certificates and diplomas
Level 6 certificates and diplomas
Level 7 graduate certificates, graduate diplomas and Bachelor's degrees
Level 8 postgraduate certificates, postgraduate diplomas and Bachelor's Honours degrees
Level 9 Master's degrees
Level 10 doctoral degrees.


Information about New Zealand tertiary qualifications should always state their level, as this gives important information about how much work is involved. For example, these certificates in applied science have very different requirements for learners:
Certificate in Applied Science (Level 3).
Certificate in Applied Science (Level 4).
Graduate Certificate in Applied Science (Level 7).


NCEA, tertiary qualifications, and the qualifications framework
The New Zealand Qualifications Authority (NZQA) approves secondary and tertiary qualifications, and places them at the appropriate level on the New Zealand Qualifications and Credentials Framework (NZQCF).
National Certificate of Educational Achievement (NCEA)
The secondary school qualification National Certificate of Educational Achievement (NCEA) is part of the NZQCF.
NCEA qualifications range from Level 1 to 3.
Tertiary qualifications while still at school
You may be able to study for tertiary qualifications as well as NCEA while at school.
How study level can affect your earnings and job opportunties
Pay rates 
Generally, the higher the level you qualify at, the higher your pay rate will be once you're working. 
For example, 10 years after graduating, people with Level 1 to 4 certificates usually earn 15% more than the average income. However, people with Bachelor's degrees usually earn 67% more than the average income. How much you earn also depends on what subjects you study.
Job opportunties
You don't necessarily need to do a degree to get a job.
Some jobs need a certificate or diploma, and some have no formal entry qualifications
Micro-credentials
Micro-credentials are a way of recognising your skills and knowledge in a particular area that employers are looking for, such as repairing electric vehicle batteries. Some micro-credentials are registered on NZQCF but they aren't formal qualifications.
Updated 25 Sep 2023