How to apply for study, apprenticeships or training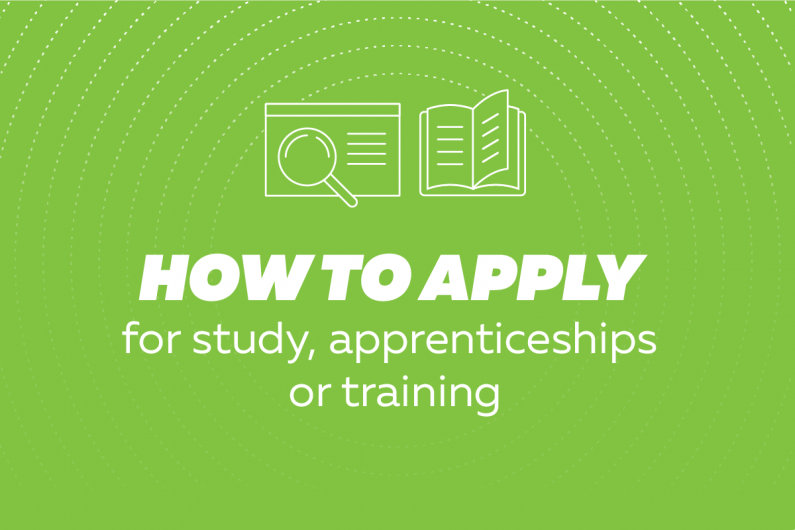 Follow these steps on how to apply for tertiary study or on-the-job training, including apprenticeships.
What's on this page?
How to apply for study
1: Check if you are eligible to enrol for study
Entry requirements can vary at different education providers, even for the same qualification, so check the website of the education provider you want to enrol with.
Options if you don't meet entry requirements
If you don't meet all entry requirements, contact the education provider to find out about:
lower-level courses to get you ready for study
special admission for learners over 20 years old
admission for learners under 16 who have the ability and maturity to cope with tertiary study.
2: Check closing dates for enrolment
Check the closing dates for your enrolment application, and start preparing early. The cut-off for some enrolments is as early as 1 October in the year before the course starts.
Some courses require a certain number of NCEA credits or University Entrance, but you can apply for enrolment before you have your final results.
If you've missed the closing date you can still contact the education provider to ask if any spaces are left.
3: Find out what you need to supply
You may need to fill in a paper or online form, or register online to start enrolment, and you may need to supply:
an email address
your national student number
information about your qualifications such as your record of achievement
a certified copy of an identity document such as a birth certificate or passport
other information such as evidence of volunteer work.


Certified copies of documents
You will probably be asked for certified copies of your documents – copies that someone trustworthy has checked and signed as accurate copies. There is no charge for this service.
Find out who can certify your documents for each education provider, as it varies. Certifiers could include:
teachers
kaumātua
ministers of religion
police officers
registered medical professionals
solicitors or Justices of the Peace.
To get your copies certified:
photocopy your documents
take the originals and photocopies to the certifying person, who will check and sign the copies.


4: Find out about other entry requirements
To be accepted for a course you may also need to:
attend an interview
pass police vetting
provide references.
Note: The Vulnerable Children Act 2014 means that if you have certain serious convictions, you can't be employed in a role where you are responsible for, or work alone with, children. This means you may not be accepted into a course that leads to work with children.
5: Check everything and submit
Before you submit your enrolment application, make sure you:
fill in all sections
check your spelling
attach all documents and ensure you provide everything that is asked for
ask someone to check your work.
Submit your application by the closing date, and make sure you keep a copy for your records. If you're posting your application, allow at least three working days for it to arrive, and longer if you're in a rural area.
Where to get help with your application
You can get help with your application from:
the course provider, either by phone or online. Ask to speak to someone in the enrolment office, student support, or Māori or Pacific student support
your career adviser, if you're still at school.


How to apply for apprenticeships
1: Contact the provider
Te Pūkenga and some private training establishments (PTEs) support work-based training (including apprenticeship training).
The Tertiary Education Commission (TEC) provides a complete list of apprenticeships and providers in the New Zealand Apprenticeship Register.
Contact the provider for the role you're interested in and ask what the entry requirements are for a New Zealand Apprenticeship.
Ask if they can help you find a suitable job – some providers offer this service.
2: Find a job
If you haven't already got a suitable job, find a position in the industry you've chosen, with an employer who is willing to support you through an apprenticeship.
Some employers will pay your apprenticeship fees. Others will expect you to pay the fees, so check first.
Apprenticeship Boost supports employers to take on apprentices
Apprenticeship Boost is a payment to help employers keep and take on new apprentices.
The payment is made directly to employers.
Apprenticeship Boost will run until the end of December 2024.
3: Sign up for a New Zealand Apprenticeship
When your employer thinks you're ready to start a New Zealand Apprenticeship:
contact the relevant provider
sign up for an apprenticeship.
4: Get a training plan
Your provider will work with you and your employer to develop a training plan that outlines your on-the-job and off-the-job training, which could include:
block courses, day release classes or evening courses
off-the-job assessments such as written assignments
on-the-job assessments where you demonstrate your skills to your assessor.
How to apply for other on-the-job training
In some jobs, such as sterilising technician and dispensing optician, you are taken on as a trainee and study for a qualification while working.
Contact the employer directly if a trainee job is advertised. If there aren't any vacancies advertised, it's still worth approaching employers to show you're interested as:
there may be opportunities that haven't been advertised
employers may take your contact details and contact you later
you can ask them what experience and background they are looking for in an ideal applicant.


Updated 27 Jul 2023