Pay
Finance managers usually earn
Job opportunities
Chances of getting a job as a finance manager are good due to high demand for their services.
Pay
Pay for finance managers varies depending on where they work and who they work for.
Finance managers usually earn between $82,000 and $170,000 a year.
Source: Hays, 'FY 2022/23 Salary Guide', 2022.
(This information is a guide only. Find out more about the sources of our pay information)
What you will do
Finance managers may do some or all of the following:
oversee cash flow and account management
assess and manage risks
prepare budgets and documents such as annual reports
undertake financial forecasting
provide financial advice to the organisation
make decisions on how to invest the organisation's money
undertake operational reporting and analysis to ensure the organisation achieves financial targets
monitor and report on financial trends
supervise the finance team
ensure policies, procedures and legal requirements are followed correctly.
Skills and knowledge
Finance managers need to have knowledge of:
finance and accounting theory
budgets, financial modelling and financial reporting
computer and accounting software.
Working conditions
Finance managers:
usually work regular business hours, but may work evenings or weekends to meet deadlines
work in offices, but may travel to visit clients.
What's the job really like?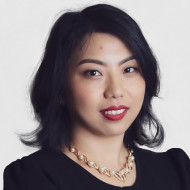 Sherry Xiao
Finance Manager
What is a typical work day like for you?
"In the morning I'll check in with team members to see what was done the previous day and what's on today's to do list. After that it's a mix of getting on with work and attending meetings – but every day is different.
"I could be meeting with heads of departments to talk about their financial results, providing support to different business units, or giving information to the Treasury. There's always a lot of different things going on."
What do you enjoy most about your job?
"I love my team. We're constantly thinking about how we can improve what we do – how do we create financial reports that are easy for non-accountants to understand? How do we use visual aids like dashboards as opposed to tables of numbers to tell the finance story? We all share the same vision of wanting to improve and do the best we can each day."
What is the most challenging part of your job?
"As a finance manager I often have to deal with a wide range of responsibilities. I have my usual, day-to-day business activities to do and then also the unexpected tasks or requests I have to complete as they pop up. It's about finding a balance so that all the work gets done as required."
Entry requirements
To become a finance manager you need to have a Bachelor's degree majoring in finance or accounting.

Secondary education
A tertiary entrance qualification is required to enter further training. Useful subjects include accounting, economics, business studies, English and maths.
Personal requirements
Finance managers need to be:
able to lead others
able to think critically and analytically
accurate with high attention to detail
strong communicators
confident decision-makers.
Useful experience
Useful experience for finance managers includes:
financial or accounting experience
management experience.
Registration
Employers prefer to hire finance managers who are registered with a professional body such as Chartered Accountants Australia New Zealand (CA ANZ) or CPA Australia.
To become a Chartered Accountant (CA) or a Certified Practising Accountant (CPA) you must:
complete a degree from an approved university
complete three years of professional experience
complete qualifications set by CA ANZ or CPA Australia.
Find out more about training
Chartered Accountants Australia New Zealand (CA ANZ)

0800 469 422  - www.charteredaccountantsanz.com

CPA Australia

(09) 913 7450 - nz@cpaaustralia.com.au - www.cpaaustralia.com.au
Check out related courses
What are the chances of getting a job?
Shortage of experienced finance managers
Finance managers are in demand due to:
a shortage of people with the right skills

strict immigration laws due to COVID-19, meaning employers having a smaller talent pool to choose from.
According to the Census, 13,386 finance managers worked in New Zealand in 2018.
A balance of technical and soft skills needed for the future
With automation becoming increasingly common, finance managers need to continue upskilling their technical abilities. This includes keeping up to date with new financial software, faster interpretation of big data, and analysing companies' operational performance.
Due to economic uncertainty and increasing automation, finance managers need to be adaptable to changing environments. This includes having strong leadership, decision-making and communication skills.
Types of employers varied
Finance managers usually work in the head offices of medium to large organisations.
Most finance managers work for:
government organisations
private businesses
finance companies
accountancy firms.
Sources
Edmunds, S, 'Employers having to fight for staff in tighter job market', 2 May 2019, (www.stuff.co.nz).
Hays, 'Hays Jobs Report January to June 2020 – Accountancy & Finance', accessed September 2020, (www.hays.net.nz).
KPMG, 'Financial Institutions Performance Survey June 2020 Quarterly Results – New Zealand', accessed September 2020, (www.kpmg.com).
Robert Half, 'Finance 2020 report', accessed September 2020, (www.roberthalf.co.nz).
Stats NZ, '2018 Census Data', 2019.
(This information is a guide only. Find out more about the sources of our job opportunities information)
Progression and specialisations
Finance managers may progress to become managing directors or chief executives.
Last updated 14 March 2023