Accountant
Kaikaute Pūtea
Alternative titles for this job
Accountants provide accounting services to companies, organisations and individuals. They prepare financial statements and forms, and advise clients on financial aspects of business.
Pay
The average salary for accountants with less than five years' experience is
The average salary for accountants with more than 20 years' experience is
Job opportunities
Chances of getting a job as an accountant are good due to demand for experienced workers.
Pay
Pay for accountants varies depending on qualifications, experience, the region they work in, and the size and type of organisation they work for.
Accountants with:
up to four years' experience earn on average $70,000 per year.
five to 10 year's experience earn on average $105,000 
11 to 15 years' experience earn on average $137,000
16 to 20 years' experience earn on average $153,000 
over 20 years' experience earn on average $165,000.
Source: Chartered Accountants Australia New Zealand (CAANZ), '2022 Member Remuneration Survey: New Zealand', 2023.
(This information is a guide only. Find out more about the sources of our pay information)
What you will do
Accountants may do some or all of the following:
prepare financial statements and reports for clients or company management
record the amount of money spent and received daily by clients or company management
develop, forecast and check budgets
prepare goods and services tax (GST) and other returns, such as surveys, pay as you earn (PAYE) and tax forms
advise on financial aspects of businesses such as budgets, tax and cashflows
review accounting procedures and analyse the financial performance of businesses
assist management with strategic planning and human resources.
Skills and knowledge
Accountants need to have:
knowledge of finance, economics and marketing
knowledge of business management practices, including business ethics
ability to use accounting software, such as Xero, MYOB, iFirm or SAP
accounting and maths skills.
Working conditions
Accountants:
usually work regular hours, but may work weekends or evenings to meet deadlines
usually work in offices, but may work from home
may travel to visit clients.
What's the job really like?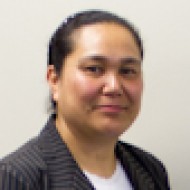 Akanesi Havea
Financial Accountant
Akanesi Havea came to New Zealand in 2001, and had many years of experience in the finance sector in the Solomon Islands. However, whenever she applied for jobs, the message from prospective employers was the same – her experience in another country counted for little. She realised she had to do more.
"I needed the piece of paper."
Though Akanesi felt confident she could succeed at university, she had never envisaged a time when she would be able to combine motherhood and study. "I never thought that dream would come true."
Family support helped Akanesi achieve her qualification
Attending eldest daughter Loisi's parent/teachers' evening proved to be Akanesi's turning point. She discovered that Loisi did not want to go to university.
"Right," Akanesi said to Loisi, "from now on you will have all the responsibilities at home and I will go to school."
With Loisi's help, Akanesi managed to juggle three years of full-time study, completing the Bachelor of Commerce and Administration at Victoria University of Wellington at the same time as looking after her family.
In 2009, she got her "piece of paper", and as she led the graduation parade through the streets of Wellington, Loisi was by her side.
Accountant video
Rhiannon Graham talks about life as an accountant – 2.22 mins.
Hi, I'm Rhiannon and I'm an accountant.
Accountancy as a whole is a service to
clients or businesses that interpret their financial
information. There are many types of accountants.
I personally am a tax accountant,
so I review clients' financial information in order to help them meet their tax
requirements and obligations. In New Zealand,
we have quite a few different types of taxes. We've got GST,
income tax, payroll. Everyone regardless of which country you are in
has tax.
It's one of the only things that is certain in this life. As I get into
the office, I generally put on the music for the office and check my emails,
see if there's anything urgent that's come in overnight,
and get ready for our team huddle that we have at usually 8.30am.
So my entire day is preparing tax returns, responding to emails,
requesting information from clients if I'm missing some.
Generally it's mostly at my desk.
Xero is the software that we use every single day,
and if you take accounting in high school or even at university,
you will have most likely been exposed to the software.
The dashboard shows your bank accounts that you have,
any invoices that you've got outstanding, any bills you need to pay.
You can come and prepare the client's GST return directly from the software
and publish it for the client's review. So you need a minimum of a
bachelor's degree.
That's a 3-year Bachelor of Business Studies or a Bachelor of Accounting.
In the final year of my degree at AUT,
the Bachelor of Business requires you to intern for the last semester.
So I started my internship here at my current
employment and have been here ever since. The accounting industry has a great
graduate programme or graduate pathway for university
students. Those big accounting firms,
they want to hire graduates and so there's massive graduate
recruitment fairs and activities.
You just need to get involved and the earlier you do that,
the better off you are.
Entry requirements
To become an accountant you usually need an accounting degree, or a business or commerce degree majoring in accounting.
Join a professional organisation
Most accountants are members of Chartered Accountants Australia New Zealand (CA ANZ). Some accountants are members of CPA Australia.
To become a Chartered Accountant (CA) or a Certified Practicing Accountant (CPA) you must:
complete a degree from an approved university
complete three years of professional experience
complete qualifications set by CA ANZ or CPA Australia.
People working in accountancy in New Zealand may also join the Accountants or Tax Agents Institute of New Zealand (ATAINZ).
 To become a member of ATAINZ you must:
have a two-year accounting diploma or a degree in accounting or business studies.
Accounting technician entry requirements
To become an accounting technician you need to complete two years of tertiary study. This could be either:
a New Zealand Diploma in Business (Level 6)
degree-level study in accounting and business.
Accounting technicians must also complete one year of relevant accounting experience before, during or after they complete their tertiary study.
Secondary education
A tertiary entrance qualification is required to enter further training. Useful subjects include accounting, business studies, economics, English and maths.
Personal requirements
Accountants need to be:
methodical and accurate, with a good eye for detail
able to work well under pressure
honest and responsible
skilled in analysing and interpreting information
skilled in organising and planning
good problem solvers
good communicators and able to relate well to people.
Useful experience
Useful experience for accountants includes:
accounts and auditing work
accounting software experience
work in offices and administration.
Registration
Membership with an accounting professional body is recommended but not compulsory.
Find out more about training
Accountants and Tax Agents Institute of New Zealand (ATAINZ)

0508 282 469 - admin@atainz.co.nz - www.atainz.co.nz

Chartered Accountants Australia New Zealand (CA ANZ)

0800 469 422 - service@charteredaccountantsanz.com - www.charteredaccounantsanz.com

CPA Australia

(09) 913 7450 - nz@cpaaustralia.com.au - www.cpaaustralia.com.au
Check out related courses
What are the chances of getting a job?
Accountants in demand
Accountant appears on Immigration New Zealand's regional skill shortage list. This means the Government is actively encouraging skilled accountants from overseas to work in New Zealand.
Demand for accountants is expected to continue to grow due to: 
an increasing need for analysts who can understand and interpret financial data to help businesses make decisions
growth in industries, such as the banking, construction and retirement industries
companies having strict regulations for financial reporting.
Turnover among accountants is high in large companies, so vacancies for experienced and graduate accountants are common. This is because:
there is confidence in the job market, so accountants may change positions more frequently
newly qualified chartered accountants often move overseas, creating vacancies for graduates.
There are about 29,000 Chartered Accountants Australia New Zealand (CA ANZ) members and just over 2,200 CPA Australia members in New Zealand.
Opportunities for students and graduates
Many large accounting companies have summer internships for students and programmes for graduates which can lead to full-time employment.
Types of employers varied
Most accountants work for accounting businesses, which can range in size from small businesses employing just a few people, to large nationwide companies employing hundreds of people.
Other types of businesses also employ accountants to help with finances and planning. These include:
legal firms
financial asset investors
private companies across of range of industries
marketing and business management companies
central and local government departments and organisations
retirement villages
construction businesses.
Sources
Accountants and Tax Agents Institute of New Zealand (ATAINZ) website, accessed December 2018, (www.atainz.co.nz).
Cameron, A, managing director, Consult Recruitment, careers.govt.nz interview, January 2019.
Chartered Accountants Australia New Zealand website, accessed December 2018, (www.charteredaccountantsanz.com).
CPA Australia website, accessed December 2018, (www.cpaaustralia.com.au).
Immigration New Zealand, 'Regional Skill Shortage List', 27 May 2019, (www.immigration.govt.nz).
Nadkarni, A, 'Red Carpet Rolled Out For Accountants As Demand Booms', 24 August 2017, (www.stuff.co.nz).
Thompson, M, board member, ATAINZ, careers.govt.nz interview, December 2018.
Westpac, 'Industry Insight Accounting Services', September 2018, (www.westpac.co.nz).
(This information is a guide only. Find out more about the sources of our job opportunities information)
Progression and specialisations
Accountants may move into senior management positions, such as finance manager, or auditor or financial adviser roles.
Accountants may specialise in accounting roles such as:
Financial Accountant

Financial accountants manage the finances of an organisation. They may prepare financial statements for the public, prepare taxation returns, and report on business costs, profit and productivity.

Management Accountant

Management accountants identify what financial information an organisation needs, give advice on financial planning and risks, and make reports to managers to help with decision-making.

Systems Accountant

Systems accountants review and identify issues with the performance of business IT systems. They work with IT teams to develop systems for business, and review and maintain financial system policies.

Taxation Accountant

Taxation accountants report and provide advice on taxation issues to organisations or individuals, prepare taxation returns and reports, and handle disputes with taxation authorities.
Last updated 24 July 2023