Glazier
Kaimahi Karaehe
Alternative titles for this job
Glaziers install or replace glass or mirrors in buildings, vehicles or boats and may create decorative glass features.
Pay
Source: Trade Me Jobs and Careers New Zealand research, 2016.
Job opportunities
Chances of getting a job as a glazier are good due to a shortage of workers.


Pay
Pay for glaziers varies depending on experience and where they work. Those in areas of high demand such as Auckland and Christchurch usually get paid a little more. 
Apprentice glaziers usually start on the training rate or minimum wage, but earn more as they gain experience.
Qualified glaziers usually earn between $18 and $30 an hour, depending on experience. 
Self-employed glaziers may earn more than this, depending on the success of their business.
Source: Trade Me Jobs, 'Salary Guide', 2016; Careers New Zealand research, 2016.
(This information is a guide only. Find out more about the sources of our pay information)
What you will do
Glaziers may do some or all of the following:
select, shape and cut glass or mirrors
remove broken glass
install or replace flat glass (such as windows), fittings (such as showers) or fixtures (such as splashbacks)
repair, install or replace windscreens in vehicles or boats
seal glass using putty, rubber or other sealing products
create decorative glass features.
Skills and knowledge
Glaziers need to have:
knowledge of types of glass and how to work with them
skill in cutting, smoothing and installing glass
knowledge of building standards and regulations for glaziers
knowledge of safety procedures, and health and safety regulations.
Glaziers who are self-employed also need business skills.
Working conditions
Glaziers:
usually work regular hours, but may work overtime or be on call at night or early in the morning
work in workshops, on construction sites and in buildings needing window repairs
may have to work at heights on high-rise buildings.
What's the job really like?
Glazier video
Leon finds out about being an apprentice glazier – 5.41 mins. (Video courtesy of the Building and Construction Industry Training Organisation)
Leon: I'm Leon and I'm 16, born and bred in Christchurch. I'm interested in a career in trades, and hands-on stuff.

Clinton: To find out about an apprenticeship in glazing, Leon will spend time here at Metro Glass. Geoff Rasmussen will be mentoring Leon. Geoff started in the industry at the age of 15. Twenty years on, he's a branch manager, a position that takes him all over the world.

Geoff: For an apprentice, we're looking for somebody enthusiastic – someone who's really keen to learn.

Clinton: First up, it's a tour of the factory, which processes glass 24/7. Equipped with safety gear, Leon's ready to get hands-on.

Geoff: These are all the customers' orders that are required to be cut today. We're going to order the sheets off the frame, then once we get it on the cutting deck and start making the cuts, we'll use these cut planners to determine which orientation the sheet's in.

Leon: Can it even do circles and stuff?

Geoff: Circles... triangles – all weird and wonderful shapes. We can cut anything from two-millimetre glass right up to 19-millimetre thick glass. Now, if you just gently move the glass in a downward direction and hold it there and just gently lean it back.

Geoff: Well done, Leon. You've successfully cut your first piece of glass.

Leon: Thanks.

Geoff: It's a really good way to start your career, because you get a very good grounding, and you get to move around the factory and learn all the different aspects of the flat glass industry.

Geoff: What we're going to do now is bore a hole in a piece of glass. We'd use two drills, so we bore half from one side and half from the other side. And that prevents blow out or chipping.

Geoff: This is the glass tempering oven. We're taking an ordinary piece of glass and we're going to heat that glass up to about 660-670 degrees Celsius and then we're going to cool it rapidly. And this process locks the surface into a state of compression and leaves the centre of the glass under tension. It makes it very strong.

Geoff: So this machine here forms the first seal of our double-glazed window. Well done, now that looks pretty good.

Clinton: Next up, Leon tries his hand at moving a large sheet of glass off a machine using suction pads attached to a crane.

Geoff: Watch your vacuum gauge there, mate. Once you've got vacuum, OK, up and away, keep it going, all the way, keep it going, that's the way. Well done. Just rotate it round…

Geoff: And a little bit more, Leon. Well done!

Geoff: Fantastic!

Leon: Cool!

Clinton: With some knowledge of processing glass, Leon accompanies apprentice Hemi Martin on a job to install a double-glazed window.

Hemi: Right, so this is our first job. We've just got to put our gauntlets on, put our high-vis on before we enter the site, and we'll go and have a look around.

Hemi: So this is our window that we're doing, so we're just going to take this out.

Hemi: One high point would be having a trade under my belt. Getting out and doing the site glazing side of things now is quite a high point in the glass industry. It's different every day.

Hemi: So what we'll do is we'll bring it out, then we'll lift it up. Yep, and the glass is out.

Hemi: Eventually I'd like to one day maybe get out and do a bit of contracting for myself, but that's still a long way away, I've still got a lot to learn.

Hemi: All right so now we're going to go and try and put our glass in. So what we do is, we put it in bottom first. OK, now that's insecure. We'll just hold that there, and I'll get you to clip the top bead in just like the same as the bottom.

Clinton: So, what does the future hold for a qualified glazier?

Geoff: If you apply yourself properly and you're very keen to get on and learn, there's a very good career path. It's an industry that's growing. Areas that it could lead to is sales, customer service and the office/admin side of things. You can move into supervisory roles or management roles.

Hemi: It is a good trade. There are a lot of other trades out there, but this is a good trade to get into if you're into working with glass. It's a bit scary to start with, but once you get the knowledge of it it's quite good. It's a good challenge every day.

Hemi: All right, that's awesome mate, I'll just have a look. Nup, that that's awesome, that's really good. So, I hear you do a bit of window cleaning in your spare time?

Leon: Yeah.

Hemi: I've got the perfect job for you. After we glaze the window, we normally wash it and clean it, so I'll just get you to wash and clean that one. And once you've finished mate, you can finish the rest of the building off eh? I'll leave you to it!

Leon: Sweet...

Leon: It's a hands-on trade, which I like. It was a great experience, a good eye-opener for me, the experience was great. The machines were high-tech, totally different to what I thought it would be. I thought it was great.

Clinton: To gain a National Certificate in Glazing or Glass Processing, you need to complete a four-year apprenticeship, which includes on-the-job training together with theory-based off-the-job training. This involves attending block courses and completing workbooks by correspondence. As an apprentice, you earn while you learn. The starting hourly rate is $12. Once qualified, the hourly rate can increase to $24. The future for glaziers is brilliant.

Clinton: They didn't make Leon clean all those windows... I don't think.
Entry requirements
There are no specific entry requirements to become a glazier. However, employers often prefer to employ someone with a qualification or willing to become qualified. 
To become a qualified glazier you need to complete an apprenticeship and gain a glazing qualification:
National Certificate in Glazing (Level 4) – for manufacturing glass or installing glass in buildings 
National Certificate in Automotive Re-glazing (Level 3) – for installing or repairing glass in vehicles.
The Building and Construction Industry Training Organisation oversees glazier apprenticeships.
Secondary education
No specific secondary education is required for this job, but NCEA Level 2 English, maths, science and design and visual communication are useful.
Year 11 and 12 students can learn more about the construction industry, and gain relevant skills, by doing a National Certificate in Building, Construction and Allied Trades (Level 1 and 2) through the BConstructive programme.
For Year 11 to 13 students, the Gateway programme is a good way to gain industry experience.
These programmes may help you gain an apprenticeship, but do not reduce the amount of time it takes to complete it.
Personal requirements
Glaziers need to be:
careful and safety-conscious
observant, accurate and able to follow instructions
practical and organised
honest and polite, because they often work on-site at people's homes
comfortable with heights
good at basic maths.
Useful experience
Useful experience for glaziers includes any work in the glass or building construction industries.
Physical requirements
Glaziers need to have strong arms and a strong back as they lift heavy sheets of glass. They also need to have steady hands.
Find out more about training
Building and Construction Industry Training Organisation (BCITO)

0800 422 486 - info@bcito.org.nz - www.bcito.org.nz

Window and Glass Association of New Zealand (WGANZ)

(09) 815 3550 - www.wganz.co.nz
Check out related courses
What are the chances of getting a job?
Building boom drives demand for glaziers
Opportunities for glaziers are good due to demand created by:
a construction boom that is predicted to last until 2021, meaning more building work
the extra 22,000 houses that are needed over the next 10 years in Auckland
building work needed to upgrade leaky homes and earthquake-prone buildings
the Christchurch rebuild.
However, there is a shortage of trained glaziers. As a result, glazier appears on Immigration New Zealand's immediate skill shortage list and Immigration New Zealand's construction and infrastructure skill shortage list. This means the Government is actively encouraging skilled glaziers from overseas to work in New Zealand.
Large and small firms employ glaziers
Nearly 20% of glaziers are self-employed. Most of the rest work for large glass and glazing firms, or smaller companies that employ just a few glaziers. These companies may specialise in:
building and construction (fitting glass in new buildings)
building maintenance (replacing glass in existing buildings)
manufacturing (making prefabricated windows)
automotive window repair (replacing glass in cars).
Sources
BRANZ and Pacifecon, 'National Construction Pipeline Report 4', July 2016, (www.branz.co.nz).
Immigration New Zealand, 'Construction and Infrastructure Skill Shortage List', 17 December 2018, (www.immigration.govt.nz).
Immigration New Zealand, 'Immediate Skill Shortage List', 25 June 2018, (www.immigration.govt.nz).
Knowles, S, executive director, Window Association of New Zealand, Careers New Zealand interview, August 2016.
McClintock, J, operations manager, Certified Builders Association, Careers New Zealand interview, July 2016.
Ministry of Business, Innovation and Employment, '2006-2014 Occupation Data' (prepared for Careers New Zealand), 2015.
(This information is a guide only. Find out more about the sources of our job opportunities information)
Progression and specialisations
Experienced glaziers may progress to set up their own business, or move into management roles.
Glaziers may specialise in:
automotive glazing – installing glass and mirrors in vehicles and boats
creating decorative features such as glass walls, staircases and stained glass windows.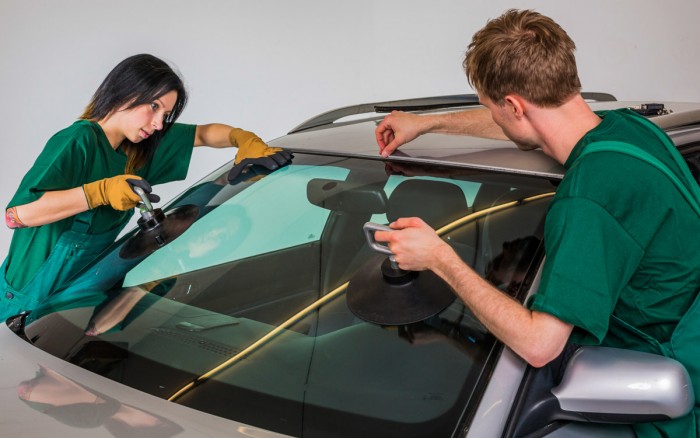 Last updated 7 February 2019