Glazier
Kaimahi Karaehe
Alternative titles for this job
Glaziers install or replace glass or mirrors in buildings, vehicles or boats and may create decorative glass features.
Pay
Source: Window & Glass Assn NZ, 2019.
Job opportunities
Chances of getting a job as a glazier are good due to a shortage of workers.

Pay
Pay for glaziers varies depending on experience and where they work. 
Apprentice glaziers usually start on the minimum wage, but earn more as they gain experience.
Qualified glaziers usually earn between $23 and $30 an hour, depending on experience. 
Self-employed glaziers may earn more than this, depending on the success of their business.
Source: Window & Glass Association NZ, 2019.
(This information is a guide only. Find out more about the sources of our pay information)
What you will do
Glaziers may do some or all of the following:
select, shape and cut glass or mirrors
remove broken glass
install or replace flat glass (such as windows), fittings (such as showers) or fixtures (such as splashbacks)
repair, install or replace windscreens in vehicles or boats
seal glass using putty, rubber or other sealing products
create decorative glass features.
Skills and knowledge
Glaziers need to have:
knowledge of types of glass and how to work with them
skill in cutting, smoothing and installing glass
knowledge of building standards and regulations for glaziers
knowledge of safety procedures, and health and safety regulations.
Glaziers who are self-employed also need business skills.
Working conditions
Glaziers:
usually work regular hours, but may work overtime or be on call at night or early in the morning
work in workshops, on construction sites and in buildings needing window repairs
may have to work at heights on high-rise buildings.
What's the job really like?
Glazier video
Find out about a career in glass and glazing in the construction and automotive industries – 1.18 mins. (Video courtesy of the Building and Construction Industry Training Organisation)
Glass and glazing work has centred around the processing and installation
of glass in both the construction and automotive industries. This is a highly
innovative and technology-based industry, where products and processes are continually improving to create warmer, drier and healthier homes and buildings throughout New Zealand.

There are two different areas an apprentice can specialise in. Glazing, which involves installing the glass into houses, buildings and vehicles, and glass
processing which is the preparation and process prior to installation.

Careers can progress in a variety of different ways from processing glass on the factory floor, installation to design, to being a manager and even your own boss. As an apprentice it's important that you can listen and have a good head for measurements, quantities and angles.

If you've already been working in the trade for some time, BCITO offers excellent opportunities to recognise your skills towards a formal qualification and also furthering your skills with advanced on-the-job training for supervisors.

Work can be both factory based and mobile. It's a great opportunity to earn while you learn, and it's a rewarding, successful industry that is serving all
of New Zealand.
Entry requirements
There are no specific requirements to become a glazier as you gain skills on the job. However, many employers prefer to hire glaziers who have or are working towards a qualification.
To become a qualified glazier you need to complete an apprenticeship and gain a glazing qualification such as:
New Zealand Certificate in Automotive Re-glazing (Level 3) – for installing or repairing glass in vehicles
New Zealand Certificate in Glazing (Level 4) – for manufacturing glass or installing glass in buildings. 
The Building and Construction Industry Training Organisation oversees glazier apprenticeships.
Secondary education
No specific secondary education is required for this job, but English, maths, science, and design and visual communication to at least NCEA Level 2 are useful.
Year 11 and 12 learners can find out more about the construction industry, and gain relevant skills, by doing a National Certificate in Building, Construction and Allied Trades (Level 1 and 2) through the BConstructive programme.
For Year 11 to 13 learners, trades academies and the STAR and Gateway programmes are good ways to gain relevant experience and skills.
These programmes may help you gain an apprenticeship, but do not reduce the amount of time it takes to complete it.
Personal requirements
Glaziers need to be:
careful and safety-conscious
observant, accurate and able to follow instructions
practical and organised
honest and polite, because they often work on-site at people's homes
comfortable with heights
good at basic maths.
Useful experience
Useful experience for glaziers includes any work in the glass or building construction industries.
Physical requirements
Glaziers need to have strong arms and a strong back as they lift heavy sheets of glass. They also need to have steady hands.
Find out more about training
Building and Construction Industry Training Organisation (BCITO)

0800 422 486 - info@bcito.org.nz - www.bcito.org.nz

Window and Glass Association of New Zealand (WGANZ)

(09) 815 3550 - www.wganz.co.nz
Check out related courses
What are the chances of getting a job?
Growth in construction drives demand for glaziers
Chances of getting a job as a glazier are good due to:
moderate growth in construction predicted to extend until at least the end of 2023, meaning more glazing work
the Government's KiwiBuild programme, involving the building of quality, affordable homes over the next decade
building work needed to upgrade leaky homes and earthquake-prone buildings.
Shortage of glaziers
Glazier appears on Immigration New Zealand's construction and infrastructure skill shortage list. This means the Government is actively encouraging skilled glaziers from overseas to work in New Zealand.
However, like many building jobs, this role can be affected by economic conditions. A downturn in the economy can lower demand for glaziers.
According to the Census, 2,022 glaziers worked in New Zealand in 2018.
Increase your chances of getting an apprenticeship 
You can increase your chances of getting a glazing apprenticeship if you have:  
a good attitude to work, good time management skills, and are willing to learn
completed a Gateway or pre-trade programme
the ability, or the willingness to learn to use hand and power tools  
any trades experience.
Small range of employers
Most glaziers work for large glass and glazing firms, or smaller companies that employ just a few glaziers.
These companies may specialise in:
building and construction (fitting glass in new buildings)
building maintenance (replacing glass in existing buildings)
manufacturing (making prefabricated windows)
automotive window repair (replacing glass in cars).
Nearly 20% of glaziers are self-employed.
Sources
BRANZ and Pacifecon, 'National Construction Pipeline Report 6', July 2018, (www.branz.co.nz).
Francis B, chief executive officer, Window & Glass Association NZ, careers.govt.nz interview, February 2019. 
Immigration New Zealand, 'Construction and Infrastructure Skill Shortage List', 27 May 2019, (www.immigration.govt.nz).
Stats NZ, '2018 Census Data', 2019.
(This information is a guide only. Find out more about the sources of our job opportunities information)
Progression and specialisations
Experienced glaziers may progress to set up their own business, or move into sales, management, or technical roles such as estimating.  
Glaziers may specialise in:
automotive glazing – installing glass and mirrors in vehicles and boats
creating decorative features such as glass walls, staircases and stained glass windows.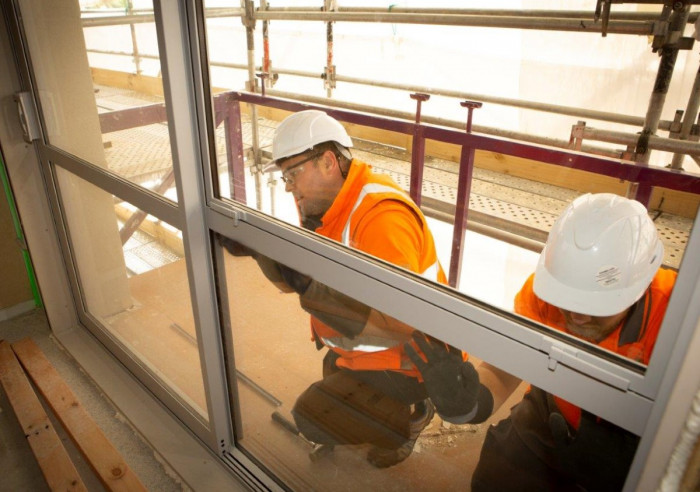 Last updated 4 April 2023