Pay
New electricians usually earn
Experienced electricians usually earn
Source: Master Electricians, 2022.
Job opportunities
Chances of getting a job as an electrician are good due to a shortage of workers.
Pay
Pay for electricians varies depending on skills, experience and the type of work they do.
Apprentice electricians may start on the minimum training wage or minimum wage.
New electricians usually earn an average of $33 an hour. 
Experienced electricians can earn an average of $39 an hour. 
Source: Master Electricians, 'Wage and Salary Survey', 2022.
(This information is a guide only. Find out more about the sources of our pay information)
What you will do
Electricians may do some or all of the following:
interpret electrical information on diagrams and plans
check for errors in diagrams and plans
install electrical wiring and equipment
repair and replace electrical wiring, parts and equipment
safety-test work
keep records of problems they find, and the work they do
prepare job and other quotes, or provide information for quotes. 
Skills and knowledge
Electricians need to have knowledge of:
electrical theory, laws, codes, and standards of practice
how to install electrical wiring and fixtures
how to draw wiring diagrams and floor plans
basic maths and physics
safety procedures and first aid.
Self-employed electricians must also have business skills.
Working conditions
Electricians:
usually work regular business hours, but may work weekends, public holidays, or be on call
may work at construction sites or in buildings, power generation stations or substations
may work at heights and in enclosed, noisy, dirty, dusty, or hazardous conditions
travel to local worksites.
What's the job really like?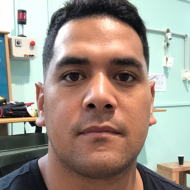 Sainila Tagi
Apprentice Electrician
From stonemasonry to electricity
Sainila Tagi knew it was time for a career change when his body started hurting.
"I was working with dad in his stonemasonry business, but my body got sore and it wasn't for me," says Sainila.
So he did two pre-trade certificates, found he liked electrical work, and now has 18 months to go on an electrician's apprenticeship.
"Just learning about these formulae and how electricity functions – I find it very interesting.
"I locked my mind on the electrical field and knew that was what I wanted to do."
Get stuck in if you want to be an electrician
"If somebody was thinking about a career in electrical, I would tell them to do it," says Sainila.
"It's fun and interesting and you learn heaps. Get stuck in and work hard and you will enjoy it as much as I do, if not more."
Electrician video
Opal Styrdom talks about being an electrician – 2.18 mins.
My name is Opal and I am an electrician.
I built all of this. We reused some timber, but built all the drawers myself,
took inspiration from some of the other guys' vans.
One of the things that I really love that was all me,
is I've got a little flap here,
which allows me to access all my tools and stuff. The great thing about being an
electrician is that there is always work.
There's always someone who needs power,
always someone who needs something fixed. So you're never short on work.
To be honest once you get qualified,
you can go anywhere in the world with your qualification. One of my favourite
things about working in residential is I get to meet people.
I get to go to their houses, I get to see them, get to see their lives,
and at the end of the day, I've helped make their lives better.
Okay. Right now we are in our training room in our office. This is to show you what
it looks like behind your walls. Do you want a light switch?
You need some cabling and that'll run back to your switchboard.
What I have here is a little non-contact voltage tester.
So if we go to a light switch and I wanna make sure that this is, this is dead,
it's not live, it's not gonna shock me, so I can work on it.
We now need to go to a live source to check that my actual tester is working.
So we can see if we go here, it's flashing red. And if we go back,
we can check. Yeah, still dead. Everything's still working.
I'm safe to be working on this. The great thing about if you wanna be an
electrician is that you don't need a lot of pre-knowledge because we teach you all
of that on the job. However,
it's good to have an understanding around physics and maths because you wanna
understand the principles of electricity and how electricity flows from one
thing to another and how a circuit works. So if you've got those foundations,
it becomes really easy to understand and learn and figure out how things going.
But at the end of the day,
if you've just got a passion and a drive to wanna be an electrician,
we'll sort you out. I knew nothing when I started . I knew nothing.
I really didn't know what I was getting myself into.
And the fact that I've gotten where I am is, is so awesome.
Do my thing. Get out. Oh, it's raining.
I am off to go fix a towel rail, we've got one that's broken,
client's got a new one, so we're gonna go replace that,
get that all working for her.
Entry requirements
To become an electrician you need to complete an apprenticeship and gain a New Zealand Certificate in Electrical Engineering Theory and Practice (Trade) (Level 4).
The Electrical Training Company (ETCO) and Te Pūkenga oversee electrical apprenticeships.
If you need NCEA credits to meet the academic criteria for the Level 4 certificate, ETCO offers a foundation programme. 
You also need to be registered with the Electrical Workers Registration Board.
Most employers also prefer you to:
have a driver's licence
have access to a car to get to worksites
pass a drug test.
High-voltage power training
Grid Skills (part of Transpower) trains people to work with high-voltage power, for example, in substations.
This training takes up to two years and can be done by apprentices or qualified electricians.
Secondary education
NCEA Level 2 in maths, science and English are usually required to enter an apprenticeship.
For Year 11 to 13 learners, trades academies and the STAR and Gateway programmes are good ways to gain relevant experience and skills.
These programmes may help you gain an apprenticeship, but do not reduce the amount of time it takes to complete it.
Personal requirements
Electricians need to be:
accurate and methodical
practical and logical
good communicators
able to work well alone or in a team
safety-conscious
good at problem solving.
Useful experience
Useful experience for electricians includes construction or engineering work.
Physical requirements
Electricians need to:
have normal colour vision, as they need to identify different-coloured cables
be reasonably fit, healthy and strong, as the work involves climbing and lifting
be comfortable working in confined spaces and at heights, as they may need to crawl through tight spaces under buildings and above ceilings.
Registration
Electricians need to be registered with the Electrical Workers Registration Board, unless they:
are going to work under the supervision of somebody else who is registered
need extra work experience while they are training, in which case they need a Limited Certificate.
Electricians need to complete a competency programme every two years to refresh their knowledge and renew their licence.
Find out more about training
ATT

0800 187 878 - info@att.org.nz - www.att.org.nz

The Electrical Training Company (ETCO)

0800 275 3826 -info@etco.co.nz - www.etco.co.nz

Te Pūkenga

0800 327 648 (0800 EARN IT) - https://earnlearn-tepukenga.ac.nz
Check out related courses
What are the chances of getting a job?
Construction boom and worker shortages drive demand for electricians
High demand for qualified electricians is expected to continue due to:
an increase in residential and commercial building projects, especially in wealthy areas with high population growth
an ageing workforce
the low number of school leavers entering electrical trade apprenticeships
the need for electricians who know how to work with new technologies.
According to the Census, 30,000 electrical workers were employed in New Zealand in 2018.
Electrician on skill shortage list
Electrician appears on Immigration New Zealand's long-term skill shortage list. This means the Government is actively encouraging skilled electricians from overseas to work in New Zealand.
Types of employers varied
Electricians may work for:
power-generation companies
Transpower on the high-voltage national grid.
They may also be self-employed and work for contracting businesses or run their own business.
Sources
Ainsworth, A, technical specialist, Grid Skills (Transpower), careers.govt.nz interview, September 2019.
Electrical Workers Registration Board website, accessed August 2019, (www.ewrb.govt.nz).
Flatman, M, candidate consultant, Allied Work Force, careers.govt.nz interview, August 2019.
Immigration New Zealand, 'Long Term Skill Shortage List', 27 May 2019, (www.immigration.govt.nz).
Miller, J, project business analyst, Skills, careers.govt.nz interview, August 2019.
Ministry of Business, Innovation and Employment, 'Future Demand for Construction Workers', July 2017, (www.mbie.govt.nz).
Ministry of Business, Innovation and Employment, 'National Construction Pipeline Report', July 2018, (www.mbie.govt.nz).
Skills website, accessed August 2019, (www.skills.org.nz).
Sole, J, chief executive offer, The Electrical Training Company, careers.govt.nz interview, August 2019.
Stats NZ, '2018 Census Data', 2019.
(This information is a guide only. Find out more about the sources of our job opportunities information)
Progression and specialisations
Electricians may progress to become:
project managers
consultants at building construction companies or engineering firms
site supervisors.
With further training they may also progress to become:
electrical inspectors
electrical engineering technicians
electrical engineers.
Electricians may specialise in:
low-voltage electrical work on houses, and commercial or industrial buildings
high-voltage electrical work (over 1000 volts) on power stations, substations and other sites.
Last updated 16 January 2023