Electrical Engineering Technician
Kaihangarau Take Pūhiko
Alternative titles for this job
Electrical engineering technicians interpret designs and technical instructions from an electrical engineer and ensure that they are accurately implemented. They also develop, install, test and maintain equipment that produces, transmits or uses power.
Pay
New electrical engineering technicians usually earn
Electrical engineering technicians with more than three years' experience usually earn
Source: Engineering New Zealand, 2017.
Job opportunities
Chances of getting a job as an electrical engineering technician are good as there is a shortage of people in the role.
Pay
Pay for electrical engineering technicians varies depending on experience.
Graduate electrical engineering technicians usually earn between $60,000 and $90,000 a year.
Electrical engineering technicians in independent practice usually earn between $90,000 and $100,000.
Electrical engineering technicians with more than three years' experience usually earn between $90,000 and $120,000.
Team leaders and managers can earn between $120,000 and $200,000.
Source: Engineering New Zealand, 'Remuneration Survey 2017 Snapshot', 2017.
(This information is a guide only. Find out more about the sources of our pay information)
What you will do
Electrical engineering technicians may do some or all of the following:
research new ways to solve electrical problems
prepare charts, drawings and test models from instructions, technical data and system requirements
perform tests, record the results and report the findings
estimate materials and costs required for new equipment and installations
prepare the technical specifications of contracts, and prepare service reports for clients
assess the condition of electrical equipment, and ensure safety and design standards are met
install, repair, test, find faults and maintain equipment
be involved in the design of complex electrical installations and control circuits under the supervision of an engineer
assist electrical fitters with complex problems in the field.
Skills and knowledge
Electrical engineering technicians need to have:
knowledge of electrical theory and practice
an understanding of health and safety, and industry standard guidelines
knowledge of how to use and care for their equipment
good practical and technical skills to operate and maintain equipment
drawing skills and the ability to interpret design drawings.
Working conditions
Electrical engineering technicians:
usually work regular business hours but may work irregular and long hours to meet deadlines. They may work evenings and weekends, and are sometimes on call to fix emergency faults
work in laboratories, workshops, power stations and substations.
What's the job really like?
Electrical engineering technician video
Benjamin checks out a career in electrical engineering – 7.58 mins. (Video courtesy of Just the Job)
Benjamin: Hello, I'm Benjamin. I am sixteen years old. I've done a bit of electrical work before with my granddad but haven't done much so everything's still a big mystery to me.

Clinton: Prepare to be illuminated Ben as Dave Burke shows you the secrets of electrical engineering. He's been a sparky for 28 years and now manages 25 staff for the company he owns Team Cabling.

Time is money so they're off to the first job.

Dave: We definitely want to have people with a little bit of personality because they're working one-on-one with the customers. They need to have the ability to get on with people and certainly they've got to have an aptitude towards the academic side of the job as well as the practical side of the job. So we really want to get all-rounders.

Okay Benjamin we've got a couple of jobs we need to do on this house today.

First one we have to do is put a new power point up and behind this TV so they don't see the horrible cord hanging down. First thing we'll do is just disconnect everything.

Benjamin: Cool. It's off.

Dave: Great. Right now that's isolated we can get started. Well Benjamin you can see that when they've terminated that originally what they've done is that actually instead of connecting onto the
bare copper here they've actually screwed down hard onto the insulation and just picked up a little bit of copper there and you can see that there's a little bit of burning there. So that's a potential fire risk so there's something we'll need to fix up.

Clinton: Benjamin is going to have to be careful and thorough to make sure that job remains safe. He prepares a hole for the new power point but hits a snag feeding in the new wire.

Dave: There's a fair chance there's another log in the wall. Congratulations you've just made a hole in a customer's war.

Benjamin: Sweet.

Dave: You have a huge responsibility as an electrical engineer. If you don't happen to be in the right place at the right time or doing the right things or following the right safety precautions you know that that can end your life or the life of your customer.

Clinton: The first thing in apprentice learns on the job is how to strip a cable.

Dave: Let me show you again.

Benjamin: Yeah, maybe.

Clinton: The second thing an apprentice learns on the job is how to strip a cable.

Dave: We can assure you that after about 20,000 of these it all gets easier.

Benjamin: You get it.

Dave: That's it perfect. You need to push that down a little bit further than that.
Clinton: The wires are fixed to their corresponding contacts by colour code and the socket is screwed to the wall and tested.

Dave: Hit the test button. That's good we're in business.

Benjamin: Cool.

Dave: The type of personality or temperament to be an electrician can vary I mean within our organisation we've got the full range of people and there's so many different segments to the industry to suit all different personality types as well.

OK Benjamin you might as well wear this.

Benjamin: OK.

Dave: I think you might need to bring it in a few notches though.

Clinton: With the basics under his belt Benjamin is tasked with replacing suspended lights with new recessed halogens.

Dave: Right and that should project a nice little red mark up onto the seal. That's it.

Clinton: He's going so well Dave's willing to leave him to it while he sorts out the next job.

Dave: Now we want to do the visual check make sure that the connections are all nice and tight and on the right terminals…

Benjamin: Yeah

Dave: … and we can put the cover on and put it back up in the room.

Benjamin: Ok.

Dave: Switch.

Benjamin: They work so it's a good sign.

Dave: Well done, good job.

Now on any job, particularly these commercial jobs, we have to really take a lot of care about our health and safety and you'll notice what we've got here is we've got a Health and Safety Board.

Clinton: Commercial sites have a wide range of hazards to deal with and a scale to the work not seen in most homes.

This office has been gutted ready for refurbishing and Ben's first job is pre-wiring the
Lights.

Dave: This is the position that the light fittings going to go

Benjamin: Yes

Dave: What we need to do is put a little loop in here, pull that back up and put another cable tie right and hard up against that one there.

Benjamin: Right in there?

Dave: Right in there.

OK so I've shown you what to do let's have a race to see the best man win.

Benjamin: Bring it on.

Dave: Good luck. Not.

There's not enough people coming into our industry to replace the people who are leaving the industry who leave to go overseas or retiring so looking from that perspective – huge opportunities for someone for a long term career.

Benjamin: Had to let you win, look pretty bad if you didn't.

Clinton: He knows how to get on the good side of a boss but he's still looking for more tips from Josh who has just become a qualified electrician.

Benjamin: How did you get an apprenticeship?

Josh: Basically I started out and did a little bit of work experience and then went from there got offered an apprenticeship.

Benjamin: What's the best bit about being an apprentice?

Josh: About being an apprentice I suppose it's just it's going to work and it's getting learning every day because you do in dealing with different things and aspects of the job you know how to fix things, how to get through things and also I'm just like dealing with people and meeting people and working for that type of thing, that's yeah, it's a big challenge and it's fun when you achieve them

Clinton: The third thing an apprentice learns is stripping cables – big 400 volt cables.

Benjamin: I might give that one back to you.

Dave: There's quite a bit of technical learning required – things like sizing mains, electronics, wiring up transformers, there's a lot of formulas that you have to understand and you have to apply back to the practical work that you do each day.

Come on heave let's crimp that lug right down here onto that cable so that's a nice good tight fit – it's never going to come off.

Benjamin: Cool.

Dave: I think there is a general misconception that you know so-and-so's failing at school and struggling gosh we'll send them out to get a trade, well, I mean I don't know whether those days
ever existed but they're certainly not – they don't exist now.

You have to have a really good aptitude towards your NCEA Level 2 work and you have to be quite a driven personality.

Clinton: That's the office's three-phase distribution board installed which means it's the end of the
experience for Ben.

Dave: OK Benjamin thanks for coming along.

Benjamin: Thank you for having me.

Dave: I hope that gives you a little bit of an idea of what it's like to be an electrical contractor and work within the electrical industry.

Benjamin: Sure did.

Dave: Is there anything in the job that sort of interests you the most?

Benjamin: Putting some holes in a client's wall and then the roof and putting down lights and everything was very enjoyable.

Dave: Great. Oh well you finished their NCEA Level 2 and get practicing stripping those cables
and then come back and see us in a year's time.

Benjamin: I will do.

Dave: Thanks for that.

Benjamin: Thank you.

Entry requirements
To become an electrical engineering technician you need to complete a New Zealand Diploma in Engineering (NZDE) (Electrical) Level 6. 
Once on the job, electrical engineering technicians can work towards completing the New Zealand Diploma in Engineering Practice (NZDEP), which leads to certification as an engineering technician with Engineering New Zealand.
Secondary education
NCEA Level 2 is required to enter tertiary training. 48 credits are needed in maths, science (such as physics) and technology subjects. Students must have at least 12 NCEA Level 2 credits in maths. 
Personal requirements
Electrical engineering technicians need to be:
accurate, methodical, reliable and responsible
able to follow instructions and remain calm under pressure
skilled in making calculations
skilled in using computers
skilled in problem-solving and decision-making.
Useful experience
Useful experience for electrical engineering technicians includes:
engineering work
draughting work
experience in electrical or mechanical roles.
Physical requirements
Electrical engineering technicians need to have good hand-eye co-ordination and normal colour vision.
Registration
Electrical engineering technicians can register as chartered members of Engineering New Zealand.
Find out more about training
Electrical Workers Registration Board (EWRB)

Electricity Engineers' Association of NZ (EEA)

Connexis

Engineering New Zealand
Check out related courses
What are the chances of getting a job?
Connexis, the organisation responsible for electricity supply industry training, estimate that around 43 new electrical engineering technicians are required each year. However, in recent years only about 14 people have completed the necessary training yearly.
Government looking to attract electrical engineering technicians 
Electrical engineering technician appears on Immigration New Zealand's long-term skill shortage list and construction and infrastructure skill shortage list. The related job of electrical engineering draughtsperson appears on Immigration New Zealand's construction and infrastructure skill shortage list. This means the Government is actively encouraging skilled electrical engineering technicians from overseas to work in New Zealand.
Infrastructure investment creates more jobs for electrical engineering technicians
Demand for electrical engineering technicians has grown with increased government spending on the upgrading and replacement of the national grid (the network that distributes electricity around New Zealand). 
Power companies have also increased the rate at which they are building new high-voltage substations, in order to cope with increases in the population and the subsequent increased demand for power. Electrical engineering technicians who specialise in this type of work are in short supply.
Types of employers
Electrical engineering technicians work for companies that install, service and maintain electrical networks. These can be:
electrical maintenance and contracting companies
power generation companies
engineering firms.
Sources
Berry, P, executive director, Electricity Engineers' Association, Careers Directorate – Tertiary Education Commission interview, February, 2018. 
Electricity Supply Industry Training Organisation (ESITO), 'Electricity Supply Sector Workforce Forecast 2010-20', (www.esito.org.nz).
Hays Recruitment, 'Hays Quarterly Report, Energy', January 2018, (www.hays.net.nz).
Immigration New Zealand, 'Construction and Infrastructure Skill Shortage List', 27 May 2019, (www.immigration.govt.nz).
Immigration New Zealand, 'Long Term Skill Shortage List', 27 May 2019, (www.immigration.govt.nz).
Ministry of Business, Innovation and Employment, 'Engineering Technicians Outlook', 2018, (www.mbie.govt.nz).
(This information is a guide only. Find out more about the sources of our job opportunities information)
Progression and specialisations
Electrical engineering technicians may progress to supervisory roles overseeing a team of technicians, or complete a Bachelor of Engineering (Electrical) or equivalent qualifications and move into an electrical engineering role.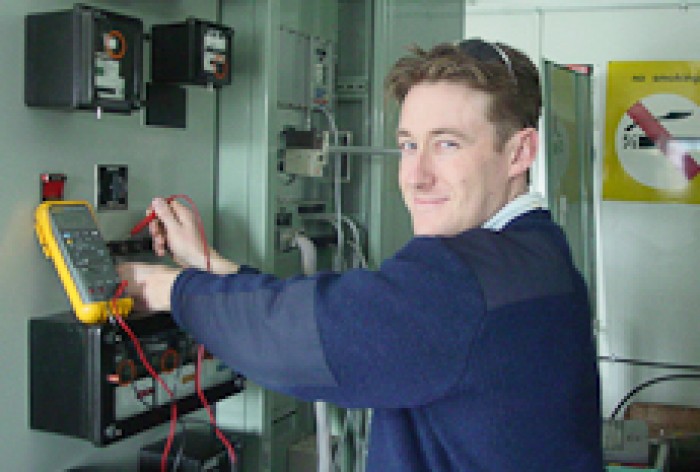 Last updated 9 July 2019