Cabinet Maker
Kaihanga Kapata Taonga
Alternative titles for this job
Cabinet makers make and repair fittings and furniture for homes, businesses and boats.
Pay
Cabinet makers usually earn
Job opportunities
Chances of getting work as a cabinet maker are good due to increasing demand for new and renovated housing.
Pay
Pay for cabinet makers varies depending on experience.
Trainee cabinet makers usually earn between minimum wage and $40,000 a year.
Qualified cabinet makers usually earn between $40,000 and $60,000.
Source: Competenz, 2017.
(This information is a guide only. Find out more about the sources of our pay information)
What you will do
Cabinet makers may do some or all of the following:
use computer-aided design (CAD) programs to design furniture
select timber and other materials, and cut to size
screw or glue the pieces together, and attach fittings such as handles
trim, sand and polish or paint furniture
repair or replace damaged furniture parts
program computers to operate machinery
calculate costs if they have their own cabinet-making business
supervise other cabinet makers if working in a factory.
Skills and knowledge
Cabinet makers need to have:
knowledge of furniture styles, and timber and cabinet-making materials
cabinet-making skills, including knowledge of furniture-making and repair methods
design skills
technical drawing skills and the ability to read diagrams
knowledge of production standards
the ability to operate machinery and use tools correctly.
Self-employed cabinet makers need marketing and business skills.
Working conditions
Cabinet makers:
usually work regular business hours but may work late or at weekends to complete orders
work in factories or small workshops
work in conditions that can be noisy, dusty and may contain fumes.
What's the job really like?
Joel checks out two furniture manufacturing companies - 5.56 mins. (Video courtesy of Competenz)
Joel: Kia ora, my name is Joel. I'm 16 and I go to Manurewa High School. I'm looking into a career in furniture making.

Clinton: Joel's first stop is Danske Mobler. They are a large-scale modern furniture design & manufacturing company.
They produce for both outside clients and to supply their own retail showroom.

Richard: You do get a lot of satisfaction from making a piece or an item, and that's what a lot of people who work with timber do, because it's actually something you can visibly see. I think you've got to be a very practical person, good with your hands, and an ability to put that into practice.

Joel: Hi there, I'm Joel.

Richard: Gidday Joel, I'm Richard. Would you like to come and see what we do?

Joel: Yes please.

Clinton: As a top-end manufacturer, the majority of Danske Mobler's products are made from solid wood, so finish is everything.

Richard: Just slide your hand across the top and pull it out with that hand.

Richard: You've got a finished surface which is clean and straight, ready for the next operation.

Clinton: Because Danske Mobler deal in large volume production, many operations are computer-controlled.

Richard: OK Joel, this is what we call a C&C machine, so we've got a lot of facility on here, it's a multiple boring machine as well as routering, and we can do a whole lot of horizontal boring as well. We've got 33 drills, we've got three large routers and for the object we're going to do today, we're going to be boring a whole series of screw holes for a table.

Richard: OK Joel, this is an edge-bander for putting veneer tape on. Basically what happens with this machine is that you have your veneer tape here, it runs through on a conveyor belt – your work piece. We have a glue tank in here. The veneer tape gets put on, the saw cuts off the excess off one end and the excess off another end. Two little knives trim the top and bottom and take the veneer off flush.

Richard: OK, now just turn it around and have a look at it. We check to make sure that it's clean, check to make sure that there's no damage and that it's stuck on. It's all good.

Richard: You're always screaming out for people – young guys that are coming through, and girls that want to do a trade in furniture making and machinery cabinet making.

Clinton: Within the furniture industry there are other disciplines that apprentices may wish to specialise in – such as finishing and upholstery.

Mike: Well Joel, what we're going to do today is we're going to actually convert one of these, into one of these.

Joel: That sounds cool.

Mike: Yeah.

Mike: I'm passionate about what I do, I enjoy what I do, the work is rewarding. It has... as I say, it's colourful, you pick up different chair in a different colour and you feel as though you're doing a new thing every time.

Joel: It's nice and comfortable!

Clinton: Next, Joel is off to try his hand at more traditional furniture making. Molloy specialise in making one-off pieces of furniture – from rough-sawn wood through to the finished item.

Chris: Wood is just a natural product, it's warm, it's giving. I just like the fact that you can make something tangible, and at the end of the day you can see what you've done. It's rewarding to think that what you do for a job is good enough for people to pay for and put it in their house and you meet the people and you deal with them. And most people come back time and time again, and you sort of build up a relationship with them and it's really nice.

Chris: All right, so what we mostly do is just one-offs – make orders for customers to their own specs, and they have rough sketches of what they want. So I thought we'd make a DVD rack or a CD rack or something. Have you got any ideas of what you want to do?

Joel: Yep, I've got a few ideas!

Chris: Cool, just sketch something up.

Joel: And there we have it.

Chris: All right, so the next step is timber.

Joel: Cool.

Chris: Our apprenticeships tend to go faster, because the guys are doing more work on a daily basis, like different machines on a daily basis. We generally are able to knock at least a year off an apprenticeship. We have a different mindset that we'd rather everyone can do everything, so you understand all the facets of the job, so you make it easier for the next person, if there is a next person.

Chris: I guess that if you enjoy your job and you enjoy the materials you're working with, you're going to have much nicer day at work and it makes coming to work every day more enjoyable. In saying that, for lots of people, it grows on them a bit – the smell of it, the feel of it. To some people it's just a block of wood, just a piece of dead tree, but I just enjoy making things, and I like training people. I just really enjoy it – I wouldn't do anything else!

Chris: All right Joel, that's how you turn a piece of raw wood into a piece of finished furniture.

Joel: Cheers!

Chris: And it will look even better when it's got DVDs in it!

Joel: Cool!

Chris: Yeah, we'd definitely look at Joel for an apprenticeship. He's keen on woodworking, he listens – we'd give him a crack.

Richard: Joel did well, he hopefully picked up a few ideas about the trade, what we do and what it's all about.

Joel: I enjoyed getting in there, putting my hands into it and getting into it and getting dirty.

Clinton: Apprenticeships range from two-and-a-half to four years. This is a great career for people who have a passion for wood and like working with their hands. There are no specific education requirements but NCEA Level 1 English and maths are preferred. Other useful subjects include woodwork, technical drawing and workshop technology. Qualifications within the industry include Level 4 National Certificates in Furniture Making, Upholstery or Furniture Finishing.

Entry requirements
To become a cabinet maker you need to complete an apprenticeship and gain a National Certificate in Furniture Making (Level 4) through Competenz.
Marine cabinet makers can gain a National Certificate in Boatbuilding - Cabinet Making (Level 4) from the New Zealand Marine and Composites Industry Training Organisation.
Secondary education
A minimum of three years of secondary education is recommended. Useful subjects include English, maths, technology, and design & visual communication. 
Personal requirements
Cabinet makers must be:
quick and neat in their work
patient
accurate, with an eye for detail
able to work independently or as part of a furniture factory team. 
You need an eye for detail, so that your design in one bit isn't clashing with the design in another bit. Sometimes you can have a very square look, and if you have a square look then you don't want to have any round bits.

Russell Tuck

Cabinet Maker
Useful experience
Useful experience for cabinet makers includes:
furniture sales work
woodturning
work in carpentry or joinery.
Physical requirements
Cabinet makers need to have steady hands and good hand-eye co-ordination. People with asthma or other breathing problems need to be able to control these conditions in the workshop.
Find out more about training
Competenz

0800 526 1800 - info@competenz.org.nz - www.competenz.org.nz

New Zealand Marine and Composites Industry Training Organisation

(09) 360 0056 - training@nzmarine.com - www.nzmarine.com
Check out related courses
What are the chances of getting a job?
Opportunities for apprentice cabinet makers growing 
Opportunities for getting work as an apprentice cabinet maker have risen significantly as the Government supports employers to take on apprentices in the high-demand housing and construction services industry.
To help meet skill shortages, Budget 2016 announced a further $14.4 million over four years for 5,500 more apprentices by 2020, along with $9.5 million for Māori and Pasifika Trades Training.  
Cabinet makers are in demand because interior installations including kitchen benchtops, bathroom and kitchen cabinetry, and built in wardrobes are increasingly needed for:
new home builds which are on the rise nationwide, especially in Auckland due to an increasing population
leaky home repairs
renovating homes that have been affected by natural disasters such as earthquakes in Kaikoura, flooding in Bay of Plenty, and the Canterbury earthquakes rebuild
upgrading existing homes, especially kitchen and bathroom cabinetry.
Increase your chances of getting an apprenticeship
Ways to increase your chances of getting an apprenticeship include:
doing a Gateway programme to gain units in cabinet making while at school
demonstrating your craft skills and your attention to detail
being committed, reliable and having good time management
talking to your school career adviser about prospective apprenticeships
having some building or building pre-trades experience  
Opportunities for experienced cabinet makers particularly good 
Job opportunities for experienced cabinet makers are particularly good. Many are setting up specialist kitchen manufacturing companies to meet the demand for kitchen cabinetry, including custom made kitchens. 
Types of employers
Cabinet makers work for:
large furniture manufacturing plants
small specialist furniture businesses.
Many cabinet makers are self-employed. 
Sources
Lyne, A, training manager, Competenz, Careers New Zealand interview, April 2017.
Ministry of Business, Innovation and Employment, '2006-2014 Occupation Data' (prepared for Careers New Zealand), 2015.
Ministry of Business, Innovation and Employment, 'Future demand for construction workers', Projections from the National Construction Occupations Model, July 2016, (www.mbie.govt.nz).  
Scoop, Joyce S and Smith, N, 'Construction trades grow as building booms', 26 July 2016, (www.scoop.co.nz).  
(This information is a guide only. Find out more about the sources of our job opportunities information)
Progression and specialisations
Cabinet makers can progress into supervisor or management roles, or become self-employed.
They may also specialise in making marine cabinets for boats, ships and yachts.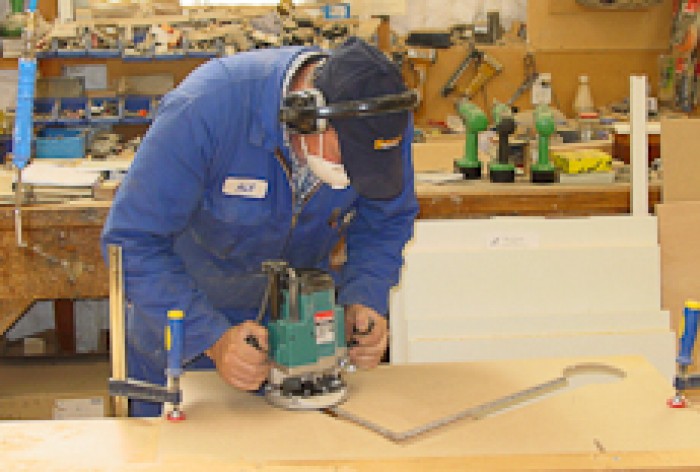 Last updated 12 September 2019