Pay
Source: Stuff, E tū, Ministry of Education, and careers.govt.nz research, 2018.
Job opportunities
Chances of getting work as a cleaner are good due to high demand for their services.
Pay
Pay for cleaners depends on their experience, employer, and the type of work they do. Cleaning jobs can range from a few hours a week to full-time work. 
Cleaners usually earn between minimum wage and $24 an hour.
Self-employed cleaners may earn more, but their income depends on the success of their business.
Cleaners may have to supply their own cleaning equipment and use their own vehicle to travel between clients.
Sources: Stuff, 'Wellington City Council Cleaners Set to Get Living Wage but Ratepayers Could Pick Up the Bill', 3 April 2017; E tū, 'E tū DHB MECA Huge Win for Members', 26 November 2018; Ministry of Education, 'School Caretakers', Cleaners' and Canteen Staff Collective Agreement – 8 May 2017 to 7 June 2019', April 2018; and careers.govt.nz research, November 2018.
(This information is a guide only. Find out more about the sources of our pay information)
What you will do
Cleaners may do some or all of the following:
sweep, vacuum, mop and polish floors
dust and polish furniture and fittings
clean and sanitise surfaces and appliances
renew items like toilet paper and cleaning materials
tidy, wash dishes, iron, and make beds 
operate high-pressure hoses, elevated work platforms (cherry pickers) and steam-cleaning or ozone cleaning equipment
invoice clients and keep accounts.
Skills and knowledge
Cleaners need to have:
cleaning skills
knowledge of housekeeping and cleaning methods, equipment and products
knowledge of health and safety.
Self-employed cleaners need to have small business skills.
Working conditions
Cleaners:
work regular or irregular hours, including mornings, evenings, nights and weekends, and may be on call
work in offices, stores, factories, schools, hotels/motels, hospitals and homes
work in conditions that may be dirty or dangerous if they specialise in cleaning up trauma scenes or dangerous chemicals
may travel locally during working hours.
What's the job really like?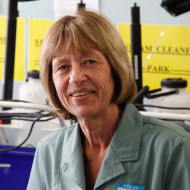 Julie Pope
Senior Cleaner and Trainer
How did you get into hospital cleaning?
"My youngest had started school and I was ready for a part-time job.
"I remember my first day of cleaning, thinking, 'I don't know if I like this!' I was very tired.
"But I thought, 'I'll see how I feel at the end of the week' – and I'm still here after 35 years."
How do you find full-time work hours, especially the early starts?
"I like the hours – I do. I start at 4am and finish at 12.30, and have the afternoon free. I'm so used to it now, I wake early on my day off."
You work around people who are ill, so do you worry about catching something?
"I never worry about catching anything. If you follow the procedure properly you're usually fine. I've never caught anything.
"When cleaning rooms for patients in isolation, we wear a full-sleeve gown or a plastic apron, and masks. We wash hands and put on gloves."
What do you like most about being a cleaner?
"The people I work with make this role enjoyable – we just have a bond, especially the ones I've worked with for a long time.
"I also like the challenge of being able to achieve everything – problem solving when we are short-staffed, being an acting supervisor. I never imagined I'd be doing this, not at all."
Entry requirements
There are no specific entry requirements to become a cleaner as you gain skills on the job.
Depending on where you work as a cleaner, you may need:
a driver's licence
your own transport
your own cleaning equipment
to pass police or medical checks, security clearances or regular drug and alcohol tests.
Some cleaners may study on the job towards New Zealand Certificates in cleaning at Level 2 or 3. Industry training organisation Careerforce oversees cleaning qualifications.
Secondary education
No specific secondary education is required for this job, but maths and English to at least NCEA Level 1 are useful.
For Year 11 to 13 learners, the Gateway programme is a good way to gain relevant experience and skills.
Additional requirements for specialist roles:
Hospital Cleaner
Hospital cleaners need to complete a New Zealand Certificate in Cleaning (Level 2) with an endorsement in infection control and prevention of contamination. This certificate is gained in the workplace. 
Personal requirements
Cleaners need to be:
adaptable
honest, reliable and hard-working 
quick and efficient, with an eye for detail
able to follow instructions, and also to work independently.
You need to be willing to work hard, and be flexible, because cleaning can be quite hectic.

---

Julie Pope

Senior Cleaner and Trainer
Physical requirements
Cleaners need to be reasonably fit, healthy and strong, as their work can be physically demanding, and they spend long periods on their feet.
They may need to:
be comfortable working in confined spaces (such as plane cabins)
be comfortable working at heights (if they clean roofs, for example)
not be allergic to chemical cleaners.
Find out more about training
Careerforce

0800 277 486 - www.careerforce.org.nz - info@careerforce.org.nz
Check out related courses
What are the chances of getting a job?
Strong demand for cleaners
Demand for cleaners is high because:
the occupation is large, with over 35,000 cleaners in New Zealand
vacancies arise regularly as cleaners tend to stay in the role for a short time only, before moving to less physical and more regular work
more cleaners are needed to service the growing numbers of workplaces that operate 24 hours a day
demand for domestic/house cleaners is growing, with job advertisements increasing by 25% in the year to October 2018.
The average age of cleaners is 45, so more opportunities may arise over coming years as these cleaners retire.
According to the Census, 38,577 commercial and domestic cleaners worked in New Zealand in 2018.
Robots predicted to change cleaners' work rather than replace cleaners
Although sales of cleaning robots rose by nearly 40% between 2016 and 2017, robots are expected to change the way cleaners work, rather than affect their job chances.
Types of employers varied
Most cleaners work for:
cleaning firms, which range from small businesses to large companies
hospitals and schools.
Cleaners may also go into business on their own, or as part of a franchise. 
Sources
Careerforce, careers.govt.nz interview, December 2018. 
Careerforce website, accessed November 2018, (www.careerforce.org.nz).
Devlin, C, and Hunt T, 'Wellington City Council Cleaners Set to Get Living Wage but Ratepayers Could Pick Up the Bill', 3 April 2017, (www.stuff.co.nz).
E tū, 'E tū DHB MECA Huge Win for Members', 26 November 2018, (etu.nz).
Hunter, L, 'Clean Planet Launches Domestic Division', 19 March 2018, (www.incleaningmag.co.nz).
Hunter, L, 'OCS is a Step Closer to Becoming the Most Environmentally Sustainable Business', 29 January 2018, (www.incleanmag.co.nz).
Inclean, 'Training Staff in Chemical-free Cleaning Means Quicker, More Efficient Results for DHB', 5 September 2018, (www.careerforce.org.nz).
International Federation of Robotics, 'Service Robots – Global Sales Value Up 39  Percent', 18 October 2018, (ifr.org).
Ministry of Business, Innovation and Employment, 'Annual Percentage Change in Advertised Job Vacancies, October 2017 to October 2018', accessed November 2018, (www.mbie.govt.nz).
Stats NZ, '2018 Census Data', 2019.
Stuff, 'Behind the Scenes with Air New Zealand Cleaners', 18 October 2018, (www.stuff.co.nz).
Yalden, P, ' "It's a Very Specific Smell": Meet the Couple Who Make a Living Cleaning Bloody Crime Scenes', 16 January 2018, (www.stuff.co.nz).
(This information is a guide only. Find out more about the sources of our job opportunities information)
Progression and specialisations
Cleaners may progress to set up their own cleaning business or move into management.
Cleaners may specialise in a certain role such as:
Commercial/Industrial Cleaner

Commercial/industrial cleaners clean places such as shops, offices, hospitals and factories.

Domestic/House Cleaner

Domestic/house cleaners clean homes.

Toxic Site Cleaner

Toxic site cleaners clean up hazardous material such as chemicals from methamphetamine (P) production.

Trauma Cleaner

Trauma cleaners clean up after crimes or other serious incidents.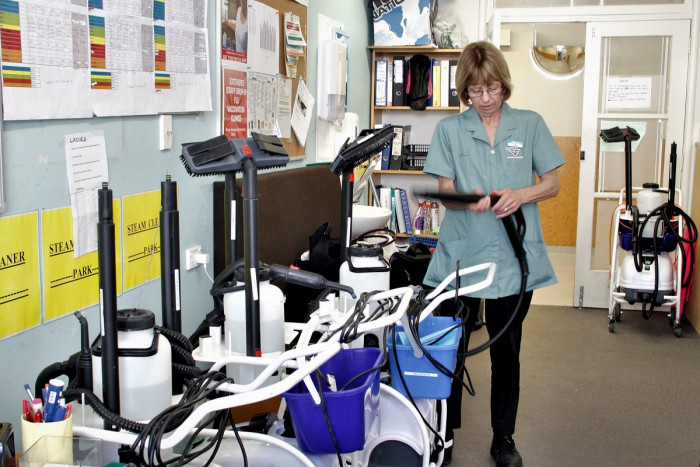 Last updated 3 April 2023