Contact Centre Worker
Kaimahi Pokapū Whakapā
Alternative titles for this job
Contact centre workers answer enquiries and provide or organise help for those who contact them. They may also deal with customer complaints, or sell goods or services.
Pay
Contact centre workers usually earn
Team leaders and managers can earn
Job opportunities
Chances of getting a job as a contact centre worker are good due to increasing demand for their services.
Pay
Pay for contact centre workers depends on their skills, experience and responsibilities, the type of contact centre they work for, and where in New Zealand they work. 
Contact centre workers usually earn $49,000 to $65,000 a year. Those working at home usually earn $49,000 to $60,000.
Team leaders with more responsibilities can earn between $65,000 and $110,000 a year.
Contact centre managers can earn between $90,000 and $200,000 a year.
Source: Madison, 'NZ Employment Market Report 2023', 2023.
(This information is a guide only. Find out more about the sources of our pay information)
What you will do
Contact centre workers may do some or all of the following:
resolve customer enquiries and complaints
provide information, advice or appointments to people who contact an organisation
forward enquiries to relevant departments
follow up enquiries by sending information
ring customers to promote products or services
conduct surveys
provide feedback about customer experiences to managers.
Other duties vary according to where contact centre workers are employed. For example, those who work in ambulance centres may give first aid advice.
Skills and knowledge
Contact centre workers need to have:
excellent speaking and listening skills
excellent writing skills, to respond to enquiries through email, web chat, or letters
good computer and data-entry skills
knowledge of their organisation's products or services.
Working conditions
Contact centre workers:
may work full or part-time hours, during evenings, nights and weekends, and sometimes on rotating shifts
work in contact centres or from reception desks, or work from home
may work in stressful conditions – for example, in an emergency contact centre.
What's the job really like?
Contact centre worker video
Kingi explains how his call centre qualifications have helped him - 2.45 mins. (Video courtesy of Skills)
Kingi: G'day, welcome to Telelink. Come on through. I've been in sales my whole life – so at the age of 12 I actually started selling seafood. The benefit of becoming qualified, through Skills, it's given me a broad range of not just what I do but what is actually within a call centre. It's just giving me an understanding of sales itself, not just selling a product but behind the scenes as well.

Juanita: What I was outstandingly impressed by was the fact that Kingi – his own passion for wanting to work in this industry, being an expert, being perceived as an expert by his peers but also his staff – went a hundredfold. His passion to do a really good job for his customers and clients has been just amazing. He's achieved a lot from doing the qualification.

Kingi: It's just opened my mind to more than just a call centre. It's more than just selling a product. It's understanding the operation. Having a qualification can actually lead me to something better than just being a team leader for call centres. And that's where I think Skills has definitely helped me.

Juanita. So it is something that we have decided as a company to engage in, and for the long haul. We see the benefits far outweigh the difficulties or challenges that we have faced in implementing it. Kingi's been a critical part of that process, piloting that for us. We're quite keen to process people to the next level. Definitely for Kingi his sights are to Level 5 and beyond and he is really passionate about remaining in the industry and improving, being the best version of Kingi that he can be.

Kingi: I've started as an agent, moved on to a team leader, I'm now in the management side of Telelink Limited. The next level to be operations, to run operations, how to run operations, how to hit targets for everyone, how to bring in business and then from there to run the company, to be managing director of the company. Obviously, it's in steps. Those are the steps I'm actually going through. Skills is definitely giving me huge knowledge on not just the call centre but sales itself.
Entry requirements
There are no specific requirements to become a contact centre worker. A New Zealand Certificate in Contact Centres (Level 3 or 4) may be useful.
Free online course in contact centre skills
A free training course in contact centre skills is available for people who are out of work. It's funded by the Ministry of Social Development and includes support with devices, access, job hunting and interviews.
Find out more from the Customer Contact Network New Zealand (CCNNZ) website.
Emergency services
Emergency services (such as 111 phone calls) have specific training for people working in their communication centres. These workers may also need to undergo security checks and vision and hearing tests.
IGNITE Colleges arranges training for contact centre and emergency communications qualifications.
Secondary education
No specific secondary education is required for this job, but business studies to at least NCEA Level 2 is useful.
Personal requirements
Contact centre workers need to be:
able to relate to people from a range of cultures and backgrounds
calm and patient, even when under pressure
good communicators
able to work well in a team
able to maintain confidentiality.
Useful experience
Useful experience for contact centre workers includes:
customer service
retail work with sales targets
hospitality work
reception and office work.
Physical requirements
Contact centre workers need to have:
clear speech
good hearing.
Find out more about training
Ignite Colleges

0800 200 345 - info@ignitecolleges.ac.nz - https://ignitecolleges.ac.nz
Check out related courses
What are the chances of getting a job?
Demand for contact centre workers growing
Demand for contact centre workers is growing because:
companies that used overseas contact centres are shifting work back to New Zealand centres to improve their public image
international companies are increasingly using New Zealand-based contact centres to save money
businesses now use a range of channels, such as phone, email and social media, to communicate with customers. This requires more contact centre workers.
Between 400 and 500 contact centres exist in New Zealand, with staff numbers ranging from six to 2,000. Most contact centres employ 20 to 25 workers.
According to the Census, 4,599 contact centre workers worked in New Zealand in 2018.
Regular vacancies due to high turnover
Contact centre worker vacancies arise regularly as people tend to stay in the job for a short time only. This is because workers often:
progress to other roles in an organisation
move to contact centre jobs in companies that offer higher pay.
Social media and web chat experience in demand
Your chances of securing a contact centre worker job are best if you:
have experience using social media, web chat programs, and email
are willing to work shift or weekend hours.
Types of employers varied
Contact centre workers are employed by many types of organisations, including:
businesses
government services
banks
insurance companies
power companies
telecommunication companies.
Sources
Gerlach, A, consultant, Madison, careers.govt.nz interview, September 2018.
Green, D, co-chairperson, Contact Centre Institute of New Zealand, careers.govt.nz interview, September 2018.
Hays, 'Contact Centres – Jobs in Demand: July-December 2018', 2018, (www.hays.co.nz).
Hays, 'The FY 18/19 Hays Salary Guide: Salary & Recruitment Trends', 2018, (www.hays.net.nz).
Infometrics, 'Contact Centre 2017 Sector Profile', 2018.
Mitchell, P, 'Fairfax Brings Manila Call Centre Back to Palmerston North', 19 June 2017, (www.stuff.co.nz).
Oliver-Free, E, head of sectors, Skills, careers.govt.nz interview, September 2018.
Stats NZ, '2018 Census Data', 2019.
Stock, R, 'Talking Your Way to a Career – How a Contact Centre Job Can Get You on Your Way', 17 July 2017, (www.stuff.co.nz).
(This information is a guide only. Find out more about the sources of our job opportunities information)
Progression and specialisations
Experienced contact centre workers can progress into team leader or supervisor roles, management, or other roles in their organisation.
Contact centre workers may specialise as emergency services call centre workers.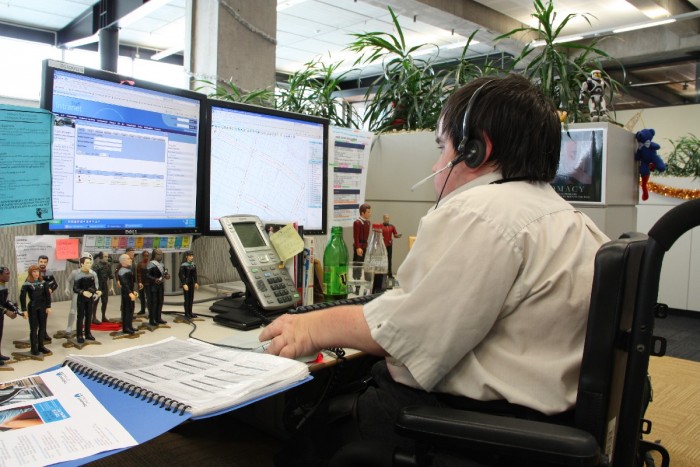 Last updated 19 June 2023