Microbiologist
Kaimātai Koiora Mororiki
Alternative titles for this job
Microbiologists study micro-organisms, such as bacteria, viruses and fungi, and the effects they have on plants, animals and humans. They also develop products from micro-organisms to benefit humans or the environment.
Pay
Microbiologists usually earn
Senior microbiologists usually earn
Job opportunities
Chances of getting a job as a microbiologist are good due to increasing demand for their services.
Pay
Pay for microbiologists varies depending on qualifications and experience.
Microbiologists with a Bachelor's degree working at technician level usually start on minimum wage to $55,000 a year.
Microbiologists with a Master's degree usually earn between $55,000 and $75,000.
Senior microbiologists with a PhD can earn between $75,000 and $130,000 or more. 
Source: BIOTechNZ, 2019.
(This information is a guide only. Find out more about the sources of our pay information)
What you will do
Microbiologists may do some or all of the following:
analyse and perform tests and experiments on micro-organisms
identify and characterise micro-organisms, including those that cause disease
develop and use micro-organisms for the production of vaccines, medicines, fuels and chemicals  
grow micro-organisms to use in food such as yoghurt and cheese
identify micro-organisms that may pollute food, water and the environment
prepare reports and papers, and present results
provide technical guidance to assistants.
Skills and knowledge
Microbiologists need to have:
knowledge of molecular biology and genetics, biochemistry and chemistry
practical skills for performing experiments and operating scientific equipment
knowledge of laboratory hazards and proper safety procedures
skill in analysing and interpreting research results and other information
problem-solving skills
presentation and writing skills for reports or grant proposals
maths and computer skills.
Working conditions
Microbiologists:
usually work regular business hours, but may need to work evenings and weekends
work in laboratories and offices, but may also work in the field collecting samples or performing field trials
may travel locally and overseas to attend workshops and conferences.
What's the job really like?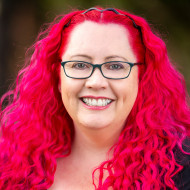 Associate Professor Siouxsie Wiles
Microbiologist
Communicating science to the general public 
Becoming a spokesperson on how to stay safe during the COVID-19 pandemic wasn't a role microbiologist Siouxsie Wiles (or the pink-haired science lady) expected to play. But she believes it's important for scientists to effectively communicate information to non-scientists.
"It's been amazing to use my skills in this way because I love demystifying science and as scientists we all want our research to be useful," she says.
Variety of infectious diseases projects
As a microbiologist specialising in infectious diseases, Siouxsie is involved in a number of projects.
"I'm looking at the genetic information of bacteria to see how they adapt and become more infectious. "By making them glow in the dark in the University of Auckland's bioluminescent superbugs lab, it's easier to study them and get a better understanding of how to stop them causing disease."
She's also involved in finding new antibiotics from New Zealand fungi.
"Some of these experiments you can be working on for years, so it can be a really slow process of discovery." 
Growing fascination with microbiology
Discovering microbiology began early for Siouxsie.
"I was a keen reader and remember the first spark came from reading Robert Wilkin's 'The Fireside Book of Deadly Diseases'. I was so fascinated that such small creatures could affect our bodies and our entire lives that I just wanted to keep learning."
Entry requirements
To become a microbiologist you need to have a Bachelor of Science majoring in microbiology, biotechnology, biochemistry or molecular biology. 
A postgraduate qualification, such as a Master's degree or Doctorate, is usually required for research-based positions.
Secondary education
A tertiary entrance qualification is required to enter further training. Useful subjects include biology, maths, chemistry and physics. 
Personal requirements
Microbiologists need to be:
patient, persistent and inquiring
analytical, accurate and careful
motivated
innovative
able to communicate complex ideas simply.
There are a lot of biological safety regulations when working with infectious diseases. To be safe you need to follow rules and understand why you're doing things a certain way.

---

Associate Professor Siouxsie Wiles

Microbiologist
Useful experience
Useful experience for microbiologists includes laboratory work.
Find out more about training
Institute of Environmental Science and Research (ESR)

(04) 914 0700 - enquiries@esr.cri.nz - www.esr.cri.nz

New Zealand Microbiological Society

president@nzms.org.nz - www.nzms.org.nz

Royal Society of New Zealand

(04) 472 7421 - www.royalsociety.org.nz
Check out related courses
What are the chances of getting a job?
Growing demand for microbiologists 
Demand for microbiologists is expected to grow as environmental regulations around water quality and food safety increase. There is also a growing demand for New Zealand scientists to produce new products that can be sold worldwide.      

According to the Census, 156 microbiologists worked in New Zealand in 2018.
Government funding supports range of microbiology projects
Through Budget 2020 and the COVID Response and Recovery Fund the Government is investing over $400 million in science and innovation over four years.
One of the Government's priorities is supporting scientists to contribute to international efforts to create a novel coronavirus vaccine. This is expected to create further opportunities for microbiologists.   
The funding will assist microbiologists working in other practical areas including:
water and environmental monitoring
food safety
new foods and vaccines (for diseases other than COVID-19)  
biofuel production.
Commercial laboratory experience valued by employers    
Science graduates with some laboratory skills can expect to work as technicians or assistants before moving into more senior roles.
Employers prefer to employ microbiologists who have:
patience, perseverance and flexibility, and an eagerness to learn  
some experience working in a manufacturing or clinical laboratory
a strong customer focus and understanding of working to best practice.
Types of employers varied
Microbiologists may work for:
Crown research institutes (CRIs)
universities
medical and veterinary laboratories
hospitals
biotechnology companies
commercial science laboratories
agricultural product manufacturing companies
food manufacturing companies
private research institutes
breweries.
Sources
Beehive.govt.nz, 'New Zealand Joins Global Search for COVID-19 Vaccine' (media release), 26 May 2020.
Ministry of Business, Innovation and Employment, 'Scientists Occupation Outlook', 2019, (www.mbie.govt.nz).
Ministry of Business, Innovation and Employment, 'Additional Budget 2020 funding announcement today for research, science and innovation', 3 June 2020, (www.mbie.govt.nz).
NZ Herald, 'Budget 2020: Scientists Welcome Modest Bump for Sector', 14 May 2020, (www.nzherald.co.nz).
Raju, S, business unit manager, Eurofins, careers.govt.nz interview, December 2019.  
Stats NZ, '2018 Census Data', 2019. 
(This information is a guide only. Find out more about the sources of our job opportunities information)
Progression and specialisations
Microbiologists may progress to senior positions or project leadership, or move into medical sales, policy work or teaching.
With further training they may specialise in:
bacteriology
environmental/medical microbiology
food/industrial microbiology 
parasitology
virology.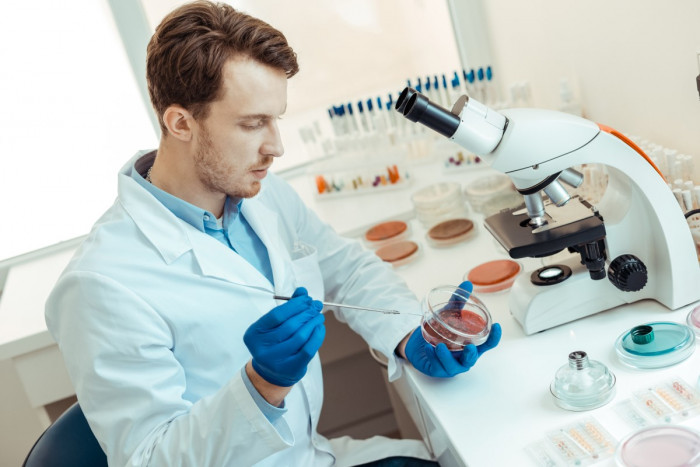 Last updated 4 April 2023