Information Technology Helpdesk/​Support Technician
Kaihangarau Āwhina Hangarau Pārongo
Alternative titles for this job
Information technology (IT) helpdesk/support technicians set up computer and other IT equipment and help prevent, identify and fix problems with IT hardware and software.  
Pay
IT helpdesk/support technicians usually earn
IT helpdesk/support team leaders usually earn
Source: Absolute IT, Recruit IT, 2022.
Job opportunities
Chances of getting a job as an IT helpdesk/support technician are good due to a shortage of workers.
Pay
Pay for information technology (IT) helpdesk/support technicians varies.
IT helpdesk/support technicians usually earn between $47,000 and $90,000 a year.
IT helpdesk/support team leaders can earn $80,000 to $120,000 a year. 
Sources: Absolute IT, 'IT Job Market and Remuneration Report 2022'; Recruit IT, 'Technology & Digital Salary Update, Auckland, December 2022'; and Recruit IT, 'Technology & Digital Salary Update, Wellington, December 2022'.
(This information is a guide only. Find out more about the sources of our pay information)
What you will do
IT helpdesk/support technicians may do some or all of the following:
identify and solve computer software, hardware and website problems
analyse user problems and suggest how to prevent future problems
assemble, install and test computer software, networks and servers
update and repair equipment
keep records of software and equipment.
Skills and knowledge
IT helpdesk/support technicians need to have knowledge of:
computer hardware, software, networks and websites
the latest developments in information technology.
Working conditions
IT helpdesk/support technicians:
usually work regular business hours, although they may need to work overtime or be on call
usually work in offices, call centres, computer rooms or at their clients' workplaces
may work in stressful conditions because they have to work to short deadlines, and fix faults quickly.
What's the job really like?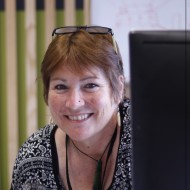 Elaine Hiroki
Service Desk Analyst
What sort of person did you imagine worked in information technology (IT)? 
"I assumed the IT guys would know everything - they're so brainy", says Elaine Hiroki, service desk analyst. But once she got into the IT world herself she discovered their secret.
"You don't need to know everything – but you do need to know how to find out. Google is your best mate."
How did you get into IT?
"I was in our business support [admin] team, and our CEO had issues with his phone. The IT team weren't in so I went over and got it working. He said to the chief technology officer that I'd helped him.
"Then I asked if our team could have some IT training so we'd be the first port of call before the IT team got in. Later, I was asked to fill an IT position for one month in that team – and that secondment just kept rolling over."
Several years later, she still loves her job, "I like problem solving and being able to help people, so I actually enjoy coming to work."
What about dealing with stressed-out people whose equipment isn't working?
"I've been that person on the other end, so I can feel their pain. We prioritise the problems that come in – P1 would be 'Got to sort it now' – for instance, if all the email is down. And team support is great – you say, 'I've got a P1,' and everyone jumps in to help."
Information technology helpdesk/support technician video
Tom talks about what it's like to be a service desk analyst – 4.58 mins
Tom: A Service Desk Analyst is someone who monitors and seeks to rectify any issues that are going on with networks and any telecommunication issues that our clients and customers could be experiencing. We're a middleman between the customer and the experts.

Well what we can do to resolve that is just do a password reset. No problem.

Our team is split into two parts. We have incidents and requests. The incident team take calls from customers that are experiencing faults. It can range from faults on their equipment or an entire site or an entire network across the country. I would work with my team to help resolve those issues as soon as possible, whether or not that means configuring something on our side that I can do through our many tools and applications or if it means assigning the ticket or the fault to the right team, the specialists. We need to get those sorted within a time frame and that means productivity, collaboration, fast and effective troubleshooting.

Is this just limited to that one application or is it all of them that you can't access?

And is that issue just related to yourself or are there other people experiencing that issue as well?

On the request side of the fence we deal with new broadband connections, new mobile connections, hardware, installation, responding to people's requests, logging these requests, monitoring them, managing them and seeing them through.

As soon as I've submitted the order I'll let you know. I'll give you the reference number as well and we'll be in contact with you as soon as possible with an update.

Providing a good customer experience is always key.

Just give us a call back and we'll be more than happy to assist you further okay.

We'll keep in touch with the customer. If they need anything else we'll make sure that they're engaged and they're up to date. The end goal is to just resolve these problems and fulfil these requests as soon as possible and in the best way possible.

No worries, you have a good day.

Take care, bye.

It's always good to see if we can leave a smile on their face when we hang up.

Other aspects of the day can entail meetings with clients, with customers, meetings with management and collaborating with the people that are around you. It is a lot of emails, a lot of calls.

Okay yeah no problem at all.

Be prepared for that but to be honest it's probably the best part of the job. It keeps you stimulated, keeps you on your toes.

Okay thank you very much, you have a good day okay.

Enjoy the weather down there.

Bye-bye.

To be a Service Desk Analyst you don't really need any prior qualifications. The most essential skill for you to have is just be generally polite and just make sure the customer feels like they're getting the assistance they need.

You need to be able to converse clearly, work well as a team definitely. When you first get here it's new, it's fast-paced and it's professional. You sit down in an office, buzzing. There's a lot of new things that get put in front of you. A lot of new applications, essentially a new language. Looking at that you're like oh my god. Am I going to be able to do this? The answer is yes, you can. All the technical stuff that you need, that is provided to you as you go.

And then essentially that is everything we do.

You're never alone and I think that's key. As long as you have that drive. If you're positive and you put in the effort and the hard work, you can do it, you can achieve it and you will be given the chance to do that.

For me the most rewarding thing is having a difficult task be presented to us and working as a team, breaking it down and resolving it. I also get a great sense of achievement when I get a call from someone who's a bit distressed or not as tech savvy. I think if you help that person get to that end point and just help people in general, I feel like that's great. For me that's the biggest part of the job.

Overall this role is fantastic for someone actually starting off in this industry. It's a good way to build bridges, make new connections and also see where it is that you want to go. There's a lot of options. You're not alone and the people are open to teaching you new things. It is a springboard to other places.

Yep no problem at all.

Okay you have a good day, thank you very much for your time.

All right take care bye bye.
Entry requirements
There are no specific requirements to become an information technology (IT) helpdesk/support technician. However, you usually need at least one of the following:
a certificate, diploma or degree in IT support or other computing-related subjects such as information systems
a strong interest in computers and familiarity with their technical aspects
hands-on training through an internship. 
You can also learn through online courses and tutorials, and work on your own projects.
Secondary education
A tertiary entrance qualification is required to enter further training. Useful subjects include digital technologies, maths, physics and English.
For Year 11 to 13 students, the Gateway programme is a good way to gain industry experience.
Personal requirements
IT helpdesk/support technicians need to be:
methodical, accurate and patient
able to work well under pressure, and meet deadlines
able to work well as part of a team, and with minimal supervision
skilled at problem solving and decision making
good communicators.
Things are constantly changing in IT so you need to be able to use a step-by-step process and follow that methodically to troubleshoot problems.

---

Elaine Hiroki

Service Desk Analyst
Useful experience
Useful experience for IT helpdesk/support technicians includes:
fixing computer hardware or software problems
computer programming
customer service or resolving complaints
designing and creating websites
hands-on training through IT-related internships and volunteer work.
Physical requirements
IT helpdesk/support technicians spend a lot of time using computers, so they need to know how to use computer equipment properly to avoid occupational overuse syndrome (OOS).
Registration
IT helpdesk/support technicians may choose to become certified through professional associations such as the Institute of IT Professionals.
Find out more about training
IT Professionals NZ

0800 252 255 - info@itp.org.nz - www.itp.org.nz

NZTech

(09) 475 0204 - www.nztech.org.nz
Check out related courses
What are the chances of getting a job?
IT helpdesk/support technicians in demand
Demand for information technology (IT) helpdesk/support technicians is strong because:
organisations rely on computer systems and networks
businesses need technicians to support their staff to use those systems, and to identify and fix problems
there is a trend towards having IT helpdesk/support technicians in-house, so they can provide immediate help to staff.
Shortage of experienced IT helpdesk/support technicians
There are not enough experienced helpdesk/support technicians to meet demand. Nearly two thirds of IT employers report skills shortages, and there aren't enough information technology (IT) trainees.
As a result, ICT customer support officer (IT helpdesk/support technician) appears on Immigration New Zealand's long-term skill shortage list. This means the Government is actively encouraging skilled IT helpdesk/support technicians from overseas to work in New Zealand.
According to the Census, 6,000 IT helpdesk/support technicians worked in New Zealand in 2018.
How to get your first IT job
Improve your chances of getting a job through:
internships like Summer of Tech
graduate programmes offered by IT companies
mentoring programmes.
Types of employers varied
IT helpdesk/support technicians work for medium to large organisations, including:
companies that provide computer, database and network services to clients
software and web development companies that produce film, games and animation
marketing and advertising companies
government departments.
About 10% of IT helpdesk/support technicians are self-employed. 
Sources
AbsoluteIT, 'Tech Remuneration Report', February 2021, (www.itsalaries.co.nz).
Hays, 'IT Salary Guide and Recruiting Trends', accessed November 2021, (www.hays.net.nz).
Immigration New Zealand, 'Long Term Skill Shortage List', 27 May 2019, (www.immigration.govt.nz).
Stats NZ, '2018 Census Data', 2019.
(This information is a guide only. Find out more about the sources of our job opportunities information)
Progression and specialisations
IT helpdesk/support technicians may progress to set up their own IT support business, or move into management roles. They may also become software developers or business analysts.
Last updated 14 September 2023