Kitchenhand
Ringawera
Alternative titles for this job
Kitchenhands wash dishes and clean the kitchen and serving areas in eating places. They may also help kitchen staff prepare food.
Pay
Kitchenhands usually earn
Source: Hospitality NZ, 2022.
Job opportunities
Chances of getting a job as a kitchenhand are good due to a shortage of workers.
What you will do
Kitchenhands may do some or all of the following:
wash dishes and remove rubbish
unload and put away food and other supplies
clean all kitchen surfaces, including the floors and equipment
wash, peel and chop vegetables
prepare other food if needed.
Skills and knowledge
Kitchenhands need to have:
knowledge of cleaning methods and chemicals
knowledge of kitchen safety and food hygiene
skill preparing food and using kitchen equipment.
Working conditions
Kitchenhands:
may work long hours that can include weekend, early morning and late night shifts
work in kitchens in conditions that can be hot, noisy and stressful
may travel to work at off-site functions.
What's the job really like?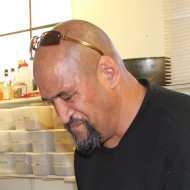 Work keeps Soul busy in the kitchen
"All sorts of tasks keep me busy. I clean all the plates and make sure the dishes are done, and I also do prep if there's food that needs to be done. Making röstis, cutting chicken up, cutting the onions and tomatoes. You get the chance to have a go at cooking food too."
Focus helps in challenging situations
"You've got to be fast at your job. The biggest challenge in a working environment like this is when there's a lot of people – you get put under that pressure. But once you get your mind focused on it, you understand what you need to do every day."
Teamwork makes the kitchen tick
"Coming from a sport background – I played league - there's no one that's better than anyone else. At the end of the day it's a team, it's no different. Everyone just helps you out, pushes you through whatever task needs doing."
A chance to give back to the community
"I'm part of the Wellington Hospitality Group – every month chefs from our kitchen go to the night shelter to support and help out. We serve meals such as fish 'n chips and burgers. It's great to be a part of that and put a bit back into our community."
Kitchenhand video
Tash talks about life as a kitchenhand – 2.28 mins.
Sometimes it feels like the dishes are really piling up,
but you just need to keep going. . Hi,
my name is Tash and I'm a kitchen porter.
The kitchen porter washes dishes, makes sure they're clean for the restaurant.
Sometimes I'll help alongside the chefs taking out dishes and I clear the
staff room. I work part-time here as a kitchen porter and my hours are
about 5 hours a day. I've got a 5-year-old daughter at home,
so it's really good to have these regular hours,
so I'm able to spend time with my daughter at home. So my day usually starts
about 8 o'clock in the morning.
I'll come in and start the steriliser to fill it up and then usually there's
already dishes there for me to start doing.
So I just get onto that. The rest of the shift pretty much looks like me washing
dishes, stacking dishes, and making sure the kitchen is clean.
So right now it's about 10.30.
It's the time where they close the restaurant down and they'll be clearing it
out. And from about 10.30 to 12.30,
it's just me clearing dishes and putting them all away,
getting it ready for lunches. So the great thing about this job is I don't
really have to wash the dishes manually. I just have to rinse them off
and just stack them into this. I'll then put it into the steriliser,
which has chemicals in it, and that'll finish off the wash.
Yeah, after the dishes come out of the steriliser,
I then grab the tea towel and I dry them and then I stack them away.
Can get pretty busy. I want to say if the restaurant's full,
this can be really stacked and it does leave a bit of pressure on me because I'm
then trying to clear the dishes and then also help the chefs at the same time.
The great perks of this job is we do get fed here and it's really good food.
A part of my job as a kitchen porter is to help the chefs.
So I'm about to deliver these croissants.
You don't need any qualifications for this job,
but having a can-do attitude would be really good.
You get trained a little bit when you do start.
So this is my first job in hospitality.
I really enjoy working here. In the future,
I want to move up in the industry.
What I really love about this job is it's a really big hotel and there's a lot
of people coming in from all around the world.
The people are really friendly and because there's different cultures here,
we all get along and can learn from each other.
Entry requirements
There are no specific requirements to become a kitchenhand. However, it may be useful for kitchenhands to complete the New Zealand Certificate in Hospitality (Level 2) while working. Industry training organisation ServiceIQ oversees qualifications for on-the-job training.
Secondary education
There are no specific secondary education requirements to become a kitchenhand. However, home economics (food and nutrition) is useful.
Personal requirements
Kitchenhands need to be:
organised, and able to work well in a team
able to work well under pressure
able to show initiative
good at following instructions and paying attention to detail.
It's all to do with team effort. If you work with a good team, everything goes right.

---
Useful experience
Useful experience for kitchenhands includes:
work as a cleaner
work as waiter/waitress or cafe worker
any work to do with food.
Physical requirements
Kitchenhands need to be reasonably fit because they spend long periods on their feet and may carry heavy crates of food.
Find out more about training
ServiceIQ

0800 863 693 - intel@ServiceIQ.org.nz - www.serviceiq.org.nz
Check out related courses
What are the chances of getting a job?
Good demand for kitchenhands
Job opportunities for kitchenhands are good because low unemployment and an increase in job vacancies means there is a shortage of people available to do this role.
According to the Census, 16,374 kitchenhands worked in New Zealand in 2018.
Types of employers varied
Kitchenhands may work in:
cafes and restaurants
hotels, bars and pubs
catering companies
kitchens at schools, universities, hospitals, care homes and government buildings
kitchens at private companies.
Sources
Bamber, I, special projects manager, Wellington Hospitality Group, careers.govt.nz interview, July 2018.
Clearwater, M, senior adviser, Service IQ – Workforce Development, careers.govt.nz interview, June 2020.
Guy, A, 'Shortage of Skilled Hospitality Staff as Kiwis Shun Entry-level Jobs', 23 June 2017, (nzherald.co.nz).
Stats NZ, '2018 Census Data', 2019.
Waldren, N, general manager, Restaurant Association of New Zealand, careers.govt.nz interview, September 2018.
(This information is a guide only. Find out more about the sources of our job opportunities information)
Progression and specialisations
Kitchenhands may progress to become cooks or chefs with further experience or training, or move into other restaurant roles.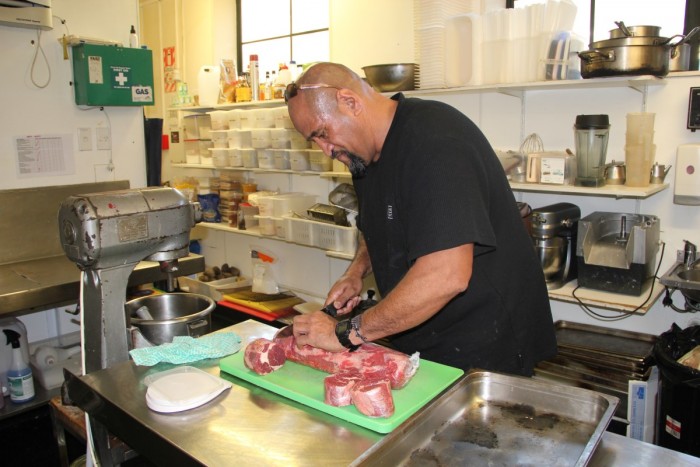 Last updated 7 August 2023