Pay
Head or executive chefs usually earn
Source: careers.govt.nz research, 2023.
Job opportunities
Chances of getting a job as a chef are good due to a shortage of workers.
Pay
Pay for chefs varies depending on the size, type and location of the establishment they work in, and the position they hold.
Apprentice and commis chefs usually earn minimum wage or a little more.
Chefs de partie usually earn an average of $25 an hour.
Sous chefs usually earn an average of $27 an hour.
Head and executive chefs can earn an average of $29 to $38 an hour. 
Source: careers.govt.nz research, 2023.
(This information is a guide only. Find out more about the sources of our pay information)
What you will do
Chefs may do some or all of the following:
prepare and cook food according to customers' orders
arrange food on plates
design, plan and price menus
train and supervise staff
keep work areas clean and tidy, and adhere to health and safety standards
order food supplies and cooking equipment
supervise cleaning and dishwashing
keep records of supplies.
Skills and knowledge
Chefs need to have:
food preparation, cooking and food presentation skills
knowledge of budgeting, stock management, and how to price and set up a menu
understanding of hygiene and health and safety regulations
knowledge of new developments in food nutrition, food technology and cooking methods.
Working conditions
Chefs:
usually work long hours, including evenings and weekends, and may be on call
work in factory, hospital or school cafeterias, restaurants, cafes, pubs and rest homes
work in kitchens in conditions that can be hot, noisy and stressful because food must be prepared quickly and to high standards
sometimes travel to food festivals and events, or to attend cooking competitions.
What's the job really like?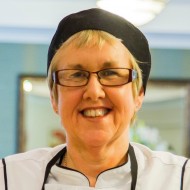 What's a typical day like for you as a chef?
"First thing in the morning I make morning tea for 220 people, and then I have to pull lunch together. We've mostly prepped the main stuff the day before, so it's just finishing off, cooking all the vegetables and making a dessert. At the end of the day I process the ordering for the next day.
"On occasion we do fine dining, cocktail parties and special events, which I really enjoy."
What hours do you work?
"I consider myself extremely lucky because I work Monday to Friday, 8 to 5. It's certainly a perk of working in a retirement village, and I am thankful for these hours. You work rostered shifts without the expectations of excessive hours. Quite often in restaurants or cafes you are expected to do split shifts, but we don't have to do that here."
How did you get into the industry?
"Back in the day I got a lucky break working at a catering company. Although I have no official training or papers to prove my experience, the catering company taught me everything I needed to know.
"I worked my way up through the ranks to kitchen manager. I've been to Spain and worked for the America's Cup, and I got to go to Shanghai for the World Trade Fair. Fantastic times."
Executive chef video
Lyall Minhinnick talks about being an executive chef – 2.52 mins.
If a 10-year-old asked me what I do for a living,
I'd tell them I put smiles on people's faces by serving them beautiful food.
Hi, my name is Lyall, I'm an executive chef and welcome to my kitchen.
My decision of becoming a chef happened when I was very young.
My family loved to cook, and I guess I found that passion in cooking as well,
and I wanted to take it the next step further.
So I've been here for about five months as head chef,
right on the front of the coastline,
which is awesome. I started at the bottom here,
which is pretty much what every chef should learn is the dishes.
The culture in the kitchen, I believe is family.
You only don't just have a position in the kitchen.
You help out everyone. So today we'll be preparing some tarakihi raw fish.
Just a simple delicacy from, uh, our culture.
I've been cooking for around probably 12 years.
So my journey started back when I was removed from school at the age of 14. I
just wanted to find something that I was good at.
So I decided to get into cooking. So I started at about 16.
I went to MIT. I did a,
a level 3 and a level 4 chef course. And then after that,
it's just all been hands on experience.
It's always good to have paperwork behind you.
Always good to have your credentials. You can pretty much walk around and say,
"Yep, I can do this. Yep,
I've got the paper to prove it." You can also back yourself by just showing them
that you can do it and without the papers. Yes.
I am able to bring my cultural identity to work,
which has actually been really amazing. My, um, boss has pretty much said,
you know, if, if you want to put anything you want on the menu, put it on there.
So for Matariki,
we put on a hāngi. Obviously I'd do our
basics of Māori food, so fried bread. Um, we also did, uh,
burnt sugar steam pudding with custard. I guess learning all of that
while I was young, I was able to bring it to the kitchen.
And I believe we have beautiful food and beautiful kaimoana and
a beautiful, pristine,
crisp land that we can get beautiful produce from. If one day I could open up a
restaurant, I'll definitely look into promoting Māori, Pacific Island food.
And this is, this is pretty much a raw fish salad traditional Māori way,
just with a little bit of tweaks, a little bit of watercress,
just for a little bit of colour. For the extra height and the extra spice,
chilli floss. To anyone who wants to become a chef,
make sure you have the passion there, behind your dishes.
Just be creative and have fun.
Entry requirements
There are no specific requirements to become a chef. However, a cookery qualification may be useful. You may complete a:
two to three year, on-the-job apprenticeship, including study towards a New Zealand Certificate in Hospitality (Cookery) (Level 4)
one year, full-time New Zealand Certificate in Cookery (Level 3)
one year, full-time New Zealand Certificate in Hospitality (Cookery) (Level 4).
You can also train to be a chef with the New Zealand Army or Royal New Zealand Navy.
Secondary education
There are no specific secondary education requirements for this job, but home economics (food and nutrition) and NCEA Level 1 numeracy and literacy credits are useful.
Personal requirements
Chefs need to be:
reliable
able to work well under pressure
able to work well in a team
willing to learn new cooking methods, recipes and menus
organised, quick and efficient, while still being patient and careful
creative and open-minded
able to follow instructions
good at planning
good at communicating and managing people.
As a chef, you need to have attention to detail and you have to show initiative.

---
Useful experience
Useful experience for chefs includes:
work as a kitchen assistant or kitchenhand
staging (internships in chefs' kitchens to learn their techniques and cuisine)
any work involving preparing food for others
any hospitality industry experience
catering experience
bakery work.
Physical requirements
Chefs need to have a good sense of taste and smell. They also need to have a reasonable level of strength, fitness and stamina as they often have to carry heavy items, such as bulk ingredients, and spend long hours on their feet.
Find out more about training
Hospitality New Zealand

(04) 385 1369 - nsc@hospitalitynz.org.nz - www.hospitality.org.nz

Restaurant Association of New Zealand

0800 737 827 - info@restaurantnz.co.nz - www.restaurantnz.co.nz

ServiceIQ

0800 863 693 - intel@ServiceIQ.org.nz - www.serviceiq.org.nz
Check out related courses
What are the chances of getting a job?
Shortage of chefs fuels demand
Demand for chefs is high due to a shortage of skilled workers. The shortage is caused by:
more restaurants, cafes and bars opening as New Zealanders spend more on eating out, and the number of tourists rises
long hours and low pay leading to high staff turnover, and chefs leaving the industry
chefs moving overseas, where they can earn more.
As a result, chef appears on Immigration New Zealand's long-term skill shortage list. This means the Government is actively encouraging skilled chefs from overseas to work in New Zealand.
According to the Census, 25,386 chefs worked in New Zealand in 2018.
Employers offer incentives to attract chefs
Some employers, especially in regional areas, are offering incentives to attract and retain skilled chefs. These incentives include:
health insurance
accommodation
a vehicle.
Types of employers varied
Most chefs work for restaurants and hotels. They may also work at:
cafes
bars or taverns
corporate catering firms
restaurants
cafeterias
rest homes
childcare centres.
Sources
Bamber, I, special projects manager, Wellington Hospitality Group, careers.govt.nz interview, July 2018.
Blues, H, president, NZChefs, careers.govt.nz interview, September 2018.
Harris, C, 'Shortage of Retail and Restaurant Workers Becoming Acute', 19 February 2017, (www.stuff.co.nz).
Immigration New Zealand, 'Long-term Skill Shortage List', 27 May 2019, (www.immigration.govt.nz).
Reidy, M, 'Lack of Staff Mounts Pressure on Depressed Chefs', 6 May 2018, (www.stuff.co.nz).
Stats NZ, '2018 Census Data', 2019.
Waldren, N, general manager, Restaurant Association of New Zealand, careers.govt.nz interview, September 2018.
(This information is a guide only. Find out more about the sources of our job opportunities information)
Progression and specialisations
Chefs may progress through different levels:
Commis chefs work in all areas of the kitchen. They prepare and cook food, and may also wash dishes and clean the kitchen area.
Chefs de partie are in charge of one section of the kitchen such as fish or pastry. They train and supervise staff in their sections, and may plan menus, and buy food and equipment.
Sous chefs are second-in-charge, and manage the kitchen in the absence of the head chef.
Head and executive chefs are responsible for the whole kitchen, including staff management, budgets and menus.
Chefs may specialise in different cuisines such as French or Japanese.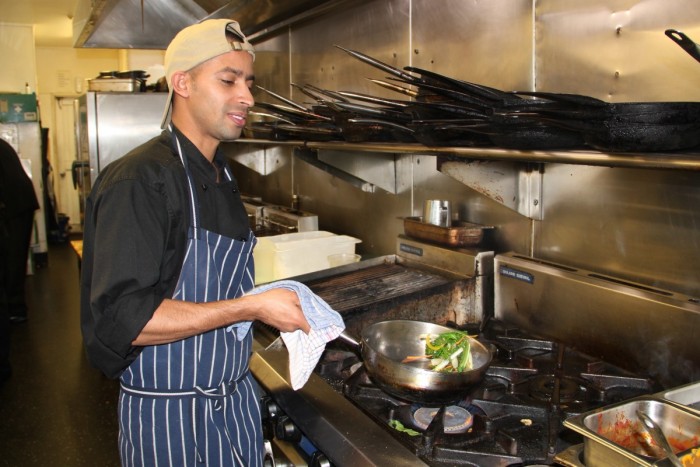 Last updated 3 April 2023