Scaffolder
Kaihanga Rangitupu
Scaffolders design, construct and remove scaffolding around buildings and other structures such as bridges. 
Pay
Scaffolders with qualifications usually earn
Job opportunities
Chances of getting a job as a scaffolder are good due to high demand for their services.
Pay
Pay for scaffolders varies depending on experience, qualifications and location, and how many hours they work. 
Scaffolders in training can expect to earn from minimum wage to $24 an hour.
Qualified scaffolders usually earn $24 to $34 an hour.
Advanced scaffolders usually earn $27 to $37 an hour and can earn more than $41 an hour.
Scaffolders working in management can earn an annual salary from $65,000 to $150,000 a year.
Most employers also pay overtime and an extra rate for scaffolders with a trucking licence.
Source: Scaffolding, Access and Rigging Association of New Zealand (SARNZ), 'Wage Survey, National Averages', 2022.
(This information is a guide only. Find out more about the sources of our pay information)
What you will do
Scaffolders may do some or all of the following:
talk with clients and discuss their needs and requirements
calculate loadings and design a suitable scaffold structure for each situation
check worksites for hazards
order and co-ordinate transport of scaffolding components
load and unload scaffolding from trucks, using forklifts
erect scaffold structures
regularly inspect scaffolding for safety and make alterations and repairs as needed
check and maintain scaffolding equipment
lead teams of scaffolders, labourers and trainees.
Skills and knowledge
Scaffolders need to have knowledge of:
how to calculate loads and forces
how to erect and disassemble scaffolding
how to use and care for scaffolding equipment
building regulations
workplace and construction site safety regulations
how to identify potential hazards
how to interpret building plans and diagrams
how to drive forklifts and trucks.
Working conditions
Scaffolders:
usually work 40-hour weeks, but may work longer hours, and at weekends
work on buildings, at concert and sports venues, and on boats, bridges and oil rigs
work outside at heights, sometimes in dangerous conditions
travel locally to sites, and may travel further for some large jobs.
Entry requirements
To become a scaffolder you need to start as a trainee under the supervision of a qualified scaffolder and gain a New Zealand Certificate in Scaffolding. New Zealand Certificates in scaffolding are available at Levels 3, 4 and 5.
You can complete an apprenticeship to gain these qualifications. Vertical Horizonz and Te Pūkenga oversee scaffolder training and apprenticeships.
A driver's licence is also useful. 
Secondary education
No specific secondary education is required for this job, but construction and mechanical technologies, maths and English to at least NCEA Level 2 are useful. 
Year 11 and 12 learners can find out more about the construction industry and gain relevant skills by doing a National Certificate in Building, Construction and Allied Trades (Levels 1 and 2) through the BConstructive programme.
For Year 11 to 13 learners, trades academies and the STAR and Gateway programmes are good ways to gain relevant experience and skills.
These programmes may help you gain an apprenticeship, but do not reduce the amount of time it takes to complete it.
Personal requirements
Scaffolders need to be:
safety-conscious, careful and responsible
practical and accurate, with an eye for detail
good problem-solvers
able to follow instructions
able to work well in a team, with leadership potential
good at communicating
organised.
A good scaffolder has to be able to interpret the customer's needs, design the scaffold and build it efficiently and safely.

---

Graham Burke

CEO, Scaffolding, Access and Rigging New Zealand
Useful experience
Useful experience for scaffolders includes:
building or other construction work
jobs involving physical labour
working as part of a team.
Physical requirements
Scaffolders need to be:
fit and strong, as they have to carry scaffolding parts that can weigh over 20 kilograms
agile, with good balance and hand-eye co-ordination, for working on the scaffolding
comfortable working at heights.
Find out more about training
Te Pūkenga

0800 327 648 (0800 EARN IT) - https://earnlearn-tepukenga.ac.nz

Scaffolding, Access and Rigging Association of NZ (SARNZ)

(04) 589-8081 - scaffolding@vhnz.co.nz - sarnz.org.nz

Vertical Horizonz

0800 031 080 - info@verticalhorizonz.co.nz - www.verticalhorizonz.com
Check out related courses
What are the chances of getting a job?
Changing laws and construction boom increase demand for scaffolders
Opportunities for scaffolders are good due to:
the 2016 Health and Safety at Work Act, which means that most multi-floor building work is likely to need scaffolding to ensure workers' safety
high turnover of new trainee scaffolders because of the very demanding physical work – over 60% of scaffolders are under 35
a construction boom, particularly in Auckland, that is predicted to be worth $42 billion
building work needed to upgrade leaky homes, earthquake-prone buildings and other structures, such as bridges.
There are not enough scaffolders to meet the demand for their services. As a result, scaffolder appears on Immigration New Zealand's construction and infrastructure skill shortage list. This means the Government is actively encouraging skilled scaffolders from overseas to work in New Zealand.
According to the Census, 3,057 scaffolders worked in New Zealand in 2018.
Long-term outlook best for highly qualified scaffolders who can travel for work
Like many building jobs, this role can be affected by economic conditions. A downturn in the economy can lower demand for scaffolders, especially those with fewer qualifications.
You can increase your chances of regular work by:
doing further training and completing the New Zealand Certificate in Scaffolding (Level 5)
being prepared to travel to heavy industry sites during their maintenance sessions, when demand for temporary scaffolders is high
having a heavy vehicle licence.
Scaffolders needed in oil and gas industry
Scaffolders are also needed for work on power stations and offshore oil and gas platforms, such as Marsden Point and Taranaki's Maui gas field.
Most scaffolders work for private companies
Scaffolders mainly work for private scaffolding companies. These range from businesses with just a few workers to nationwide companies that employ hundreds of staff.
Sources
BRANZ and Pacifecon, 'National Construction Pipeline Report 2017, 5th Edition', July 2017, (www.mbie.govt.nz).
Burke, G, chief executive officer, Scaffolding, Access & Rigging New Zealand, careers.govt.nz interview, January 2018.
Immigration New Zealand, 'Construction and Infrastructure Skill Shortage List', 27 May 2019 (www.immigration.govt.nz).
Ministry of Business, Innovation and Employment, '2006-2014 Occupation Data' (prepared for Careers New Zealand), 2015.
Stats NZ, '2018 Census Data', 2019.
(This information is a guide only. Find out more about the sources of our job opportunities information)
Progression and specialisations
Scaffolders may progress to set up their own scaffolding business or move into scaffolding team leader or management roles, or construction management roles. 
Scaffolders with a New Zealand Certificate in Scaffolding (Level 5) can move into civil engineering work.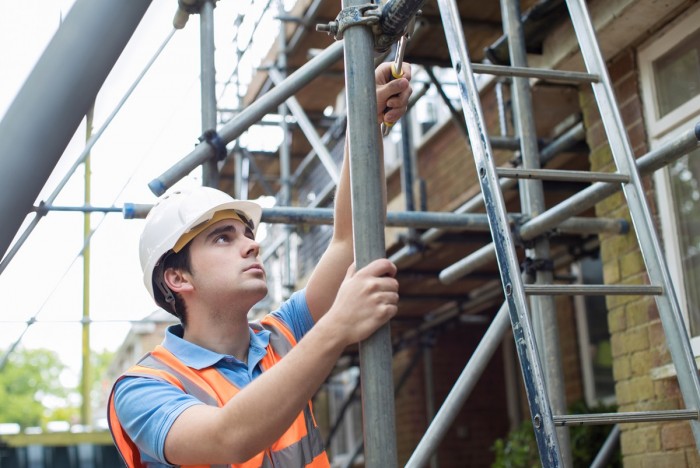 Last updated 15 September 2023