Scaffolder
Kaihanga Rangitupu
Scaffolders design, construct and remove scaffolding around buildings and other structures such as bridges. 
Pay
Trainee scaffolders usually earn
Scaffolders with qualifications usually earn
Job opportunities
Chances of getting a job as a scaffolder are good due to high demand for scaffolding for construction.
Pay
Pay for scaffolders varies depending on experience, qualifications and location. Pay rates in Auckland and Christchurch may be higher than the rest of the country. 
Scaffolders in training can expect to earn minimum wage or a little more.
Scaffolders with initial scaffolding qualifications usually earn $20 to $25 an hour.
Those with further scaffolding qualifications can earn $25 to $35 an hour.
Scaffolders working as supervisors or foremen can earn $30 an hour or more, which is usually paid as an annual salary.
Source: Scaffolding, Access and Rigging Association of New Zealand (SARNZ), 2018.
(This information is a guide only. Find out more about the sources of our pay information)
What you will do
Scaffolders may do some or all of the following:
talk with clients and discuss their needs and requirements
calculate loadings and design a suitable scaffold structure for each situation
check worksites for hazards
order and co-ordinate transport of scaffolding components
load and unload scaffolding from trucks, using forklifts
erect scaffold structures
regularly inspect scaffolding for safety and make alterations and repairs as needed
check and maintain scaffolding equipment
lead teams of scaffolders, labourers and trainees.
Skills and knowledge
Scaffolders need to have knowledge of:
how to calculate loads and forces
how to erect and disassemble scaffolding
how to use and care for scaffolding equipment
building regulations
workplace and construction site safety regulations
how to identify potential hazards
how to interpret building plans and diagrams
how to drive forklifts and trucks.
Working conditions
Scaffolders:
usually work 40-hour weeks, but may work longer hours, and at weekends
work on buildings, at concert and sports venues, and on boats, bridges and oil rigs
work outside at heights, sometimes in dangerous conditions
travel locally to sites, and may travel further for some large jobs.
What's the job really like?
Scaffolder video
Brant Shortland finds out about a career in scaffolding – 6.46 mins. (Video courtesy of Just the Job)
Brant: Ah, gidday, my name's Brant Shortland, I'm from Whangarei, I go to Kamo High School, and I'm interested in finding out about scaffolding.

Clinton: Brant's headed to Northland Scaffolding, in Whangarei. The company's four crews provide a service from Warkworth to the far north. Chris Douglas is the managing director.

Chris: [handing Brant a shirt] It's a nice orange shirt.

Brant: Geez, thanks mate!

Chris: Scaffolding as an industry is an interesting job. You're always on the move. You're going to different sites, different areas of the country, every day. You're in the fresh air, you're enjoying the environment around you. You're generally working with a good bunch of people in the construction industry.
Brant, when you normally start in the scaffolding industry, one of your first tasks you'd be expected to do would be work in a yard situation, where you're stacking scaffold, you're servicing scaffold clips, you're painting scaffolding equipment – that's learning about the componentry of the systems of scaffolding that you would use.

Clinton: These are the components for a traditional system – tube and coupler. It's reliable, and trusted.

Chris: So here's the basic in scaffolding equipment, tube and coupler scaffolding, which involves just your couplers, being swivel or fixed, and your galvanised tube.

Clinton: This is a more recent German frame system, which is very quick to put up.

Chris: Simple systems, like putting handrails together, fast-attach clips, hit it with a hammer, and you're off onto the next one.

Clinton: This ring-clamp system is fast to put together too.

Chris: The system simply slots in, pin goes in, hit with a hammer and your connection's together.

Clinton: First lesson – erecting a metre-wide tower, using both old and new systems.
[Brant starts assembling the scaffold]

Chris: There are two sizes on there, so grab the biggest one, and do our nut up tight.
You start at the bottom level, and everybody works their way up. Don't expect to be jumping up on top of the scaffold, and building the scaffold, in the first week.
Ok – we're going to join these two tubes together with a horizontal tube. Do it up nice and tight, push it down. We want to do that bolt up now, and do up our doubles. And that's your finished product!
Now we're going to show you an example of the slightly more modern system. If you pick up one of those, we're going to put it in as we did last time with our tube, we'll grab one of our transoms, and locate it on the inside. It goes into the slot, and we grab our hammer, and we give it just a quick tap.
It's a good physical job. It keeps you in great shape. It's like a workout – every day the boys come to work, it's like a workout. They're lifting steel products all day every day, so there's a lot of them in pretty good shape.

Clinton: So, time to look at some jobs. First to a supermarket site where scaffolding's being built right along the new front of the building.

Chris: It's quick, and very versatile. It's easy to put up, it's a straight face, big long face. Nice safe systems, internal access, hatchways – you haven't got the old ladder on the outside of the scaffold, having to try and crawl back in.

Clinton: This construction site in Whangarei is a new road bridge. Alongside there's a temporary footbridge, constructed entirely with scaffolding.

Chris: It's created a pedestrian access, with nice good grip, from the deck, an access way while they're building the bridge. And over here we've got a hanging scaffold off the side of a bridge. For obvious purposes we can't build the scaffold in the sediment – the risk of floods etc, so we've created a series of structures across the bridge to hang the scaffold down the side of it.

Clinton: Equipment's being loaded for a house that's to be re-roofed. In charge of the team is Darren Baillie.

Chris: Darren, I'd like to introduce you to Brant.

Clinton: Brant is heading off to build the scaffold that will surround the house.

Darren: The first thing we're going to do, is we're going to walk around the house. We'll have a look at where the scaffold's going to be built. Basically, what we're going to be looking for is hazards that we might come across today. Things like the hose on the ground there, we've got power lines up here.

Clinton: The gear needed is walked on to the site, and the job can begin.

Chris: You've got three or four guys on site. You're there to help each other. It certainly balances. You create good relationships because you're working closely – from the man on the ground who's taking the gear off the truck, handing it to the people who are building – it's a link. If one person doesn't connect in that link, then the whole process falls apart.

Maea: Training for our scaffolding trainees is more than just learning about nuts and bolts. It's from myself as the area business manager, it's supporting our trainees, in all facets of their training so that at the end of the day they'll complete their training on time, and come out absolutely confident and able to do their job.

Clinton: Kurt Douglas is an apprentice with Northland Scaffolding, and is enjoying the job.

Brant: What do you like about it?

Kurt: The physical side of the work. You're always lifting and sweating, man, you're always sweating! Outside every day, always doing something different.

Clinton: When working at height, safety is paramount. Whenever there's a vulnerable situation, a harness needs to be worn.

Brant: What is attached there? [Looking at security harness]

Darren: What you do is, you attach the hook here – it opens like that. What you do is you attach it to something above you. Never attach a lanyard below you.

Brant: Always above?

Darren: Always above.

Chris: There's neat people in this industry, the construction industry. Generally people that are positive, they're progressive, they're building things, and whether you want to follow the field, to come through to become an advanced scaffolder, or whether you want to own your own company, the opportunities are endless in scaffolding.
Well done mate, good effort.

Brant: It's been pretty good, eh. I had a good experience here. Meeting new people, it's just been an all-round good experience.

Clinton: There are no entry requirements, but to become qualified, you must do an apprenticeship. Various New Zealand or national certificates in scaffolding are available and The Skills Organisation provides training support. You need to be fit, like the outdoors, be not afraid of heights, and will train on the job. The big increase in residential and commercial construction in Auckland and Christchurch means job prospects are good.

Entry requirements
To become a scaffolder you need to start as a trainee under the supervision of a qualified scaffolder and gain a New Zealand Certificate in Scaffolding. New Zealand Certificates in scaffolding are available at Levels 3, 4 and 5.
You can complete an apprenticeship to gain these qualifications. Industry training organisation The Skills Organisation oversees scaffolder training and apprenticeships. 
A driver's licence is also useful.
Secondary education
No specific secondary education is required for this job, but construction and mechanical technologies, mathematics and English to at least NCEA Level 2 are useful. 
Year 11 and 12 students can learn more about the construction industry and gain relevant skills by doing a National Certificate in Building, Construction and Allied Trades (Levels 1 and 2) through the BConstructive programme.
For Year 11 to 13 learners, trades academies and the STAR and Gateway programmes are good ways to gain relevant experience and skills.
These programmes may help you gain an apprenticeship, but do not reduce the amount of time it takes to complete it.
Personal requirements
Scaffolders need to be:
safety-conscious, careful and responsible
practical and accurate, with an eye for detail
good problem-solvers
able to follow instructions
able to work well in a team, with leadership potential
good at communicating
organised.
A good scaffolder has to be able to interpret the customer's needs, design the scaffold and build it efficiently and safely.

Graham Burke

CEO, Scaffolding, Access and Rigging New Zealand
Useful experience
Useful experience for scaffolders includes:
building or other construction work
jobs involving physical labour
working as part of a team.
Physical requirements
Scaffolders need to be:
fit and strong, as they have to carry scaffolding parts that can weigh over 20 kilograms
agile, with good balance and hand-eye co-ordination, for working on the scaffolding
comfortable working at heights.
Find out more about training
The Skills Organisation

0508 754 557 - www.skills.org.nz

Scaffolding, Access and Rigging Association of NZ (SARNZ)

(04) 589-8081 - admin@sarnz.org.nz - sarnz.org.nz
Check out related courses
What are the chances of getting a job?
Changing laws and construction boom increase demand for scaffolders
Opportunities for scaffolders are good due to:
the 2016 Health and Safety at Work Act, which means that most multi-floor building work is likely to need scaffolding to ensure workers' safety
high turnover of new trainee scaffolders because of the very demanding physical work. Over 60% of scaffolders are under 35.
a construction boom, particularly in Auckland, that is predicted to be worth $42 billion, peaking in 2020
building work needed to upgrade leaky homes, earthquake-prone buildings and other structures, such as bridges
the Christchurch and Kaikoura earthquake rebuilds, which are predicted to continue at the current rate until 2019, then taper off to 2022.
There are 1,100 scaffolders working in New Zealand, but there are not enough to meet the demand for their services.
As a result, scaffolder appears on Immigration New Zealand's immediate skill shortage list and Immigration New Zealand's construction and infrastructure skill shortage list. This means the Government is actively encouraging skilled scaffolders from overseas to work in New Zealand.
Long-term outlook best for highly qualified scaffolders who can travel for work
Like many building jobs, this role can be affected by economic conditions. A downturn in the economy can lower demand for scaffolders, especially those with fewer qualifications.
You can increase your chances of regular work by:
doing further training and completing the New Zealand Certificate in Scaffolding (Level 5)
being prepared to travel to heavy industry sites during their maintenance sessions, when demand for temporary scaffolders is high
having a heavy vehicle licence.
Scaffolders needed in oil and gas industry
Scaffolders are also needed for work on power stations and offshore oil and gas platforms, such as Marsden Point and Taranaki's Maui gas field.
Most scaffolders work for private companies
Scaffolders mainly work for private scaffolding companies. These range from businesses with just a few workers to nationwide companies that employ hundreds of staff.
Sources
BRANZ and Pacifecon, 'National Construction Pipeline Report 2017, 5th Edition', July 2017, (www.mbie.govt.nz).
Burke, G, chief executive officer, Scaffolding, Access & Rigging New Zealand, Careers Directorate – Tertiary Education Commission interview, January 2018.
Immigration New Zealand, 'Construction and Infrastructure Skill Shortage List', 17 December 2018, (www.immigration.govt.nz).
Immigration New Zealand, 'Immediate Skill Shortage List', 25 June 2018, (www.immigration.govt.nz).
Ministry of Business, Innovation and Employment, '2006-2014 Occupation Data' (prepared for Careers New Zealand), 2015.
(This information is a guide only. Find out more about the sources of our job opportunities information)
Progression and specialisations
Scaffolders may progress to set up their own scaffolding business or move into scaffolding team leader or management roles, or construction management roles. 
Scaffolders with a New Zealand Certificate in Scaffolding (Level 5) can move into civil engineering work.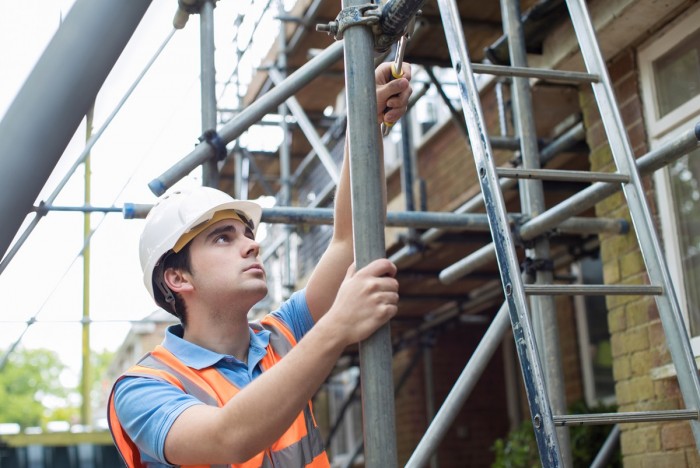 Last updated 8 August 2019