Taxi Driver/​Chauffeur
Kaitaraiwa Waka Pāhihi
Alternative titles for this job
Taxi drivers/chauffeurs drive vehicles to transport passengers from one place to another.
Pay
Taxi drivers/chauffeurs usually earn
Source: NZ Taxi Federation, 2018.
Job opportunities
Chances of getting a job as a taxi driver/chauffeur are good due to steady industry growth and high workforce turnover.
Pay
Pay for taxi drivers/chauffeurs varies depending on where they work, the time of day they work, and how many hours they work.
Taxi drivers/chauffeurs usually earn between minimum wage and $25 an hour.
Source: New Zealand Taxi Federation, 2018.
(This information is a guide only. Find out more about the sources of our pay information)
What you will do
Taxi drivers/chauffeurs may do some or all of the following:
drive a taxi, limousine or luxury vehicle
collect passengers and safely drive them to where they want to go
collect fares and give change
look after passengers' luggage
keep records of rides and fares
maintain their vehicle and keep it clean and tidy.
Skills and knowledge
Taxi drivers/chauffeurs need to have:
excellent driving skills
knowledge of the Road Code and relevant transport regulations
good map reading skills, and knowledge of local places, street names and the fastest routes to take
a First Aid Certificate
an understanding of basic car maintenance, so they can care for their vehicle.
Taxi drivers who are owner-drivers need to have business skills.
Working conditions
Taxi drivers/chauffeurs:
may work regular hours or work shifts including nights and weekends. By law they can only work 13 hours and then must have at least a 10-hour break
spend most of their time in their vehicle.
What's the job really like?
Hermant Kumar
Taxi Driver
What do you love most about being a taxi driver?
"Meeting people! I've been in customer service with banking and a few other jobs and I've always loved meeting people and talking to them. It's quite nice having a chat with people and finding out what they do. It's amazing how many people discuss personal things with me that they might not discuss with anybody else."
What do you find most challenging about the job?
"The most challenging thing about the job is probably getting the timing right. For example, you could go out to the airport on Sunday morning and be sitting there with no customers for two hours, but the next Sunday you might have 10 jobs by lunchtime."
What skills do you need to be a taxi driver?
"You've got to be a people person. 99.9% of customers would love to talk with you, and they hate it when they get in the cab and the taxi driver just goes, "What address are you going to?" and they take off and don't say anything else."
Entry requirements
To become a taxi driver/chauffeur you need to:
hold a Class 1 (full) driver licence with a Passenger (P) endorsement, which includes police clearance
be employed by either the holder of a passenger service licence (PSL) or hold your own PSL
pass a medical exam every five years (or more often if you have a medical condition that may affect your driving).
Some chauffeurs may need to pass security checks.
The Vulnerable Children Act 2014 means that if you have certain serious convictions, you can't be employed in a role where you are responsible for, or work alone with, children. 
Secondary education
There are no specific secondary education requirements to become a taxi driver/chauffeur. However, English and maths are useful.
Personal requirements
Taxi drivers/chauffeurs need to be:
punctual
able to communicate in English
honest, friendly and polite
responsible
alert and patient
reasonably good at maths to calculate change.
You've got to be a people person. 99.9% of customers would love to talk with you.

---

Hermant Kumar

Taxi Driver
Useful experience
Useful experience for taxi drivers/chauffeurs includes:
customer service work
any work involving driving.
Physical requirements
Taxi drivers/chauffeurs need to have good hearing, reflexes and eyesight (with or without corrective lenses), so that they can drive safely in busy areas.
Registration
Taxi drivers need to obtain and display a current driver identification card issued by the New Zealand Transport Agency.
Check out related courses
What are the chances of getting a job?
Job opportunities for taxi drivers/chauffeurs come up regularly
Opportunities regularly become available due to:
many taxi drivers taking up the role towards the end of their working lives, so retirement rates are high
some people staying in the role for a short time only
the easy process of becoming a private hire or ride-share driver through services like Uber
the cost and licensing process of becoming a taxi driver putting off casual job seekers.
 According to the Census, 8,721 taxi drivers/chauffeurs worked in New Zealand in 2018.
Drivers have different employment options
There are different options for drivers:
owner-operators – self-employed taxi drivers who own their own vehicle
contract drivers – self-employed contract drivers who drive someone else's car and pay a set weekly amount to the owner
private hire drivers – drivers who use their own vehicle and set their own hours, and may connect with customers using an application such as Uber
chauffeur drivers – chauffeurs are mostly employed by limousine rental companies, but may also work for tourism operators, large companies, the Government or the military.
Sources
Hart, J, executive director, New Zealand Taxi Federation, careers.govt.nz interview, January 2018.
Nichol, T, 'More Kiwis than ever taking Uber to and from work', New Zealand Herald, 22 January 2018.
Stats NZ, '2018 Census Data', 2019.
(This information is a guide only. Find out more about the sources of our job opportunities information)
Progression and specialisations
Taxi drivers/chauffeurs may progress to buying their own vehicle and working as an owner-operator, or may start their own taxi business.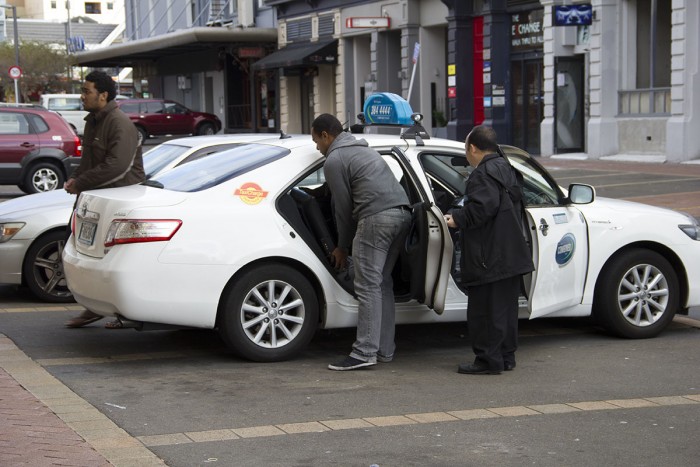 Last updated 3 April 2023