Youth Worker
Kaimahi Taiohi
Alternative titles for this job
Youth workers support young people to improve their health, education, training and employment opportunities.
Pay
Youth workers usually earn
Senior youth workers usually earn
Source: TOHA and Youth Alive Trust, 2022.
Job opportunities
Chances of getting a job as a youth worker are good due to increasing demand for their services.
Pay
Pay for youth workers varies depending on experience, responsibilities and location.
New youth workers usually earn between minimum wage and $49,000 a year.
More experienced youth workers in specialised areas usually earn between $49,000 and $69,000.
Senior youth workers who work as team leaders can earn between $58,000 and $74,000.
Many youth workers work part time. Some do part or all of their job as volunteers, or receive payment for expenses only.
Sources: Te Ora Hou Aotearoa, 2022; and Youth Alive Trust, 2022.
(This information is a guide only. Find out more about the sources of our pay information)
What you will do
Youth workers may do some or all of the following:
build relationships with young people and their families/whānau and peers
establish relationships with communities, schools, training providers and employers
provide support, information and resources
help young people connect with social services
plan, deliver and evaluate programmes and events for young people
write reports, prepare funding applications and manage budgets.
Skills and knowledge
Youth workers need to have knowledge of:
how to work effectively with young people 
practices and resources that are useful for working with young people
youth culture and their communities
physical and mental health issues among youth
laws and policies that affect young people.
Youth workers specialising in working with Māori communities also need to have knowledge of te reo Māori and tikanga (language and culture).
Working conditions
Youth workers:
may work full time or part time, shifts, long or irregular hours, or be on call
work indoors in youth centres, community facilities and offices, schools, homes, churches, marae and government agencies, or outdoors when running camping or sports activities
may travel locally to meet people they work with, and nationally to attend workshops.
What's the job really like?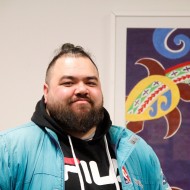 Graham Jones
Youth Worker
Youth workers often start as volunteers
I was a youth leader at our local church and loved hanging out with the kids. 
I was studying to be a PE teacher but the youth pastor at Massey asked if I'd ever thought of doing youth work as a profession. I switched to a diploma in youth and community studies and I'm glad I made the move.
Varied work
My work at Evolve varies – I might be mentoring, helping people access Work and Income benefits and fill out forms, going to appointments, or helping with Study Link and study options.
I also run groups, anything from intense groups like helping people with mental health issues to board games.
Support and time out vital
A big thing is supervision [having professional support for your role]. When I was a young youth worker I didn't think I needed it, but you just can't do this job without having someone to talk to confidentially.
In my first youth work job it was hard to get away. My wife and I were both bringing work home and weren't having time together. It just got too much.
Now we talk about work on the way home but once we get home we don't, so it's calm and peaceful – that's been huge – you need to have some breathing space and unplug at home.
Youth worker video
Michelle Haami talks about being a youth worker – 2.40 mins
Michelle Haami: Yeah, big sister, big brother. Sometimes I've been called Auntie. Not sure about that one, but yeah. No, that's okay.

Kia ora, I'm Michelle and I am a youth worker and welcome to my day.

A youth worker is someone who's there for you and help you find the things that ignite your passion for life. There's many things that we do as youth workers. I would say one of the biggest things is we are connectors. So we are helping and supporting rangatahi, young people, to connect to the community, families where possible to services that they need; health services, employment. I would say listening is probably one of the most underestimated, yet the most valuable skill that you can bring as a youth worker.

Sorry, I'll leave that there for the professionals. These are donations, these were actually from some community organizations. So these baskets are for our young people who are moving into a new whare, a new home, and they just don't have some of that essential stuff like toasters and a dishwashing scrub, which small, but man, you don't have a dishwashing scrub, what are you going to wash your dishes with, your hand? No, you don't wanna do that. So here is my papamahi, my desk, where I work and I write all my notes, aka admin.

But I like the idea that we are telling the stories of our young people so that we can keep track of things and know how to best support people in the future. Cool.

I did a Bachelor of Human Services. Do you need a degree to become a youth worker? I would say that lots of organisations are requiring that but some don't. So that's cool because you could study for years and years, but actually have no idea how to make a connection with someone. Even if it's through volunteering at, like, a youth group or a community group.

The most rewarding thing about my work is seeing them believe in themselves by taking opportunities, which they were once too scared to do.

What's your name again? Ko Huggles tōnā ingoa. This is Huggles.

You forget why you love what you do, so you always have to reflect back on it. But I was sitting at my computer, like, aargh. But then I go see young people and I'm just like, aahh. And my energy just goes up 100%.

Don't be too serious. Don't ever get too serious. You just have to relax, chill and have a laugh. Don't become too serious. Always remember that lightheartedness while you're doing your mahi.

Entry requirements
There are no specific requirements to become a youth worker. However, most employers prefer you to have a relevant qualification such as a New Zealand Certificate in Youth Work (Level 3 or 4), a New Zealand Diploma in Youth Work (Level 6), or a similar qualification in a Māori context.
You will need to pass a police check, and hold a full driver's licence if travel is involved.
Senior level youth worker qualifications
To work as a senior youth worker you need either a New Zealand Diploma in Youth Work (Level 6) or a Bachelor of Youth Development.
The Vulnerable Children Act 2014 means that if you have certain serious convictions, you can't be employed in a role where you are responsible for, or work alone with, children. 
Secondary education
There are no specific secondary education requirements for this job, but NCEA Level 2 health education, social studies and te reo Māori are useful.
For Year 11 to 13 learners, the Gateway programme is a good way to gain relevant experience and skills.
Personal requirements
Youth workers need to be:
good leaders and communicators who can relate to people of all ages and cultures
good problem solvers who can remain calm in an emergency
honest, ethical and impartial, and able to keep information private
energetic and enthusiastic, with a sense of humour
able to work well under pressure
well organised.
A lot of youth workers want to save the world, but we can't do everything. You need to know your limitations, and if you can't help someone you refer them to someone else.

---

Graham Jones

Youth Worker
Useful experience
Useful experience for youth workers includes:
voluntary work with youth, such as at a youth work agency, or sports coaching
work that involves helping people, such as teaching, counselling, social work, community work or church work 
work with an iwi or Māori community or social service, or with people from a variety of cultures.
Registration
Ara Taiohi, the national body for youth workers and youth work organisations, recommends working towards membership of Korowai Tupu, the professional association for youth workers. 
Find out more about training
Careerforce ITO

0800 277 486 - info@careerforce.org.nz - www.careerforce.org.nz
Ara Taihohi

04 802 5000 - admin@arataiohi.org.nz - www.arataiohi.org.nz
Check out related courses
What are the chances of getting a job?
Good demand for youth workers
Demand for youth workers is good due to:
more organisations recognising the importance of providing services to young people
more youth workers being recruited into multi-disciplinary teams where people in a variety of roles work with young people
a high turnover of youth workers creating vacancies.
Half of all youth workers are under the age of 35. 
According to the Census, 2,379 youth workers worked in New Zealand in 2018.
Volunteering can help you get into youth work
Youth work volunteering will give you hands-on experience and increase your chance of getting paid work.
Contact youth organisations directly or ask at your local volunteer centre. 
Types of employers varied
Youth workers may start with volunteer or casual work. 
They may work for:
local and central government

charitable or religious trusts and marae
schools, education or community facilities and youth clubs
live-in or justice institutions
kaupapa Māori organisations.
Sources
24-7 website, accessed July 2018, (www.24-7youthwork.org.nz).
Ministry of Business, Innovation and Employment, '2006-2014 Occupation Data' (prepared for Careers New Zealand), 2015.
Stats NZ, '2018 Census Data', 2019.
Zintl, J, development manager for Korowai Tupu, Ara Taiohi, careers.govt.nz interview, July 2018.
(This information is a guide only. Find out more about the sources of our job opportunities information)
Progression and specialisations
With further training, youth workers may move into social work, counselling or teaching roles.
Youth workers may specialise in working with Māori or other communities.
Last updated 15 September 2023