Primary School Teacher
Kaiako Kura Tuatahi
Alternative titles for this job
Primary school teachers teach children between the ages of five and 13 at primary or intermediate schools.
Pay
Primary school teachers usually earn
Job opportunities
Chances of getting a job as a primary school teacher are good due to a shortage of workers.
Pay
Pay for primary school teachers varies depending on qualifications and experience. 
Primary school teachers usually start on $55,000 and can earn up to $91,000 a year.
Primary school teachers with higher qualifications usually start on $66,000 and can earn up to $95,000 a year.
Primary school teachers may also qualify for higher pay and allowances if they have extra responsibilities.
Source: Ministry of Education, 'Primary Teachers' Collective Agreement 2023-2025'.
Voluntary bonding scheme in hard-to-staff schools
Primary school teachers who work in schools identified as hard to staff may be eligible for an extra $10,500 after three consecutive years of teaching, then $3,500 after the fourth year, and a further $3,500 after the fifth year.
Extra pay in private or independent schools
Primary school teachers who teach in private or independent schools may earn higher salaries.
(This information is a guide only. Find out more about the sources of our pay information)
What you will do
Primary school teachers may do some or all of the following:
plan, prepare and present lessons
teach a wide range of subjects such as arts, English, maths and science
keep up to date with curriculum changes and assessment methods
assess and record learning and development of each child
observe and manage student behaviour
help to develop children's social skills and behaviours
meet with parents, whānau and caregivers at planning or teacher/parent evenings
lead a curriculum area, such as English or maths, within the school
get involved in extracurricular activities such as camps, sports coaching and school fairs
do lunchtime playground duty or road patrol duty.
Skills and knowledge
Primary school teachers need to have knowledge of:
different teaching methods and learning styles
the New Zealand school curriculum
how to plan units and lessons, and evaluate students' progress
child development, including learning difficulties and how to identify them
behaviour management techniques such as establishing boundaries and rewarding positive behaviour
school rules, policies and procedures, including safety and emergency procedures.
Working conditions
Primary school teachers:
usually work with children from about 8am until 3.30pm. They also work outside these hours doing administrative work, attending meetings and doing extracurricular activities such as coaching sports teams
work in classrooms, which may be noisy, and occasionally outside in the playground or sports field
may accompany students on field trips, sports events and school camps.
What's the job really like?
Primary school teacher video
Wanwan talks about what it's like to be a primary school teacher – 5.53 mins.
Wanwan: Nǐ hǎo, wǒ jiào Wanwan. Hello my name is Wanwan. I am a Primary School Teacher and this is Newtown school.

The job that teachers do is very important. We have to make sure the children are happy because when they're happy they learn.

Welcome to waitangi. This is a Year Five and Six classroom. We have a hundred and twenty-two children, and four teachers.

This environment is called an innovative learning environment. We co-teach, we co-plan. It is a really great environment because teachers and students are interacting on a larger scale. In a space like this it is really easy to learn from each other's strengths. When the children see that, they can see that working as a team is one of the really important skills to have in life.

My day normally starts at about eight o'clock, replying to some emails, or marking some books, getting ready for my day. One of my favourite times of the day is greeting the children as they come in, in the morning. Sometimes I greet them in their languages and that makes them feel very welcome. The bell goes at nine o'clock.

Wanwan: Halal would you like to start for us? Karakia please.

Wanwan and children: Tutawa mai i runga. Tutawa mai i raro.

Wanwan: After the bell we have a class meeting to make sure that everyone knows what the day looks like. We'll start our day with a fitness session to make sure the oxygen is in their brain. The nature of our job requires high energy because the children have high energy levels. We'll just have to balance that energy and pace ourselves for the day.

On a typical day we will do Reading, Writing, and Maths in the morning. Today we are working on our learning record. Students write about their learning experience at school to share with family.

Right now it's about eleven o'clock and I am on morning tea duty.
After morning tea we come back to do some silent reading. It is a great time to settle down before the next learning. Then we move into enquiry learning. It's a student driven learning. Today we are finding the commonality between two courageous people.

Then lunch time. Lunch times about an hour. Sometimes I'm on duty. When I'm on duty I put the music on. Music makes people dance and dancing makes people happy.

So after lunch every day is different. Sometime we do P.E, sometimes there is music, drama, te reo and sometime it's free time. Today we have first language hui. All the students that do speak another language at home, we gather up.

We do some activities together, we play games. We are providing a context for students to be themselves, to share their dual identity or multiple identities.

I was an international student myself. I came to New Zealand when I was seventeen, and I want the children to know that it is really cool to have a super power. Here that means I can speak different languages, and by me role modelling that, the children can be really proud of who they are, what they have, and where they've come from.

Teachers don't finish work at three o'clock. There's always meetings, emails to reply to, paperwork to complete. Usually we finish at about five o'clock. Unless you're really organised, maybe you can go home at four.
Being a teacher is full of challenges. You have to be creative. You have to be flexible. You have to have an open mind and you need to be able to enjoy a laugh. You don't have to be good at the things you think you should be. Children love to know that someone else is learning with them When you are learning together they feel like you are on their team, and the learning outcome is better.

I think at the beginning you feel like you can change the world. You want to make a difference in people's lives, but further on what is most rewarding is that relationship that you have built over time. Not just with the kids, but with the whole whanau and then it becomes the relationship with the whole community and then you feel like you're part of the community and little things are making a big difference.

That's what I really love about teaching in Newtown school.

Do you want to be a teacher?
Entry requirements
To become a primary school teacher you need to have one of the following:
Bachelor of Education (Teaching)
Bachelor of Teaching (Primary or Māori Medium)
Bachelor of Teaching and Learning (Primary).
Alternatively, you can complete a four-year conjoint degree, such as a BA/BTeach or BSc/BTeach, which combines study in teaching subjects with teacher training. This conjoint degree means you can teach both primary and secondary students.
Education requirements for graduates
If you already have a Bachelor's degree that is not in education or teaching, you also need to complete one of the following:
Graduate Diploma in Teaching (Primary)
Graduate Diploma in Teaching and Learning (Primary)
Master of Teaching (Primary)
Master of Teaching and Learning (Primary)
Postgraduate Diploma of Teaching and Learning in Māori Medium.
You also need to be registered with the Teaching Council of Aotearoa New Zealand and have a current practising certificate.
Scholarships available for Māori and Pasifika
Primary school teacher scholarships for course fees and sometimes allowances are available for:
Māori medium trainee teachers
Māori or Pasifika high achievers – students who have completed one year of undergraduate study with a B+ grade average and show strong leadership skills.
The Vulnerable Children Act 2014 means that if you have certain serious convictions, you can't be employed in a role where you are responsible for, or work alone with, children.
Secondary education
A tertiary entrance qualification is required to enter further training.
Additional requirements for specialist roles:
Special Education Teacher
To become a special education teacher you need to have two years or more of primary school teaching experience, full teacher registration, and a postgraduate qualification in the area of special education you wish to teach in.
Personal requirements
Primary school teachers need to be:
skilled at communicating clearly with children and adults from a range of backgrounds and cultures
organised, and good at solving problems quickly
enthusiastic, open-minded and able to motivate children
creative and adaptable
able to work well under pressure
firm and fair, with a sense of humour
able to work well in a team.
Useful experience
Useful experience for primary school teachers includes:
child counselling
work with people with disabilities
school holiday programme work
childcare work or work as a teacher aide
working with children through groups such as Brownies and Scouts
coaching sports teams.
Physical requirements
Primary school teachers need to be reasonably fit and healthy, as they may stand for long periods, do playground duty and physical education, coach sport, and run school camps. Teachers usually need to know how to swim.
Registration
Primary school teachers need to be registered with the Teaching Council of Aotearoa New Zealand and have a current practising certificate.
Find out more about training
Teaching Council of Aotearoa New Zealand

(04) 471 0852 - enquiries@teachingcouncil.nz - www.teachingcouncil.nz

TeachNZ

0800 165 225 - teachnz.admin@education.govt.nz - www.teachnz.govt.nz
Check out related courses
What are the chances of getting a job?
Shortage of primary school teachers
Demand for primary school teachers is expected to remain high. This is because:
high birth rates in the early 2010s mean more children at primary schools until 2025
a large number of teachers are expected to retire by 2023.
As a result the following roles appear on Immigration New Zealand's Green list:
Principal, Kaiako Kura Kaupapa Māori (Māori-medium Primary School Teacher), Pouako (Kura Kaupapa Māori – Māori-medium Primary School Senior Teacher), primary, intermediate, middle school, special needs, teacher of hearing impaired, teacher of sight impaired, special education teacher and teacher of English to speakers of other languages (if working in primary, intermediate or secondary schools).
This means the Government is actively encouraging skilled teachers in these roles from overseas to work in New Zealand.
According to the Census, 33,519 primary school teachers worked in New Zealand in 2018.
Demand highest in Auckland
Demand for primary school teachers is highest in urban North Island areas.
Primary school teachers are leaving Auckland due to the high cost of housing, and commuting times making it difficult to balance work and life.
Teachers who speak Māori in high demand
Qualified primary school teachers who also speak te reo Māori are in high demand to teach in kura kaupapa Māori (Māori language immersion schools) and in general primary schools.
The Government offers scholarships and additional salary payments to encourage people to train in this area.
Most teachers employed by the Government
State schools are the biggest employers of primary school teachers, but teachers may also work for private and state-integrated schools such as Catholic schools.
Sources
Collins, S, 'NZEI Survey Points to Possible Improvement in Teacher Shortage', 18 February 2019, (www.nzherald.co.nz).
Education Counts, 'Teacher Headcount by Age', accessed February 2019, (www.educationcounts.govt.nz).
Gerritsen, J, 'Principals Worried By Teacher Shortage Forecast', 18 October 2018, (www.radionz.co.nz).
Immigration New Zealand, Transport Sector Agreement Finalised and Green List Changes Confirmed, 26 April 2023, (www.immigration.govt.nz).
Redmond, A, 'NZ Schools Need 376 Teachers For 2019 As Overseas Recruitment Drive Comes "Too Late"', 23 January 2019, (www.stuff.co.nz).
Stats NZ, '2018 Census Data', 2019.
TeachNZ website, accessed February 2019, (www.teachnz.govt.nz).
(This information is a guide only. Find out more about the sources of our job opportunities information)
Progression and specialisations
Primary school teachers may move into managerial roles, such as deputy principal or principal, or they may move into work outside the school system, such as:
teaching trainee teachers at universities
doing research, policy or advisory work in the education sector
working in training and education roles in a museum or art gallery.
With further training, primary school teachers may progress to become special education teachers.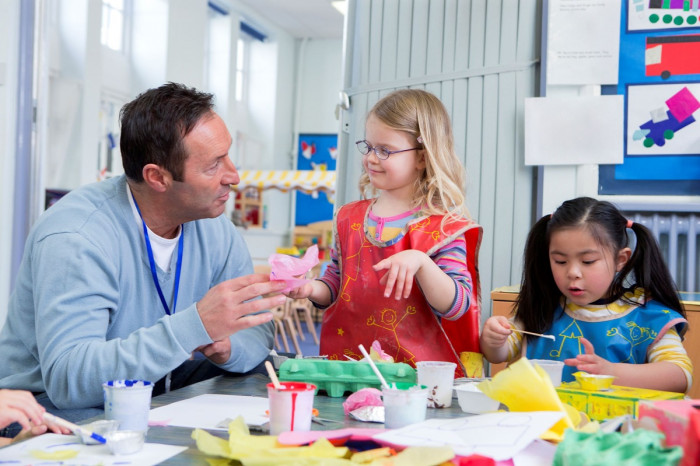 Last updated 7 July 2023