Packhouse Worker
Kaimahi Whare Putunga
Alternative titles for this job
Packhouse workers grade, pack and store fruit, vegetables and other produce in packhouses.
Pay
Packhouse workers usually earn
Packhouse workers who supervise others usually earn
Source: Horticulture NZ and Pick NZ, 2018.
Job opportunities
Chances of getting a job as a packhouse worker are good due to a shortage of workers.
Pay
Pay for packhouse workers varies depending on what they do and where they work.
New packhouse workers usually start on the minimum wage.
Packhouse workers with two to three years' experience usually earn between $18 and $20 an hour.
Packhouse workers who supervise others can earn between $20 and $25 an hour.
Sources: Horticulture New Zealand, 2018; Pick NZ, 2018.
(This information is a guide only. Find out more about the sources of our pay information)
What you will do
Packhouse workers may do some or all of the following:
grade, pack and store produce according to market requirements
assemble packaging and crates
stack crates using forklifts
check the quality of produce
follow food, health and safety regulations
maintain equipment and machinery.
Skills and knowledge
Packhouse workers need to have knowledge of:
grading, packing and storing produce
quality standards for produce
health, safety, and food laws and processes.
Working conditions
Packhouse workers:
work regular business hours in the off season, but usually do shift work and extra hours during the harvest season
work in packhouses and warehouses
may have to travel to follow the work as the seasons and produce change.
What's the job really like?
Francesca checks out careers in fruit production – 7.47 mins. (Video courtesy of Just the Job)
Francesca: Hi I'm Francesca. I'm 16 years old. I go to Taradale High School and I'm interested in learning about fruit production.

Clinton: Francesca has headed to Hastings to take a look at the Crasborn fruit operation. The company run a large export packhouse and they either own or lease some 30 orchards in the area.

It's harvest time and orchard manager Shane Flynn is going to show Francesca what his job is all about.

Shane: Hi Francesca.

Francesca: Hi Shane.

Shane: We've got plenty to show ya, we're right in the middle of harvest. Fire away.

Francesca: Cool.

Clinton: At this time of the year many seasonal workers head here, at Te Mata – the orchard Shane manages – there might be up to 80 workers.

So to get an idea of the scale of this operation Francesca heads to a great vantage point.

Francesca: So is all of this here your responsibility?

Shane: Yes. We run from the top there all the way down until the big sheds at the back. It's about 50 odd hectares – just apple and pears – just pip fruit.

Clinton: So it's into the orchard where Francesca gets to learn all about apples. Shane grows several varieties and Francesca's going to get a taste of some.

Shane: Here we've got Red Delicious, Granny Smith, Royal Gala, Lady in Red, Fuji Supreme and Fuji Candy.

Francesca: Why the newer varieties, what's wrong with these ones?

Shane: It's pretty much market driven, so the markets are after high colour fruit that'll catch the eye.

Clinton: At the start of a picking Shane conducts what's known as a fruit line up where the team learns what standard is required.

Using fingers as a measure he shows Francesca what size they need to be.

Time to put her new knowledge to the test.

Francesca: Okay. A good fit, four fingers.

Shane: Awesome, perfect size.

Clinton: There's a right and a wrong way to pick. Cadet Harry Fraser shows her how.

Harry: Palm on the bottom slowly sliding up. Yeah just remember that technique to slowly slide up.

Francesca: What would happen if I just hold it like would it damage the apple?

Harry: If you pull it off you're actually potentially breaking off other apples that can potentially fall down and bruise other apples at the same time.

So you're going to be really careful.

Clinton: So they must be gently handled all the time and then very gently lowered into the bin.

Harry: During the harvest at times in the peak of the season I can have 70 to 80 people on this orchard picking, tractor driving, forklift driving – truck drivers, everything starts.

Quite a busy time, a lot of stress but it is enjoyable. It keeps you busy and on your toes.

Clinton: Shane's been keen to embrace learning new techniques and his many awards show just that.

The pip fruit industry is changing and one of the biggest changes is with the size of the trees.

Shane: As you can see Francesca these are big old granny smith trees that have a lot of work involved in picking, seeing as they're so large.

Whereas in we're in a dwarfing variety with dwarfing rootstocks.

The trees are a lot more accessible but they're a lot more flimsy – that's why we need the support structure here with the five wires holding up the tree to carry the crop.

Clinton: Today cadet Harry Fraser is meeting Primary ITO training advisor Norm Miller for an assessment.

Norm is a dedicated promoter of the Hawkes Bay fruit industry.

Norm: Well the industry really needs people like Harry and there's just about an insatiable appetite for that.

All the cadets that we put through the programme are easily employed at the end and often are leading hands – managers even – and some even go into jobs around the industry such as agrochemical reps or tractor salesmen and all sorts of things.

One of the perceptions that's out there is that this is about climbing ladders and picking fruit. It's much more than that – it's actually science in action.

There's a tremendous amount of planning of important decisions being made – it's not just picking apples.

Clinton: When the fruit starts to ripen apples are randomly selected for testing.

Shane: This is to be done to test the fruit for pressures, sugar levels, to see if they're ready and to make a go date when we start to pick them, and we've got to not just do one tree we've got to do 10-15 trees spread out through the block.

Clinton: Francesca heads to the Crasborn lab in Hastings. Here James Jones shows her how the tests are done.

The percentage of colour or blush is recorded, then using a colour scale the shade of the greenest part is recorded too.

Francesca: What about that one?

James: 70% that's correct.

Clinton: Next a pressure test which records the firmness of the apple.

James: So it goes in as far as the notch and then you release it and a recording is electronically transferred to the computer.

Francesca: Wow.

Clinton: So Francesca has a go. The machine she's using is called a penetrometer.

Finally sugar levels or pricks are measured using a refractometer and a few drops of juice are dropped on a pane.

James: So what's the reading?

Francesca: 15.2.

James: That's quite sweet for a Fuji.

Clinton: The combined results will indicate when the apples should be picked.

Here at the Crasborn packhouse many tons of apples are processed for export every day.

Kerry: It comes through the grade tables. This is one of many as you can see.

The ladies here are sorting, they're looking for defects, anything that is no good for export market is removed.

They're moving on down through the sizer, we take a photo, we're looking for colour, at the colour of the apple, are they nice and red, and the machines sort them by colour break, so nicer colour will go to one market, a lower colour will go to a different market.

Francesca: So it can tell the colour.

Kerry: It can tell the colour, absolutely.

Clinton: Back in the orchard there'll be many weeks before the harvest is finally over and with 70 or more seasonal staff on board its set to be busy for awhile.

Shane: I believe to be honest the right people are the people that turn up to work with a smile on their face and the right attitude and the rest can just come naturally as we train them.

Clinton: So has Francesca been a good apple here?

Shane: Francesca's done really well. She was very keen, asking varied and challenging questions and she turned up with a smile on her face so we're halfway there already.

Francesca: I really enjoyed my time here especially learning about the different kinds of fruit and seeing what happens to them when they leave here. I think it's a really interesting industry.

Clinton: The cadetship program is a partnership between the local Growers Association, Primary ITO and local polytechs and private training establishments.

There are no specific entry requirements – you earn while you learn.

There is a shortage of people working in the industry, so career prospects are excellent.
Entry requirements
There are no specific entry requirements to become a packhouse worker. However, horticultural knowledge or experience is useful.
Some employers support packhouse workers to gain horticulture qualifications on the job.
Some employers may require you to have a a heavy truck driving licence, or forklift licence.
Secondary education
There are no specific secondary education requirements to become a packhouse worker. However, agriculture and horticulture is useful.
Year 11-12 students can learn more about the horticulture industry and earn unit standards towards a National Certificate in Agriculture, or Horticulture (Level 1 or 2) with the Trades Academy.
Year 12-13 students can learn more about the horticulture industry and earn NCEA unit standards through the Primary ITO Gateway programme.
Personal requirements
Packhouse workers need to be:
efficient and methodical
reliable and punctual
accurate, with an eye for detail
able to work as part of a team
able to follow instructions
able to work well under pressure.
Useful experience
Useful experience includes:
work in orchards or market gardens
forklift driving
production line work.
Physical requirements
Packhouse workers need to be reasonably fit as they may lift heavy boxes and stand on their feet all day.
Find out more about training
Horticulture New Zealand

(04) 472 3795 - info@hortnz.co.nz - www.hortnz.co.nz

Primary Industry Training Organisation

0800 20 80 20 - info@primaryito.ac.nz - www.primaryito.ac.nz
Check out related courses
What are the chances of getting a job?
Demand for packhouse workers is strong and will continue to grow due to:
a shortage of workers caused by low unemployment rates
an increase in the amount of fruit and vegetables grown
increased exports, with a 40% rise in export earnings since 2014.
To manage the shortage of workers the horticulture industry is creating up to 300 permanent positions a year and recruiting temporary workers from the South Pacific.
According to Horticulture New Zealand, there are around 50,000 people working in the horticulture industry.
Job chances for packhouse workers best in summer and autumn
Demand for packhouse workers is higher during the peak seasons of summer and autumn. Your best chance of getting work is to contact employers directly. 
The best regions to find work are the Bay of Plenty, Tasman (Blenheim, Nelson and Motueka) and Hawke's Bay.
Types of employers varied
Packhouse workers can work for:
orchardists and grape (wine) growers
fruit, mushroom, nut and vegetable growers
grain farmers
flower growers.
Sources
Chapman, M, 'Access to Labour Critical to Horticulture's Growth', 16 March 2018, (www.hortnz.co.nz).
Galloway, J, 'Visas Loosened to Resolve Fruit-Picking Crisis), 16 March 2018, (www.stuff.co.nz).
Horticulture New Zealand, 'Horticulture NZ Annual Report 2017', 2017, (www.hortnz.co.nz).
Ministry of Social Development, 'Declaration of Seasonal Hawke's Bay Labour Shortage', 12 March 2018, (www.msd.govt.nz).
Primary Industry Training Organisation, 'Find a Great Career', accessed May 2018, (www.primaryito.ac.nz).
Radio New Zealand, 'Slim Pickings: Worker Shortage Leaves Apple Farms Frantic', 1 March 2018', (www.radionz.co.nz).
Stats NZ, 'Regional Seasonal Employment Employers Survey 2017', September 2017, (www.stats.govt.nz).
Van Beek, J, national seasonal labour, Horticulture New Zealand, Careers Directorate – Tertiary Education Commission interview, April 2018.
(This information is a guide only. Find out more about the sources of our job opportunities information)
Progression and specialisations
With further training, packhouse workers may progress to become forklift operators, shift supervisors and managers, or work in logistics (co-ordinating transport of goods). 
Packhouse workers may specialise in a number of roles, including:
Grader

Graders sort fruit, vegetables and other produce in order of size, type, colour and quality.

Labeller

Labellers put labels on fruit, vegetables and other produce for export. 

Packer

Packers fill trays and crates and check the quality and presentation of produce.

Post-harvest Quality Controller

Post-harvest quality controllers take samples of produce to check their size, colour and quality.

Stacker

Stackers stack packed boxes of produce in a way that ensures they do not get damaged.

Strapper

Strappers tape and wrap boxes and crates of produce.

Tray Prep

Tray preps assemble packaging, crates and trays ready to be filled with produce.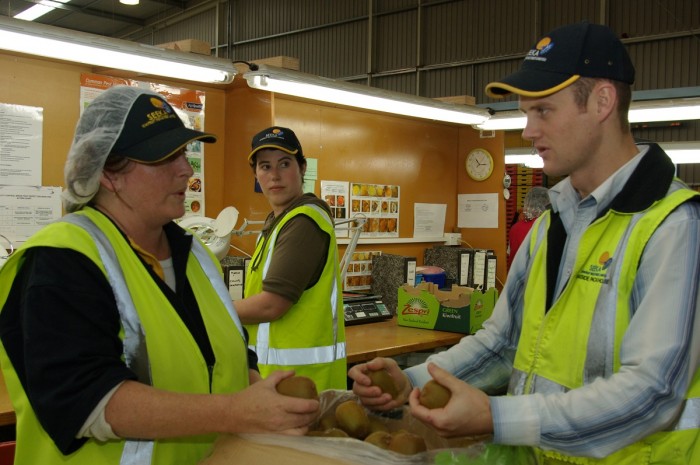 Last updated 1 April 2019