Gardener
Kaitiaki Māra
Gardeners plant and maintain lawns, trees, shrubs and flowers in public or private gardens and parks.
Pay
Source: Trade Me Jobs and University of Canterbury, 2017.
Job opportunities
Chances of getting a job as a gardener are average due to high competition for jobs.
Pay
Pay for gardeners varies depending on experience.
Trainee gardeners and gardeners' assistants usually start on minimum wage.
Experienced gardeners can earn up to $30 an hour.
Pay for self-employed gardeners depends on the success of their business.
Source: Trade Me Jobs 'Salary Guide', 2017; University of Canterbury 'Collective Agreement 1 July 2015 to 30 June 2018', 2017.
(This information is a guide only. Find out more about the sources of our pay information)
What you will do
Gardeners may do some or all of the following:
maintain gardens and outdoor areas by planting, pruning, fertilising, weeding
grow plants from seeds and cuttings
select and buy plants
control plant pests and diseases
discuss gardening requirements with clients
do landscaping and basic construction work
maintain gardening tools.
Skills and knowledge
Gardeners need to have:
knowledge of planting, pruning, spraying, fertilising
the ability to identify plants and pests
knowledge of plant pest and weed control
practical skills such as the ability to operate power tools.
Working conditions
Gardeners:
work regular business hours and sometimes weekends
usually work outside in parks and gardens, but they may also spend time working in glasshouses and nurseries
work in most weather conditions.
What's the job really like?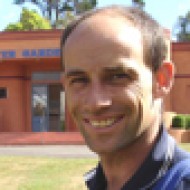 Lindsay Hyde admits he didn't start his gardening career with much plant knowledge. "As part of my horticulture apprenticeship there was a plant ID thing we had to attend. They were all deciduous trees and I just put 'oak, oak, oak' and that was my 10 guesses, I just didn't know."
Gardening skills learnt on the job
Lindsay has clearly picked up a thing or two since then because he's now the grounds manager for a large city park. "Over a period of time you build up knowledge. When you first start out just be prepared to learn. It's as simple as that. There's a fair bit of stuff you can learn just by getting out and doing it. There's a whole heap of knowledge out there and usually people are quite willing to offer it."
Stick with it and get rewards
He advises anyone interested in gardening as a career to "stick at it. A course can definitely be the start of a fulfilling and successful career. I started out by doing a trial for one week and I can honestly say I haven't looked back."
"More often than not people come past and say, 'that looks nice' or 'that looks spot on!' When you take pride in your work you feel good about what you do and nine times out of ten that's all we want from a job."
Attiene finds out what it's like to be a gardener - 5.44 mins. (Video courtesy of Horticulture Industry Organisation).
Attiene: Hi I'm Attiene, I'm 17 years old and I'm here to check out horticulture.

Clinton: Attiene is going to try amenity horticulture. That's the care and maintenance of public parks, gardens and reserves that make our towns and cities a pleasant environment in which to live. It's gardening on a grand scale. Her mentor will be David Millward.

David: Hi!

Attiene: Hello! I'm Attiene.

David: Hi Attiene, David. How are you?

Attiene: I'm good thank you.

David: I believe you're interested in horticulture?

Attiene: Yes I am.

David: Alright, OK, well if you want to come over here we've got some tasks set up for you so we can start loading up the ute and get straight into it.

Attiene: Excellent.

David: Alright, come this way.

David: What I enjoy about me job? Probably the variety. Creating some already historically beautiful places and maintaining them and keeping them up to scratch. Seeing the enjoyment on people's faces when they come through parks and gardens – it can be quite a rewarding job.

Clinton: David is happy to show Attiene how to apply mulch under the trees by the pond.

David: So Attiene, we're going to start on our first task for the day, have you done much horticulture at all yet?

Attiene: I've done a bit at home but not very much really.

David: Right OK, we'll give you a little bit of a grounding in it today.

Attiene: OK.

David: Well this will be our first one – it's a bit of physical one. Basically what we're just going to do here is we're just going to be mulching around these Aspleniums, which is a type of fern, and basically the reason we do the mulching is so that it doesn't dry out too much – especially now is a good time to do mulch, around springtime, and it's also really good for weed suppression, which if you can save yourself a bit of work later on, it's always a good thing to do!

David: It's a good balance of physical work, which a lot of people pay a huge balance to go to the gym, paying gym fees to keep fit. In this job you can do it on the job.

David: Well done.

Attiene: Thank you, good job!

Attiene: I didn't realise that gardening was such hard work, in that you actually have to get in there and do it, and that you actually use mulch to keep away weeds – and they do keep them away!

Clinton: Another seasonal task is the preparation of the flower beds for spring planting.

David: Alright, now as you look around here, most parts have annual beds – that's what these ones are. Annuals are young plants that only have a limited lifespan generally. They're there for a quick show and display and then they get removed and generally in the park, most places will have two changeovers of annuals in a year, which is the same case here. So what we're basically going to be using is this rotary hoe, and go through and break up all the soil.

David: Well done! It will get easier!

Clinton: After the soil preparation comes the planting. All of the thousands of bedding plants are raised from seed on the on-site nurseries.

David: The smaller plants that are brought into this area that are then grown on into large plants and they've hardened off a little bit, we've got the plastic framing up there, that filters out a little bit of the light so they're basically gradually gotten used to the outside environment before they're taken out to the big wide world of the winter gardens.

David: So this is one of the components of the apprenticeship in amenity horticulture, is basically plant design for display purposes, and you can't get a better display area than the winter gardens, so this is the sort of thing you can design.

Clinton: Another of Auckland's historic public gardens is Albert Park. Attiene is going there to meet Erin who is in the second year of her apprenticeship.

Attiene: So what are you going to do when you finish your apprenticeship.

Erin: There's lots of things I could do. There's plenty of opportunities within the company to stay and it just really depends what you're interested in at the end.

Erin: Do you enjoy it?

Erin: Oh yeah definitely! It's good fun.

David: The rewards are just seeing the people enjoy the open spaces. At the end of a bad day you can sit back and go for a walk in the park and it takes two minutes to realise that – wow, I'm actually really lucky and I have a fantastic work environment and there's not many places in the world that people can go outside and enjoy it like we do.

Attiene: I think horticulture is really good. It's lots of fun, you get to be out all day in nature and even though it's quite tiring it's really rewarding.

David: Attiene went really well today. She was keen, motivated, got a really good personality so she will get on with the public and I think she'd be fantastic. Willing to get her hands dirty – great.

Clinton: This is a great job for people who have a passion for gardening and love being outdoors. Right now there is a shortage of skilled workers in this field. There are no specific entry requirements but a reasonable level of fitness and a driver's licence are preferred. You can do the three-year National Certificate in Amenity Horticulture (Level 4), which covers both theory and practice. And you'll be earning while you're earning.
Entry requirements
There are no specific requirements to become a gardener. However, experience or a National Certificate in Horticulture (Level 4) may be useful.
Gardeners may study towards a National Certificate in Horticulture (Levels 1-3), National Certificate in Horticulture – Amenity Horticulture (Level 4) or a National Certificate in Horticulture – Landscaping (Level 4).
Secondary education
There are no specific secondary education requirements to become a gardener. However, agricultural and horticultural science, biology and maths are useful.
For Year 11 to 13 learners, trades academies and the STAR and Gateway programmes are good ways to gain relevant experience and skills.
These programmes may help you gain an apprenticeship, but do not reduce the amount of time it takes to complete it.
Personal requirements
Gardeners need to be:
able to follow instructions
creative, with an eye for detail
motivated
practical
adaptable, as weather can change plans at the last minute.
You could be weed-eating, mowing, going along with the edger – so fitness definitely comes into it. But I guarantee that fitness can be built up and improved, and sometimes your shape improves as well!
Useful experience
Useful experience for gardeners includes:
horticultural or conservation work
gardening experience
heavy vehicle and tractor-driving experience.
Physical requirements
Gardeners need to be reasonably fit, healthy and strong, and have a good level of stamina, as they may spend a lot of time bending and lifting. They should not have any allergies to pollens, sprays or plants.
Find out more about training
Primary Industry Training Organisation

(04) 801 9616 - info@primaryito.ac.nz - www.primaryito.ac.nz
Check out related courses
What are the chances of getting a job?
Chances of finding work as a gardener are average as it is a popular job that requires no entry level training, so there is high competition for available jobs.
Types of employers vary
Gardeners may work for:
themselves – either on their own or as part of a small franchise
private landowners
regional and local councils
businesses that work on contract for local councils.
Sources
City Care website, accessed April 2017, (www.citycare.co.nz).
Green, R, training advisor, Primary Industry Training Organisation, Careers New Zealand interview, May 2017.
Ministry of Business, Innovation and Employment, 'Annual Percentage Change in Advertised Job Vacancies, March 2016 to March 2017 Quarters', March 2017, (www.mbie.govt.nz).
Ministry of Business, Innovation and Employment, 'Short Term Employment Forecasts 2016-2019', March 2017, (www.mbie.govt.nz).
Ministry for Primary Industries, 'Future Capability Needs for the Primary Industries in New Zealand', April 2014, (www.mpi.govt.nz).
(This information is a guide only. Find out more about the sources of our job opportunities information)
Progression and specialisations
Gardeners may progress to setting up their own business, or move into team leader or management roles.
Last updated 2 October 2019