Painter and Decorator
Kaipeita/​Kaiwhakapaipai Whare
Alternative titles for this job
Painters and decorators apply decorative and protective finishes to interior and exterior walls, doors, windows and other surfaces of buildings.
Pay
New or unqualified painters and decorators usually earn
Experienced and qualified painters and decorators usually earn
Source: Master Painters NZ and Trade Me Jobs, 2018.
Job opportunities
Chances of getting work as a painter and decorator are good due to a shortage of workers.
Pay
Pay for painters and decorators varies depending on skills, experience and their employer.
Apprentice painters and decorators may start on the training minimum wage or the adult minimum wage, with their wages increasing as they gain experience and unit standards.
Unqualified or inexperienced painters and decorators usually start on about $19 and progress to $22 an hour.
Experienced painters and decorators can earn between $24 and $33 an hour.
Painters and decorators running their own business may earn more than this, but their income will depend on the success of their business.
Sources: Master Painters New Zealand, 2018; PayScale, 2018; and Trade Me Jobs, 2018.
(This information is a guide only. Find out more about the sources of our pay information)
What you will do
Painters and decorators may do some or all of the following:
work with customers on colour selection and finishes
calculate materials required for a job
erect scaffolding under five metres high (scaffolding over this height must be put up by a registered scaffolder)
fill holes, cracks and joins, and clean surfaces of dust and dirt
mix and match paint colours
cut and hang wallpaper, vinyl and backing paper
apply paint and decorative paint finishes such as glazing, graining, marbling and lettering.
Skills and knowledge
Painters and decorators need to have:
a good understanding of colour
knowledge of paints and wall coverings
skill in painting and decorating techniques
knowledge of health and safety precautions.
Painters and decorators who are self-employed also need business skills.
Working conditions
Painters and decorators:
usually work regular business hours, but may be required to work longer hours or weekends. Commercial painters and decorators may work at night
work on homes and commercial buildings that are being built or renovated
may work in cold or dusty conditions, inside and outside and at heights.
What's the job really like?
Justin Burrell
Painter and Decorator
How did you get into painting and decorating?
"I wasn't doing all too well at school and my parents were in the process of getting the inside of their house painted. They approached the painters who were doing it and asked if they would take on an apprentice and they agreed. I've been a painter ever since."
What do you enjoy most about your work?
"The variety. Every job, whether it be interior or exterior, is different. I like that aspect of it the most."
What do you find most challenging about your work?
"As a foreman the thing I find a little difficult is managing the different painters in our group. They all have different skill levels and I need to be able to identify what they can and can't do, and give them tasks that reflect their level of ability. It can be an ongoing thing as we move our painters around quite a bit."
What advice would you give someone interested in becoming a painter and decorator?
"Do a pre-trade course to give you a good foot in the door. Once you've done that, try and get an apprenticeship because doing an apprenticeship is a key factor in upskilling.
"It's also important to persevere. I've been painting for 25 years and I'm still learning new stuff. It's a hard job but if you enjoy it then you're probably going to be good at it – so just keep hanging in there and work hard at it."
Painter and decorator video
Jasmine finds out what it's like to be a painter and decorator – 11.33 mins. (Video courtesy of BCITO)
Jasmine: Hi my name is Jasmine Bishop, I'm a Year 12 student at Orewa College and I'm interested in a career in painting and decorating.

Clinton: Painters and decorators add that final finish to the interior and exterior of residential, commercial, and industrial structures. Their work serves as both decoration and protection.

So that Jasmine can take a practical look at what the job entails we've brought her along to meet Jim Dennis who runs one of the oldest painting and decorating businesses in Auckland, Penrose based J.R. Webb and Sons.

Jim: Would you like to come with me we'll come and meet Ian our estimator.

Jasmine: Awesome.

Clinton: Jim first teams Jasmine up with Ian, who is one of J.R. Webb's estimators. They've come to estimate a job for home owner Sue.

Sue: What I'd like to do is I'd like to do some renovations.

Ian: My role as an estimator is to meet the clients, discuss with them what they intend and sort of guide them where they want to get because quite often they don't know what it is they actually want and then measure the job, put a quote together, and send it back out to the client.

Okay, so we'll have a look at the bedroom inside to start with.

Sue: Sure.

Now this wall followed by the little wall at the side there.

Ian: I have to have a good product knowledge so I can advise the clients on the best paint system for their particular need.

Clinton: Sue wants one bedroom wall painted and another wallpapered.

Sue: Yeah, and the wall colour would look nice with that as well.

Clinton: Ian then asks Jasmine to help Sue select the outdoor wall colours.

Sue: I quite like something in that range there.

Jasmine: I can grab some test pots so you can have a look at them on the wall if you like?

Sue: Oh that would be great, thank you.

Jasmine: No worries.

Clinton: To keep things neat, Jasmine first masks three areas and then paints them in.

Sue: I think Napa in the middle there.

Jasmine: Colour and wallpaper decided all that's left for Ian and Jasmine to do is to measure up and then send through the quote for the job to Sue.

Sue: That's definitely acceptable, can we perhaps go ahead and organize that thank you.

Clinton: With Ian's quote accepted a few days later, a J.R. Webb painting and decorating crew arrive to carry out the job. Jim then introduced Jasmine to the crew.

Jim: Good morning guys.

Crew: Good morning.

Jim: This is Jasmine. Jasmine this is Willie, Willie's our senior foreman.

Willie: Hello.

Jasmine: Hi.

Jim: This is Bobby.

Jasmine: Hi.

Bobby: Hello.

Jim: And this is Alvin.

Alvin: Hello.

Jim: Willie I'll leave Jasmine in your very capable hands.

Willie: Okay, we'll go have our health and safety meeting.

What we've got, we've got these glasses, ear plugs, dust mask, and some overalls. You go get changed and we'll get into it.

Clinton: Under Willie's watchful eye the first job for Jasmine is to waterblast the outside of the house. This cleans the walls ready for painting.

As scaffolding is being used health and safety is a top priority, so Jasmine must wear a harness.

And soon the water blasting was done.

While the outside wall was drying Peter, Jim's wallpaper hanger, arrived and was ready to start work.

Peter: Alright well I think the first thing that we need to do is get all this furniture out of the way so we get a clear run of it.

Clinton: It's very important that the furniture and floor coverings are protected before work begins.

Peter: Alright, the next thing we've got to do is get these covers off here.

There you go that should do it and now do the top one.

So we loosen these off so that we can tuck the paper in behind here.

Jasmine: Great, so can we get started hanging?

Peter: First thing we've got to measure out the wall. So we'll probably start about here somewhere.

Jasmine: Why don't we start it at the corner?

Peter: Because we can't join it on a corner like that so we need to set it back a bit. Okay, so we need to measure the height of the wall.

So we'll open up these rolls and have a look at the pattern on them. These labels have all the information we need here. So it says it's a straight through pattern with a 64 centimetre repeat.

This is our starting point here. Just put a line down there.

Okay, we'll fill this up with the paste we've already mixed up. We'll need to paste the sheets up. And we'll pull it through to our length. Okay, so that's all nice and straight with our line there.

Clinton: Peter makes it look easy. Now it's time for Jasmine to have a go.

Peter: You just want to ease it up there until it matches right. How's that looking?

Jasmine: Down slightly.

Peter: Down a little bit. Start from the middle and brush up. That's it. And down.

Clinton: Jasmine seems to have got the hang of hanging.

Jasmine: I've heard that wallpaper has become, like its trending again and becoming more popular. Have you noticed that?

Peter: Yes, definitely. We do a lot more feature walls these days. They're like 60-70 percent of my work.

Jasmine: Wow.

Peter: Right, we're all done.

Jasmine: That looks good.

Peter: Yeah, yip, perfect job again.

Jasmine: Sweet.

Peter: Well done.

Clinton: While Peter and Jasmine were hanging the wallpaper the outside walls that Jasmine waterblast have dried. As the paint will be sprayed onto the outside walls, the windows and window frames have to be masked.

Willie: Okay, we've put our gear on and now we'll go and spray.

Clinton: With the windows now protected it was time for Jasmine and Willie to put on gloves, eye protection, and masks to protect themselves from the spray paint.

Willie: See?

Jasmine: Holy moly.

Clinton: After a lesson from Willie then it was Jasmine's turn to spray.

Willie: Very good. Keep going.

Jim: The key thing with having the right staff with the right training in my experience is you get the job right the first time. It means you don't have to go back and do it again. It gives our company credibility because we've got guys that genuinely know what they're doing. They can answer the questions if the client comes up and says 'Why are you doing so and so?' they can say 'We're doing it because this is what our training has told us to do'. And it's a credibility issue.

Clinton: With the outside wall now sprayed it was time for Jasmine to meet up again with Alvin and Bobby to help them with painting the bedroom wall.
So the furniture is moved and dust sheets are laid over the carpet. Good preparation is the key to a successful paint job.

The wall is masked then the walls are sanded to provide a key for the new paint and to remove any surface imperfections.

Bobby: Okay guys well done.

Clinton: Then the paint is stirred.

Jasmine: Why do you have to mix it?

Bobby: Just to get all the tint and paint really good because sometimes the paint is sitting there for a little while so it will be a different colour white.

Clinton: And painting can now begin. The brush work around the edges is called cutting in. And at the same time as the cutting in takes place, the main part of the wall is painted with a roller creating a seamless join between the two.

Both Bobby and Alvin are going through a qualification process with the company. Alvin is an apprentice getting qualified through the BCITO and Bobby, being an experienced painter, is having his skills gained over the years qualified by the BCITO as part of a skills recognition process.

Bobby: I'm on model five now and I've got one more model to do and we're all done. Maybe my boss will give me a pay rise.

Clinton: BCITO training advisers make regular onsite visits to its trainees to ensure their training is all going to plan. Lance is Bobby and Alvin's training adviser.

Lance: What I do is I go out and visit them onsite. I check that their theory work is being read and then I reset new goals for their next visit which is normally about two to three months time.

Alvin: Once I'm qualified it's sort of like job security. If I leave this I can go anywhere.

Lance: We have the apprenticeships which is for a start-up person learning painting and decorating. And then we have the skills recognition which is for painters who have been in the industry probably more than five years. It's a correspondence course that I help them with. At the end of the day they achieve their National Certificate in Painting and Decorating but they just get there taking a different pathway.

Jim: For us the acid test is when the guys get the results of the unit standards. I say to all our apprentices when they go to school for their two week block course that there is an expectation that you will be top of the class. No pressure mate.

Clinton: Well it's been a busy day for Jasmine and Jim's painting and decorating team and now the job's complete.
Now the acid test, is the client happy?

Sue: Oh wow the painting's fantastic. Did you do it all?

Jasmine: Yeah more or less.

Sue: Wow it's great.

Jasmine: And do you like the wallpaper?

Sue: Oh, what a good job you guys have done.

Jasmine: And this is the outside.

Sue: Oh it looks great.

Jim: For someone who's never had a go at painting and decorating she has done really well and I'd be very pleased to have her come on board as an apprentice in our company.

Jasmine: It's been a really good couple of days. I've met lots of really cool people and tried lots of new things. I didn't realise so much was involved with all this sort of thing. Lots of little skills that sort of have to go into the big skills so yeah no really good experience, I really enjoyed myself.

Clinton: The BCITO manages painting and decorating apprenticeships which typically take three years to complete. You'll work under experienced painters and decorators who will provide on the job training and coaching throughout your apprenticeship.

The BCITO offers ongoing guidance throughout your apprenticeship with regular onsite visits by a BCITO training adviser. Your skills are assessed on the job and through off job training. You'll earn while you learn.

The BCITO also offers its skills recognition qualification pathway for experienced painters and decorators.

As the New Zealand building industry becomes more regulated there are more demands that you can prove your experience and guarantee the quality of your work.

Your painting and decorating skills can be used worldwide.
Entry requirements
There are no specific requirements to become a painter and decorator.
However, you usually need to complete an apprenticeship and gain a National Certificate in Painting and Decorating (Level 4). The Building and Construction Industry Training Organisation (BCITO) oversees painting and decorating apprenticeships.
Secondary education
There are no specific secondary education requirements to become a painter and decorator. However, construction and mechanical technologies, maths, design and visual communication, and painting are useful.
Year 11 and 12 learners can find out more about the construction industry and gain relevant skills by doing a National Certificate in Building, Construction and Allied Trades (Levels 1 and 2) through the BConstructive programme.
For Year 11 to 13 learners, trades academies and the STAR and Gateway programmes are good ways to gain relevant experience and skills.
These programmes may help you gain an apprenticeship, but do not reduce the amount of time it takes to complete it.
Personal requirements
Painters and decorators need to be:
detail-focused, with an eye for colour
practical, quick and accurate
neat and tidy in their work
organised
responsible
good at relating to people
able to work as part of a team.
It's important to have good communication skills, not only with clients, but with the other painters and foremen as well.

Justin Burrell

Painter and Decorator
Useful experience
Useful experience for painters and decorators includes:
interior decorating
work as a sales assistant in a paint and wallpaper shop
work as a painter's assistant
any other work where you can demonstrate creativity.
Physical requirements
Painters and decorators need to:
have good eyesight (with or without corrective lenses) and normal colour vision
be reasonably fit and have a strong back and knees, as their work involves a lot of bending, standing and lifting
be comfortable working at heights
have good hand-eye co-ordination.
Find out more about training
Building and Construction Industry Training Organisation (BCITO)

0800 422 486 - info@bcito.org.nz - www.bcito.org.nz

Master Painters New Zealand

0800 724 6869 - nationaloffice@masterpainters.org.nz - www.masterpainters.co.nz
Check out related courses
What are the chances of getting a job?
Strong demand for painters and decorators
Chances of getting work as a painter and decorator are good due to:
regular redecoration by homeowners
steady growth in construction which is predicted to continue until at least 2023
a shortage in the number of people going into painting and decorating apprenticeships. 
The demand for painters and decorators can be affected by economic conditions. A downturn in the economy can lower demand for painters and decorators, although there is often maintenance work available.
Most painters and decorators work for small firms or are self-employed
Most painters and decorators work in small firms, and about one third are self-employed. Some self-employed painters and decorators work on contracts in pairs or small teams.
Sources
BCITO, 'Painting and Decorating', accessed July 2018, (www.bcito.org.nz).
Miller, B, chief executive, Master Painters New Zealand, careers.govt.nz interview, July 2018.
Ministry of Business, Innovation and Employment, 'National Construction Pipeline Report 2018', July 2018, (www.mbie.govt.nz).
Ranchhod, S, 'Construction Bulletin - July 2018', July 2018, (www.westpac.co.nz).
(This information is a guide only. Find out more about the sources of our job opportunities information)
Progression and specialisations
Painters and decorators may progress to set up their own businesses, or move into supervisor or management roles.
Painters and decorators may specialise in:
commercial or residential work
interior or exterior painting
wallpapering
decorative or maintenance work.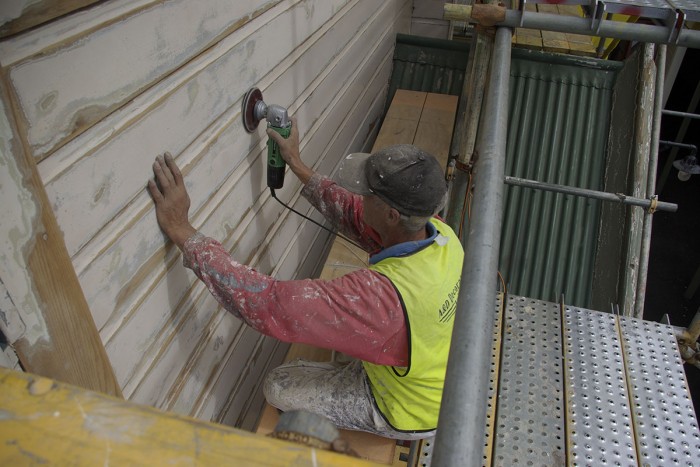 Last updated 11 September 2019