Pay
Photographers who work for others usually earn
Self-employed photographers can earn
Source: Woolf Photography, 2020.
Job opportunities
Chances of getting a job are average for new photographers, but good for those with experience.
Pay
Pay for photographers varies depending on experience, how often they work and the type of photography.
Photographers in training can expect to earn minimum wage. 
Photographers with two to three years' experience usually earn between $25 and $30 an hour. 
Self-employed photographers can earn $50 to $250 an hour.
 Many photographers are self-employed and their income depends on the success of their business.
Source: Woolf Photography, 2020.  
(This information is a guide only. Find out more about the sources of our pay information)
What you will do
Photographers may do some or all of the following:
use digital camera and lighting equipment
work out ideas for photo shoots

arrange cameras, lights, locations, props and models

digitally process and edit photos for print or web
manage and market their own businesses
plan, produce and edit video footage. 
Skills and knowledge
Photographers need to have knowledge of:
cameras, flashes, lenses and computers
how to control light and achieve different photographic effects
how to process digital images and use software such as Photoshop and Lightroom
latest photographic methods, equipment and trends.
Self-employed photographers also need small business and marketing skills, and an understanding of relevant legislation.
Working conditions
Photographers:
usually work regular business hours, and may work long, irregular hours, including evenings and weekends
work in studios, offices and outdoors in various locations
travel locally, nationally or internationally to photograph locations.
What's the job really like?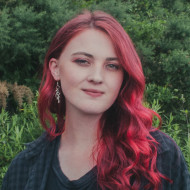 Melany Barrington
Photographer
Photography felt right straight away
"From the moment my lecturer handed me a camera and asked me to take photos of our leadership course to put on social media, I knew photography was for me", says photographer Melany Barrington.
Her lecturer taught her photography techniques and theory before she went out on her own.
"I started photographing the music scene, which has always been my passion. And then my work got picked up by music media publications."
Develop a unique style
Melany also found work as a contract graduation photographer with a photography business.
"I was told my portfolio stood out. If you have a unique style, and you put energy and passion into your photographs, you'll be given opportunities," she says. "And I've since been given lots of responsibilities with the company such as taking photographs of weddings and family events."
Broaden your photography skills and set goals
"You have to be adaptable, and willing to learn. I'd thought wedding photography wasn't my thing – the long days and huge number of photos to take – but I've loved capturing peoples' special day.
"To get your work noticed it helps to set goals. It could be exhibiting your work in a gallery, doing collaborative work or shows with other photographers or even just upgrading your camera gear."
Entry requirements
There are no specific entry requirements to become a photographer as you gain skills on the job. However, a relevant tertiary qualification such as a Bachelor of Fine Arts may be useful. 
Some employers prefer to train new photographers themselves. They may also support them to work towards a photography qualification. 
Secondary education
There are no specific secondary education requirements to become a photographer, but useful subjects include visual arts, art history, digital technologies and design and visual communication..
Personal requirements
Photographers need to be:
good communicators and able to make people feel relaxed and at ease
patient and organised
able to work well under pressure
accurate, with an eye for detail
confident and motivated
creative and artistic
practical and technically skilled
good at solving problems
good at networking to establish a customer base. 
Moving past creative blocks can be the hardest part, so you need to find ways to be inspired and stay motivated. For me it's usually a walk through my favourite park or by the ocean.

---

Melany Barrington

Photographer
Useful experience
Useful experience for photographers includes:
amateur photography, including darkroom experience
art experience
experience with photography editing software.
Find out more about training
NZ Institute of Professional Photography

info@nzipp.org.nz - www.nzipp.org.nz

Photographic Society of New Zealand
Check out related courses
What are the chances of getting a job?
Range of ways to increase chances of getting work
Opportunities are good for experienced photographers with a good reputation and a range of clients but average for new photographers as there is high competition for vacancies.
However, most photographers work part time, and supplement their income with other work.
You can increase your chances of getting a job if you:
have a creative portfolio 
market yourself well

can produce innovative work by experimenting with digital photography techniques 
have good knowledge of computer software packages like Lightroom and Photoshop
specialise in a particular area of photography such as medical photography, engagements, weddings, births or journalism
belong to and network with members of a professional body such as the New Zealand Institute of Professional Photography (NZIPP) or the Photographic Society of NZ.
According to the Census, 2,244 photographers worked in New Zealand in 2018.
Most photographers self-employed
Most photographers are freelancers. Some photographers work as employees for established photographic companies while selling their own work on commission and gaining business skills.  
Photographers may also work for:
photographic agencies
news agencies
newspaper and magazine publishers
shops that offer photo processing
tertiary institutions that require photography teachers
hospitals and the police.
Sources
Ministry of Business, Innovation and Employment, 'Occupation Outlook, Photographers', accessed November 2020.
Stats NZ, '2018 Census Data', 2019.
Woolf, S, business owner and photographer, Woolf Photography, careers.govt.nz interview, October 2020. 
(This information is a guide only. Find out more about the sources of our job opportunities information)
Progression and specialisations
Photographers may progress to set up their own photography business, or move between different areas of photography with further training. 
Photographers may specialise in a particular area of photography, such as:
advertising, food, fashion and editorial

artistic – producing photographic artworks

corporate and commercial

press, sports photography and photojournalism

medical photography

social, including weddings and portraits
stills photography in the film industry
photographic styling

photographic retouching.  
Last updated 4 April 2023