Who can help you make a career decision?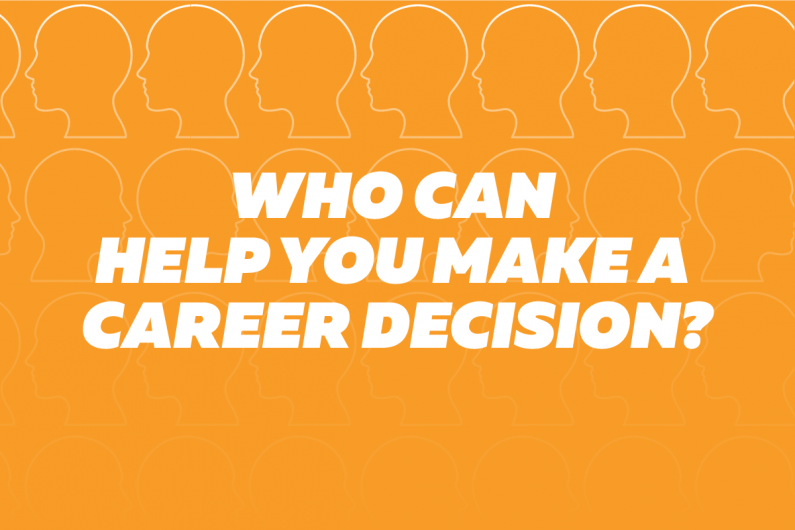 Find out who can help you make a career decision.
What's on this page?
Career advisers and consultants
Career advisers and consultants can give you advice about education, careers and how to look for work.
Career advisers can help students at secondary schools or tertiary providers.
Professional career consultants can help people who have left school.
Industry training organisations (ITOs)
Industry training organisations (ITOs) can advise you about apprenticeships and on-the-job training programmes.
Tertiary providers
Student advisers at tertiary providers can answer questions about courses at universities, polytechnics, wānanga, or private training establishments.
They may also be able to help you with questions about child care, financial and health services, sport, fitness and recreational activities, and accommodation.
Career pathway stories to inspire you - video
Find out how Jordan, Dave and John seized opportunities and overcame challenges to find their career pathways – 2.58 mins.
Jordan: My name's Jordan Maeataanoa or Jordan Maya, I'm 26 years old and I'm a doctor. Serve was a big part of Fa'a Samoa and I love the fact that you can help someone who's sick get better. It looked fun as well, like you watch TV programs, you watch surgeries, and you watch them talk about all this crazy stuff and you're like 'Aw that looks cool'.
Dave: When I was 14 years old I'd seen my uncle had done quite well in business so I really wanted to go down that field and also I really wanted to be a rugby league star but I knew I had to have a backup of business or something just in case league didn't work out. I had one family member who done very well and my other family side which was my dad and my uncle who didn't do very well, they didn't stay at school and wound up spending a lot of time in jail, so I never wanted to be like that. And so you know there was two sorts of family guidance. There was from my parents 'don't ever go down that path', and then my uncle who was something that I wanted to work towards.
John: I was nine years old when I left Tonga for New Zealand, and one of the barriers I first had to overcome was the language barrier. I spoke Tongan and I was trying to understand what everyone else was saying. When choosing a career I seeked help from our careers adviser and they signed me up in this program called Gateway, and that for me that was the gateway that got me into the industry. So they allowed me to leave Otahuhu College and go into TVNZ and I did some work experience at Tagata Pasifika.
Jordan: I didn't know anyone that was in medicine so I tried to ask, tried to look on the internet how I get into medicine. I knew I wanted to be a doctor so I asked at school 'Hey miss how do I get into medicine, I want to be a doctor'.
Dave: My career journey has been one of a roller coaster, there's been ups and downs, from rags to riches and back to rags again, but you know what that's the journey, and it's never a failure if you learn from it. As long as you learn from your mistakes they're not mistakes because you will never make them again.
Jordan: Do the subjects that you're better at, I was not that great at science so I did English subjects instead and biology to try and get into medicine. Or if you're better at science and maths then do chemistry and biology and physics.
John: It was a huge help having a program like Gateway because that was my only opportunity coming from a school in South Auckland to going to somewhere like TVNZ. It allowed me to have a hands-on experience and I got to meet people in the industry.
Jordan: If you're brown and you want to be a doctor there will be scholarships. One of the scholarships that I got was the Health and Workforce scholarship from Le Va. It paid for the whole degree basically.
Dave: Never give up, keep pushing forward. You're going to come across road blocks and speed bumps. You just have to persevere, consistency and work hard. Nothing is going to be given to you in this life, you have to work hard and you have to be consistent.
Where to find financial advice
Whether you're doing tertiary study for the first time or considering retraining, these organisations and websites have tools and information to help you with financial advice.
Adult training or retraining
If you've never done tertiary training or you started tertiary training but didn't complete a qualification, you may be eligible for fees-free study or training.
If you're considering postgraduate studies, tertiary providers can tell you about scholarships or grants that may be available.
Family/whānau, friends and workers
Talking to the people who know you best, your family/whānau and friends, can make your options seem different.
Your family/whānau can help you identify your skills or challenge you by pointing out things you haven't considered.
Your friends may have been in a similar situation and can tell you what affected their choices.
You can also get good ideas about a career by talking to people doing jobs that interest you.
Updated 10 Dec 2019