Textile Process Operator
Kaimahi Kaka-aku
Alternative titles for this job
Textile process operators carry out a variety of tasks in the production of materials such as fabric, canvas, yarn and carpet.
Pay
Textile process operators usually earn
Source: careers.govt.nz research, 2018.
Job opportunities
Chances of getting a job as a textile process operator are poor due to a downturn in manufacturing.
Pay
Pay for textile process operators varies depending on experience.
New textile process operators usually start on minimum wage or a little more.
Experienced textile process operators can earn up to $24 an hour. 
Source: careers.govt.nz research, 2018.
(This information is a guide only. Find out more about the sources of our pay information)
What you will do
Textile process operators may do some or all of the following:
weave or knit fabrics, clothes and carpets
operate the machinery used to make textiles
wash and blend wool, yarn or cloth
check the quality of products
spin wool or other fibres to make yarn
dye or bleach materials
glue or weld fabric together
press, stretch or waterproof materials.
Skills and knowledge
Textile process operators need to have knowledge of:
textiles and the products being made
welding, weaving, sewing and knitting methods
safety regulations 
quality control methods 
how to maintain and operate machinery.
Working conditions
Textile process operators:
usually work regular hours, but may sometimes work overtime
work in factories that may be noisy or have dangerous equipment.
What's the job really like?
Textile process operator video
Chris checks out a career in the textile fabrication industry – 7.33 mins. (Video courtesy of Just the Job)
Chris Peck: I'm Chris Peck and I'm 17 years old and I live in Tauranga and go to Otumoetai College.

I'm interested in graphics in technology and had the opportunity to look at Baytext where they do canvas fabrication.

Clinton: Headquartered at Mount Maunganui, Baytex is New Zealand's largest canvas fabrication company. In their purpose-built 2,500 square metre factory they make commercial canopies, marquees and some very large and highly specialized tents.

Wendy Tankard: Hi Chris, Welcome to Baytex.

Chris: Thank you.

Wendy: To become an apprentice at Baytex we need to find staff who are practical, very good with their hands, attention to detail but they must have math skills and good English skills, because in the future they're going to be able to read plans, they have to measure things and they will learn to
sew and use our high frequency welders.

Chris: So what type of things do you make in here?

Wendy: We make marquees for the hire industry mostly, very large tents, circus tents, architectural canopies.

Clinton: Baytex can handle more than just tents on the factory floor – workers are in the process of manufacturing large bladders destined for Fiji. They will be used for the storage and transport of molasses.

Chris: So what kind of machine is that?

Wendy: Well over here is a high-frequency welder. We've also got sewing machines, very big sewing machines, on the floor as well. So we have staff, guys and girls and they've got to be able to sew.

Clinton: The factory can handle all sorts of fabrics from the heaviest PVCs and canvasses to the lightest of polyesters and the product range is wide. There are marquees, large and small performance tents like the Buzzy-Bee, and some very special commissions like these made for the movie The Lion the Witch and the Wardrobe.

The tents were made with silk backed with canvas and screen printed with gold and each was uniquely designed in house.

Wendy: Hi Chris we're now coming into our design team and this is Andrew and he's our design manager.

Andrew: Hi Chris, how are you doing?

Chris: I'm good, thanks.

Andrew: I'm currently working on a project for a client that has a circus which tours around the country.

Clinton: Designing a tent like this calls for creativity along with technical knowledge that starts with producing a digital 3D model.

Andrew: Basically at the click of a button we can convert those, that 3D membrane into flattened panels.

Clinton: The curvy complex shape is formed by welding together several hundred differently shaped panels.

Andrew: And we go through a process of converting all of these into images which our digital plotter downstairs can actually read.

Clinton: And this is the digital plotter Chris is going to follow through the fabrication of the fete marquee one of Baytex's most popular small marquees.

Kyle Peterson: This is a computer that drives a plotter. As you would have seen upstairs Chris, the set of panels there for the job we're currently working on and we'll go up to the play button there and push play. Off it goes.

Clinton: This state-of-the-art multi-head plotter cutter makes short work of both cutting the PVC panels and marking them up.

Chris: So what are all the marks that the pens are putting on the fabric now?

Kyle: They're called strike-ups and what they do is they align the panels. When you're putting the two panels together those two little marks should come together on each edge so that through the length you don't get a panel that's out of alignment.

Clinton: The strike-up marks will be a guide for the next process – welding the panels together.

Kyle: The important part here is to keep the fabric flat so if you want to grab the other end of that Chris we'll line it up to our lines that have been put on there from the plotter.

Clinton: Powerful microwaves are beamed through bars and into the fabric to weld it. The radiation and risk of burning requires careful adherence to safety regulations.

The welder operator must move back behind a clearly marked line before activating the welder.

Kyle: The apprentice is pretty much thrown into production from the word go. They're involved in the manufacturing processes from day one.

And that has fused our PVC together.

Chris: Oh wow. What's been of particular interest today has been the high frequency welders, it's been really neat to see the other welder sort of joined the PVC vinyl stuff together, yeah it's been really interesting.

Clinton: Within the industrial textile fabrication industry, apart from canvas fabrication you can also do apprenticeships in saddlemaking, upholstery, sailmaking, boat covers, trampolines, even convertible cars, soft tops, and the New Zealand Motor Industry Training Organisation's Level 3 National Certificate covers all these facets of the industry.

Wendy: At Baytex we have high production runs. They'll have to be very specialized on a high frequency welder, very very good sewing skills, they'll have to be able to read plans and eventually they'll actually go out into the engineering department as well and learn to do our framing.

We make things say, for the Pacific, where a typhoon could come through, so everything's got to be perfect, they can't break.

Kyle: So the last checking process we're doing here is just making sure that the quality of the marquee is up to standard.

Clinton: Every last stitch and weld of a product is inspected, the checklist is ticked off and the marquee is ready for dispatch.

Kylie: And all we need to do now Chris is clean the marquee and fold it up.

Wendy: We make a point of actually putting all our products up at the back in our grassy area at the back so our staff can actually see the product they can actually have a hand in putting it up they see the finished product before it gets exported or sent around New Zealand and they can have a hand at
actually doing it.

Chris: I think it's magnificent how it went up so quickly and easily, I didn't think it went that fast and it's not very hard to put it up, and now it looks great.

Wendy: Chris has been brilliant, we've loved having him at Baytex he's caught on to things very quickly and we'd love to give him a job.

Chris: It's good to see all the different things that they make here and do and the engineering and the CAD design really surprised me how complex the job actually is.
Entry requirements
There are no specific requirements to become a textile process operator, as you gain skills on the job.
Textile process operators may complete Level 4 or Level 5 New Zealand Certificates in Dyeing and Finishing, Textile Machine Setting, Textile Manufacturing and Industrial Textile Fabrication while working.
Secondary education
A minimum of three years of secondary education is recommended. Useful subjects include construction and mechanical technologies, maths and processing technologies.
Personal requirements
Textile process operators need to be:
able to follow instructions  
accurate and careful
patient
quick and alert 
able to work well in a team
responsible 
practical.
Useful experience
Useful experience for textile process operators includes:
factory work
mechanical engineering work
sewing experience.
Physical requirements
Textile process operators need to be reasonably fit and strong and have good hand-eye co-ordination.
Find out more about training
Competenz

0800 526 1800 - www.competenz.org.nz

MITO

0800 88 21 21 - www.mito.org.nz
Check out related courses
What are the chances of getting a job?
Chances of getting a job as a textile process operator are poor as it is cheaper to make textiles overseas and most textiles are now made by machines.
Global demand for synthetic textiles instead of wool has also meant less demand for textile process operators.
Many textile production factories have closed or reduced their staff numbers.
According to the Ministry of Business, Innovation and Employment there are around 4,600 people working in the textile industry.
Types of employers varied
Textile process operators can work for a variety of companies such as:
carpet manufacturers
synthetic textile manufacturers
natural textile manufacturers
canvas and plastic fabricators
yarn manufacturers.
Sources
Doyle, K, 'Made in NZ Tag could be 'Lost Forever' by 2020', 10 May 2018, (www.radionz.co.nz).
Hutching, G, 'Wool Fights Back in Global Campaign to Combat Synthetics', 6 October 2017, (www.stuff.co.nz).
Infometrics, 'From Education to Employment: Megatrends Report', 26 June 2018,(www.infometrics.co.nz).
Keene, P, chief operating officer, TMC, careers.govt.nz interview, August 2018.
Ministry of Business, Innovation and Employment, 'Beyond Commodities: Manufacturing in the Future' 2018, (www.mbie.govt.nz). 
Ministry of Primary Industries, 'Situation and Outlook for Primary Industries March 2017', March 2017, (www.mpi.govt.nz).
(This information is a guide only. Find out more about the sources of our job opportunities information)
Progression and specialisations
Textile process operators may progress to work in design or product development, or move into management roles.
Textile process operators may specialise in:
carding
carpet making
dyeing and finishing
knitting
machine setting
tufting
welding.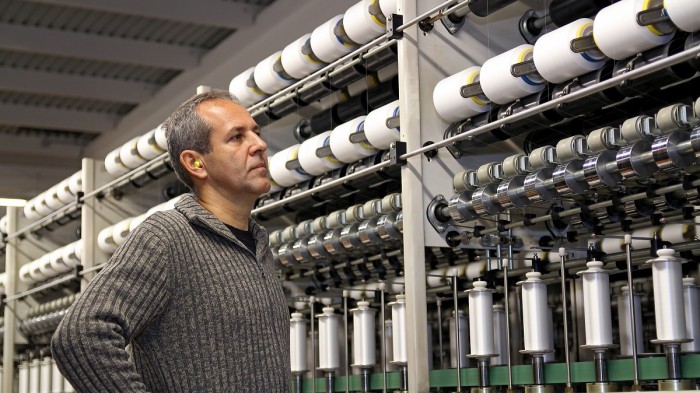 Last updated 30 March 2019