Pest Control Technician
Kaihangarau Patu Orotā
Alternative titles for this job
Pest control technicians manage pests such as insects and rodents in commercial, industrial and domestic buildings. 
Pay
Pest control technicians usually earn
Source: Pest Management Association of New Zealand, 2016.
Job opportunities
Job opportunities for pest control technicians are average, with steady demand for their services.
Pay
Trainee pest control technicians usually start on $22 an hour.
Experienced pest control technicians usually earn $22 to $34 an hour depending on qualifications and length of experience.
Source: Pest Management Association of New Zealand, 2016.
(This information is a guide only. Find out more about the sources of our pay information)
What you will do
Pest control technicians may do some or all of the following:
inspect buildings, industrial complexes, houses and businesses for any signs of pests or pest activity
identify pests
develop and apply pest control plans
control and monitor pests through chemical and non chemical methods such as pesticides, traps and hygiene advice
give advice to land or building owners on pest control and prevention
provide specialist services such as shooting pests, bird control, exotic ant control or fumigation of imported and exported goods
provide specialist services and advice to industries such as food and dairy manufacturing, aviation, shipping and export/import services.
Skills and knowledge
Pest control technicians need to have:
knowledge of pests, including knowledge of methods for trapping, poisoning, controlling or removing pests
understanding of insect and animal biology and habits
understanding of safety rules and methods when using and handling pesticides and poisons
knowledge of handling restricted poisons
knowledge of relevant laws such as the Health and Safety Work Act, Hazardous Substances and New Organisms Acts and the Biosecurity Act. 
Working conditions
Pest control technicians:
often work evenings or weekends
work in various places such as restaurant kitchens, shops, factories, hospitals, farms, bush, homes, industrial sites, airports and shipping ports.
often work in awkward to reach and dirty places.
What's the job really like?
Paul Chapman
Pest Control Technician
Growing up in the industry
Paul has always wanted to be a "pestie". His family had their own pest control business in Lebanon, where he was born. "When I was little, I used to see my father and uncle doing odd things with chemicals wearing masks and protective suits, and I was fascinated by it all. So, when I was old enough, I joined the business.
After several years working with the family and then on his own, Paul moved to New Zealand in 2000 and soon started his own pest control business.
Thinking outside the box
Paul remembers one job where he had to get roosting pigeons out of a cavity in a building under construction. The construction manager wanted the pigeons gone without any shooting or poisoning as getting the dead birds out would be impossible. "I came up with a one-way door that let the pigeons go out as usual to collect food, but wouldn't let them back in. He was really happy with that!"
Humane alternatives like this are what Paul believes in. "I don't use traps that maim animals, and wherever possible, I catch them live and take them to the RSPCA, where they terminate them painlessly."
Entry requirements
There are no specific entry requirements to become a pest control technician.
However, you need to:
hold a full and clean Class 1 driver's licence
have achieved NCEA Level 2.
Most larger employers prefer you to have, or be prepared to work towards, a New Zealand Certificate in Pest Operations (Level 3) (Urban Pest Control). You must be working as a pest control technician to study this qualification.
Pest control technicians who handle restricted poisons will need to get an Approved Handler certificate.
Secondary education
Pest control technicians need to have achieved NCEA Level 2.  Useful subjects include English, biology and chemistry.
Additional requirements for specialist roles:
Pest control technicians who work in rabbit and possum control may need a firearm licence.
Personal requirements
Pest control technicians need to be:
careful and accurate, especially when dealing with poisons
good communicators with sound written and verbal communication skills
computer literate
hard working and methodical
able to work well on their own
able to work well with technology and machinery
comfortable working around animal pests such as rats and mice, cockroaches, wasps and bees, spiders and feral animals.
Useful experience
Useful experience for pest control technicians includes:
farm work
working with animals
hunting
work handling chemicals and/or poisons.
Physical requirements
Pest control technicians need to be reasonably fit as some of their work involves working in remote or difficult to reach places.
Those working in urban areas must be comfortable working in confined spaces and at heights.
Registration
Pest control technicians are recommended to register with the Pest Management Association of New Zealand.
Find out more about training
Careerforce

0800 277 486 - info@careerforce.org.nz - www.careerforce.org.nz

Primary ITO

04 801 9616 - info@primaryito.ac.nz - www.primaryito.ac.nz
Check out related courses
What are the chances of getting a job?
Demand for pest control services remains steady due to requirements such as:
imports needing to be fumigated at the border
the food service industry needing to maintain health standards in their premises.
Casual work for pest controllers between early spring and autumn
Your chances of getting casual pest control work are best from early spring to late autumn, when most pests are breeding. Most companies hire extra workers on short-term contracts to cover this busy period.
Short-term contracts are a good way to gain experience and can lead on to permanent positions.
Four main pest control companies
The urban pest control industry has four main employers, some of which offer franchises:
Rentokil
Ecolab
Genera
Flybusters Antiants.
According to census data, a third of all pest control technicians are self-employed and working on their own.
Sources
Hunn, S, president, Pest Management Association of New Zealand, Careers New Zealand interview, June 2016.
Ministry of Business, Innovation and Employment, '2006-2014 Occupation Data' (prepared for Careers New Zealand), 2015.
(This information is a guide only. Find out more about the sources of our job opportunities information)
Progression and specialisations
Pest control technicians may progress by moving into management roles or by starting their own businesses.
Pest control technicians may specialise in certain types of pest control, such as:
vertebrate pests (pests with a spinal column, such as rats and possums)
insect control
shooting and bird control.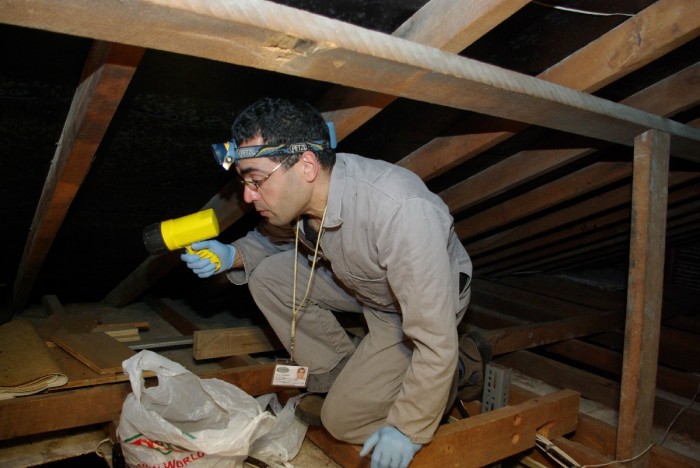 Last updated 5 April 2019