Communications Professional
Ngaio Whakawhitiwhiti Kōrero
Alternative titles for this job
Communications professionals plan and develop strategies that promote the public image of an organisation to the public, shareholders and employees.
Pay
Communications professionals with up to ten years' experience usually earn
Communications professionals with more than ten years' experience usually earn
Job opportunities
Chances of getting a job as a communications professional are good due to a growing demand for workers.
Pay
Pay for communications professionals varies depending on experience and where they work.
Communications professionals in entry-level roles, such as communication advisers and account executives, usually start on about minimum wage to $54,000 a year.
Communications professionals with two to five years' experience usually earn between $55,000 and $65,000.
After five to nine years, communications professionals usually earn between $65,000 and $85,000.
Communications professionals with 10 to 15 years' experience can earn from $70,000 to $120,000.
Senior communications professionals with 10 to 20 years' experience can earn from $140,000 to $250,000.
Source: Public Relations Institute of New Zealand, 2018.
(This information is a guide only. Find out more about the sources of our pay information)
What you will do
Communications professionals may do some or all of the following:
plan projects, publicity campaigns, functions and press conferences
write and edit press releases, in-house magazines, speeches, articles and annual reports
maintain online information about an organisation
keep important internal and external groups of people informed about the organisation
keep management informed about stakeholder, employee or community concerns
research public opinion by doing market research and analysing findings
advise politicians on how to deal with media
manage an organisation's public relations or marketing budget.
Skills and knowledge
Communications professionals need to have:
knowledge of digital channels and print media, and how to use them for publicity
the ability to write for different audiences
the ability to survey public opinion.
Māori liaison officers or iwi engagement managers need to have knowledge of Māori language and culture. Press secretaries also need to have an understanding of the political environment and knowledge of parliamentary procedures.
Working conditions
Communications professionals:
usually work regular business hours, but often work more than 40 hours a week
usually work in offices
may travel locally, nationally or internationally to meet suppliers, designers and media staff from other organisations.
What's the job really like?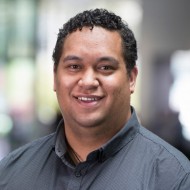 Anaru Tuhi
Communications Adviser
More than just copywriting
"People don't realise how dynamic communications can be. People think the bulk of your time is spent copywriting or proofreading – but there's so many other facets to the role. For example, our comms team takes a lead in managing internal staff events, like Diwali and Māori New Year. We had an Eid celebration with our Muslim colleagues. There were dances, speeches, a quiz, and a traditional Indian and Arabic lunch catering to a thousand people in the office. Other days I could be directing and producing a video series to share internally or externally, so the role is definitely dynamic and ever-changing."
What's something you've achieved?
"One of the first things I did was a bit of pitching and putting out media releases for Māori Language Week last year. We worked with Te Taura Whiri i te Reo Māori (Māori Language Commission) to translate a new brand manifesto and had it voiced by a little Māori girl. Getting to work on something that put the spotlight on Māori culture and the revitalisation of te reo Māori was truly special."
What's the work-life balance like?
"In our industry you really do take your job outside of work hours. Even your social media profiles, like Twitter, can be seen as a work opinion just because you're a spokesperson for your company. Also in PR you're always networking or going to events, so there is definitely an aspect of working outside of work hours, but I don't think it's a job where you're hounded to work at the weekend or work long hours. You can get the work-life balance right."
Anaru Tuhi is of Ngāpuhi and Tainui descent.
Communications professional video
Emily Ding talks about life as a senior account executive in communications – 2.36 mins.
So at high school I really loved subjects like media studies, English,
classics, essentially doing a lot of writing,
which was a testament to where I ended up. Hi,
I'm Emily and I'm a senior account executive at a public relations agency.
This is my day in the life video.
Come with me. At a public relations agency,
we essentially try and help get our clients and their businesses into the news
in any way possible.
So that might be pitching them into journalists to get them on TV,
on the newspaper and radio, on websites, whatever that might be.
But that kind of extends even further into telling their brand stories. Day in
the life of me. Essentially in the morning I come on,
I sit down and I catch up on my emails.
Messages from clients have come through overnight.
If there was anything important, you know,
that happened in the news that might be relevant to our clients,
I'll go through reply to the urgent ones.
There are a few things that I do really love about this job.
One of the biggest things is, of course, when you
you score that little win of getting your client into the news. On a larger
scale,
that'd be something like getting them on TV and a significant segment on TV that
people actually watch. And then slightly smaller than that is just being able to
actually tell their story on a news website. So that always feels really great.
So the interesting part about PR, or at least the firm that I'm in,
is that we do have a lot of overlap with different things. You know,
we do a little bit of marketing, a little bit of advertising here and there.
And something that we do quite a lot of as well is social media management. When
you're writing a social post or something like this,
you need to consider the brand's chosen tone and style,
because at the end of the day you are writing in their voice.
So you can't just write in your own voice, you know,
use the random emojis that you want to,
you need to think about what they actually like to say, how they like to sound,
what brand they want to put out to their audience. I went to uni at
AUT and I studied a Bachelor of Communications and I majored in advertising
minoring and digital media. So no PR in there.
That was just a 3 year undergraduate degree.
Internships are really the key to getting your foot in the door,
making those connections, start networking. It sounds corny,
but that networking is really valuable. I wish that the general public didn't
think of PR as just being spin doctors, you know,
we are not just responding to a crisis or trying to cover something up.
We're actually telling some really cool brand stories. You know,
there might be some brands that have an awesome product, an awesome offering,
but no one knows about them. So that's where we come in.
Entry requirements
To become a public relations professional you usually need to have a diploma or degree in areas such as: 
public relations
communications
media studies
business studies
journalism
politics.
Secondary education
NCEA Level 3 is required to enter tertiary training. Useful subjects include business studies, design and visual communication (graphics), digital technologies, English, media studies, social studies and te reo Māori.
Personal requirements
Communications professionals need to be:
able to think creatively, strategically and critically
able to write using good grammar
able to simplify complex information
experts at networking, communicating, and negotiating with people
organised, and good at planning and managing projects
able to work well under pressure
good at researching and presenting.
You have to be creative, and you also have to be quite logical. A lot of the work I do is taking a complicated story and then simplifying that and thinking about how people will actually read it.

---

Anaru Tuhi

Communications Adviser
Useful experience
Useful experience for communications professionals includes:
journalism or other writing experience
project management
marketing
event management
any work involving communications and networking.
Find out more about training
Competenz

0800 526 1800 - info@competenz.org.nz - www.competenz.org.nz

Public Relations Institute of NZ (PRINZ)

(09) 358 9808 - national_office@prinz.org.nz - www.prinz.org.nz
Check out related courses
What are the chances of getting a job?
Opportunities good for communications professionals with digital skills
Demand for experienced communications professionals is high due to:
increasing use of digital channels and social media platforms by government departments, companies and organisations
more workers being employed as internal communications advisers.
Your chances of securing an entry-level job are best if you have communications work experience as competition is high.
Some public relations agencies and government departments offer graduate or entry-level role internships for communications professionals.
According to the Census, 4,341 communications professionals worked in New Zealand in 2018.
Types of employers varied
Communications professionals may work for:
local and regional government bodies
government departments
non-government organisations
private companies across a range of industries
not-for-profit organisations
public relations consultancies.
Sources
Claycomb, H, director, HMC-Communications, careers.govt.nz interview, July 2018.
Clayton, R, 'Companies are Vying for Marketing and Communications Talent', 5 March 2017, (www.stuff.co.nz).
Koller, E, chief executive officer, Public Relations Institute of New Zealand, careers.govt.nz interview, June 2018.
Lomax, I, managing partner, Perception PR & Marketing, careers.govt.nz interview, June 2018.
Public Relations Institute of New Zealand website, accessed July 2018, (www.prinz.org.nz).
Ross, C, corporate communications manager, Department of Internal Affairs, careers.govt.nz interview, July 2018.
Stats NZ, '2018 Census Data', 2019.
The Creative Store, '2017 Salary Review', accessed 2018, (www.thecreativestore.co.nz).
(This information is a guide only. Find out more about the sources of our job opportunities information)
Progression and specialisations
Communications professionals may become self-employed, or move into management or other roles such as journalist.
They may also specialise in an area of communications, such as:
Māori Liaison Officer

Māori liaison officers are employed by organisations to develop relationships with, and provide support to, the Māori community the organisation serves.

Press Secretary

Press secretaries advise ministers on how to deal with the media, and help them communicate government policy and decisions to the wider public.
Last updated 25 September 2023