Pay
Source: careers.govt.nz research, 2022.
Job opportunities
Chances of getting a job as a zookeeper are poor due to high competition for a limited number of jobs.
Pay
Pay for zookeepers varies depending on experience and qualifications.
Zookeepers usually earn between $47,000 and $66,000 a year.
Zookeeper team leaders at large zoos usually earn between $61,000 and $90,000.
Curators at large zoos and aquariums can earn between $95,000 and $117,000.
Source: careers.govt.nz research, 2022.
(This information is a guide only. Find out more about the sources of our pay information)
What you will do
Zookeepers may do some or all of the following:
clean, feed and inspect animals
clean animal enclosures and the wider environment
control pests
observe and record animal behaviour
provide activities for the animals
support animal breeding programmes
treat animals for minor injuries and illnesses under veterinary supervision
assist the public, answer their questions and give educational talks
contribute to animal research and conservation
keep up-to-date on animal welfare, latest animal research and conservation information
write relevant articles for their zoo or aquarium
maintain records and carry out any general office work relating to animal care.
Skills and knowledge
Zookeepers need to have:
knowledge of animal biology and animal husbandry (how to care for animals)
skill in caring for and handling animals
an understanding of laws relevant to their work, such as the Animal Welfare Act.
Working conditions
Zookeepers:
usually start work early and may work overtime or be on call
may work weekends
often work in smelly and noisy conditions, with animals that can be hazardous
may travel locally and internationally on conservation programs.
What's the job really like?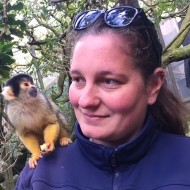 More than just cuddling animals 
"A lot of people think it's just cuddling animals, but zookeepers do more than that. We do a lot of cleaning, feeding and observing the animals. We make a lot of enrichment activities for the primates, like hiding food in boxes and freezing porridge in pine cones." says Harmony Neale. "No day is ever the same."
Encouraging people's passion for animals
"I enjoy interacting with visitors at things like the Chimp Talks and animal encounters. I like to talk about the animals, how they live and the importance of conservation. I like to share my passion for animals with people."
Continuing education important
"As a zookeeper I'm continually upskilling and reading to stay on top of the latest research around animal welfare and conservation. At Wellington Zoo there are also opportunities to do field work overseas to research our animals in their natural environment."
Entry requirements
To become a zookeeper you need to have work experience caring for animals, for example, volunteer work at animal shelters, vets or zoos, or work on a farm.
Zookeepers train on the job and can complete the New Zealand Certificate in Animal Management (Captive Wild Animals) (Level 4) from Unitec by distance learning while working.
Preference may be given to people who already hold an animal-related qualification, such as:
New Zealand Certificate in Animal Management (Zookeeping) (Level 4) from Unitec
Bachelor of Applied Science (Animal Management and Welfare) from Unitec
Bachelor of Veterinary Science from Massey University
animal related qualifications, such as Bachelor of Science (BSc) or New Zealand Diploma in Veterinary Nursing.
Secondary education
There are no specific secondary education requirements to become a zookeeper. However, biology and physical education are useful.
Personal requirements
Zookeepers need to be:
empathetic, patient and concerned about animals
able to handle stressful emergency situations
good at presenting information and speaking in public
practical
organised.
You need to have a real passion for animals, and want to share that passion to educate people about animals and their world.

---
Useful experience
Useful experience for zookeepers includes:
work at a zoo or wildlife park
work or work experience for the Department of Conservation
veterinary or vet nursing work
work with animals or the environment.
Physical requirements
Zookeepers need to be reasonably fit, healthy and strong.
Find out more about training
Zoo and Aquarium Association

0800 453 155 - admin@zooaquarium.org.nz - www.zooaquarium.org.au
Check out related courses
What are the chances of getting a job?
High competition for limited zookeeper roles
Zookeeper jobs are popular, so competition for any vacancies is high. Vacancies don't come up very often as there aren't many zoos, wildlife parks and aquariums in New Zealand.
According to the Census, 258 zookeepers worked in New Zealand in 2018.
Work experience at zoos improves job chances
Most zoos run volunteer or work experience programmes. Your chances of finding paid work are better if you have volunteered first.
Types of employers varied
Zookeepers are employed by:
zoos
aquariums
wildlife parks and sanctuaries.
Sources
Auckland Zoo website, accessed August 2018, (www.aucklandzoo.co.nz).
Neal, H, head keeper primates, Wellington Zoo, careers.govt.nz interview, August 2018.
Stats NZ, '2018 Census Data', 2019.
Unitec website, accessed August 2018, (www.unitec.ac.nz).
Wellington Zoo website, accessed August 2018, (www.wellingtonzoo.com).
Zoo Aquarium Association, 'Study Shows Wide-Ranging Contributions of Australian and New Zealand Zoos', 24 August 2017, (www.zooaquarium.org.au).
(This information is a guide only. Find out more about the sources of our job opportunities information)
Progression and specialisations
Zookeepers may progress to become head keepers or move into zoo management or curation roles.
Zookeepers may specialise in caring for certain species of animals such as primates.
Last updated 28 February 2023